Best Eula Build in Genshin Impact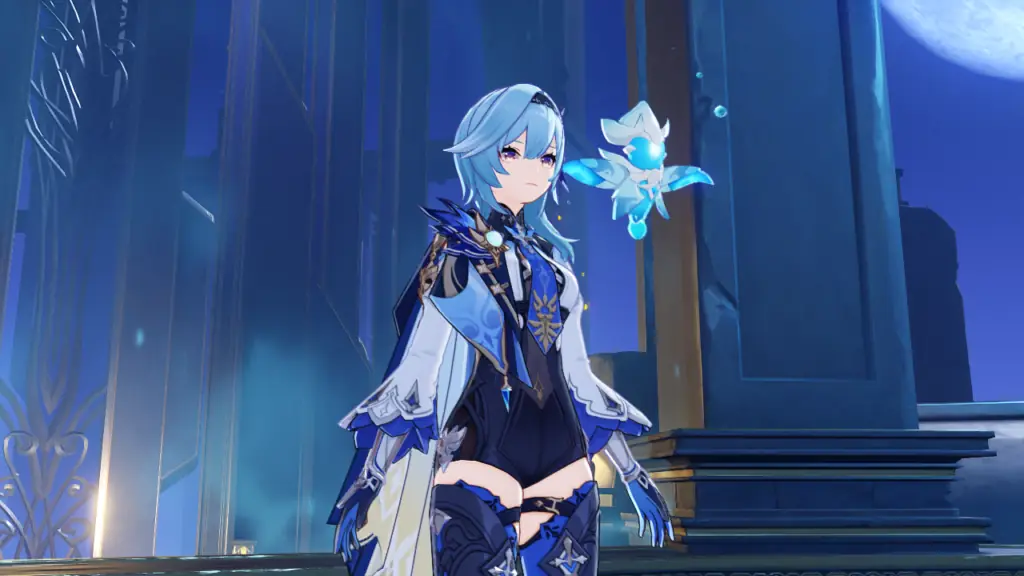 If you're in need of a Cryo-using, Claymore-wielding knight of royal blood, make sure you're saving all your Primogems for Intertwined Fates to wish for the new character: Eula! Genshin Impact's latest Character Event, Wish Born of Ocean Swell, has gone live (as of March 18th, 2021). This banner will last three weeks, ending on June 8th, 2021. Follow along for a detailed look at Eula and her best builds in Genshin Impact!
Eula, like the trueblood knight she is, can deal massive Physical DMG when built properly. With her Cryo Vision and boosted Physical DMG, Eula will be a great pair with an Electro character. If you're wondering why that is, it's because when Cryo and Electro interact, they create an Elemental Reaction known as Superconduct, which lowers physical damage resistance of opponents by a huge 40%.
Best Eula Build in Genshin Impact
For those with little patience or time, here is the simple and clean best build for Eula:
Weapon: Song of Broken Pines
Artifact Set: Pale Flame
Best Stat Choices for Eula
Eula will do well when her stats are balanced in a meaningful way. In other words, focus on boosting the best main stats (suggested below), but don't let any single stat be completely neglected. If you notice while you are playing that Eula is not being able to use her Elemental Burst as often as you'd like, try finding another Artifact or Weapon that will boost Energy Recharge, for instance.
Now for the stats you should focus on: Cryo DMG Bonus, Physical DMG Bonus, ATK%, CRIT Rate, and CRIT DMG.
Here is a quick breakdown of which stats will be best on which Artifact type:
Sands of Eon: ATK% (or Energy Recharge % if you really need it)
Goblet of Eonothem: Cryo DMG Bonus or Physical DMG Bonus (try to have your weapon boost Physical DMG so you can use this artifact to boost Cryo DMG)*
Circlet of Logos: CRIT DMG or CRIT Rate
Flower of Life and Plume of Death: Aim for 2-3 of the above stats as substats on each of these Artifacts.
*We highly recommend the Cryo DMG Bonus or Physical DMG Bonus stats, and only these stats, for Eula's Goblet Artifact.
Detailed Stat Goals
If you're just here for some stat suggestions for Eula, look no further! These stats are based on the level 80 Eula in the current Trial Event and reflect only the stat boosts given by Artifacts (see Artifact Details), NOT the full stat list found on the Attribute page. You can see a list or screenshot for the details below.
ATK: +1000
DEF: +100
Elemental Mastery: +100
CRIT Rate: +50%
CRIT DMG: +40%
Energy Recharge: +35%
Physical DMG Bonus: +60%
Best Artifacts for Eula
While Eula has a natural affinity for Physical DMG and Cryo DMG, different Artifact sets can open up many fun and exciting possibilities for her. The following sets were chosen with Eula's Weapon type, Element, and Talents in mind.
First up, here are the best 4-Piece Artifact Sets:
Pale Flame (BEST OPTION)
Gladiator's Finale
Blizzard Strayer
We encourage you to mess around with combinations of the following 2-Piece Artifact Sets for Eula to best fit your playstyle. Here are our suggestions for good 2-Piece Artifacts:
Noblesse Oblige (Elemental Burst DMG Bonus)
Gladiator's Finale (ATK%)
Bloodstained Chivalry (Physical DMG Bonus)
Blizzard Strayer (Cryo DMG Bonus)
Berserker (CRIT Rate)
Best Weapons for Eula
The recommended weapon of choice is the Song of Broken Pines Claymore, which is conveniently included in the current Weapon Event Wish banner along with Eula in the Character Event Wish banner: Born of Ocean Swell.
5-Star Weapon Suggestions:
Song of Broken Pines (Physical DMG Bonus, BEST OPTION)
Skyward Pride (Energy Recharge %)
Wolf's Gravestone (ATK%)
4-Star Weapon Suggestions:
Blackcliff Slasher (CRIT DMG%)
Snow-Tombed Starsilver (Physical DMG Bonus, best alternative to Song of Broken Pines)
Royal Greatsword (ATK%)
Depending on your luck of the draw from the Domains and specific choice of Artifacts, choose a weapon that will enhance or balance Eula's stats to your current needs.