Best Main Character Anemo Build in Genshin Impact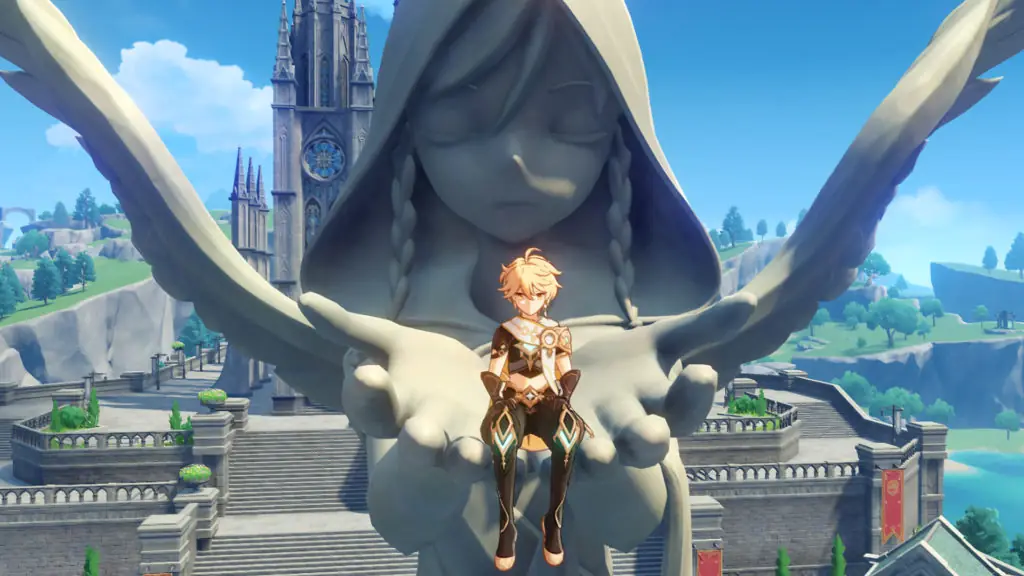 The Main Character, also known as Traveler, is your first hero in Genshin Impact. It's one of four free starting heroes aside from Amber, Lisa, and Kaeya. There's nothing wrong with investing some time and resources into building Main Character into a powerful hero. One thing you should know is that you can pick between Anemo and Geo elements and swap between them freely at The Statue of the Seven. This guide focuses on the best Main Character Anemo build in Genshin Impact.
Best Main Character Anemo Build in Genshin Impact
Here are the best weapons, stats, and artifacts to focus on for the Anemo version of the Main Character:
Weapons: Skyrider Sword, Iron Sting, Prototype Rancour
Stats: ATK%, CRIT%, CRIT DMG, ATK or Elemental Mastery
Artifacts: Berserker, Instructor, Viridescent Veneer
Best Main Character (Anemo) Weapons
Main Character is a one-hand sword user who's damage scales with the ATK stat. He also relies heavily on skills, so try to focus on weapons with base ATK and either Elemental Mastery or Energy Recharge. An excellent three-star starter weapon to focus on is the Skyrider Sword. It has base ATK and Energy Recharge, with a Determination passive that causes Elemental Burst to grant a 12% bonus to ATK and SPD for fifteen seconds.
A good four-star weapon for Main Character is Iron Sting. This one-hand sword has Elemental Mastery and base ATK, with an Infusion Stinger passive that increases all damage by 6% after dealing elemental damage. The passive can stack a max of two times, once every one second.
Finally, a viable craftable weapon for Main Character (Anemo) is Prototype Rancour. Everyone can obtain this weapon by finding a prototype item and crafting it at the blacksmith. It has base stats of physical damage bonus and ATK, with a Smashed Stone passive. The passive causes normal and charged attacks to increase base ATK and DEF by 4% for six seconds after a normal or charged attack. It can stack four times, once every 0.3 seconds.
Main Character (Anemo) Stats
All of the Main Character's abilities scale with ATK, so that's the primary stat you want to focus on for your gear. The best way to get ATK is through ATK% primary attributes on high-tier artifacts. Secondary stats to roll are CRIT% and CRIT DMG, followed by either ATK, Elemental Recharge, or Energy Recharge, depending on your playstyle. We recommend experimenting with a few options to see what boosts your team's damage the most.
Main Character (Anemo) Artifacts
Here are the best Artifacts for Anemo Main Character:
| | | |
| --- | --- | --- |
| Artifact | Two-piece | Four-piece |
| Berserker | CRIT Rate 12% | When HP is below 70%, CRIT Rate increases by an additional 24% |
| Instructor | Increases Elemental Mastery by 80 | After using Elemental Skill, increases all party members' Elemental Mastery by 120 for eight seconds. |
| Viridescent Veneer | Anemo DMG +15% | Increases Swirl damage by 60%. Decreases opponent's Elemental Resistance to the element infused in the Swirl by 40% for ten seconds. |
When you're first leveling Main Character, throw on anything with ATK% as the primary stat. You can go with Berserker set to start, which you begin to get around Adventure Rank 20. As you level up, you can throw on some Gladiator or go with Instructor. The final best-in-slot set for Anemo Main Character is Viridescent Veneer.