Best Childe Build in Genshin Impact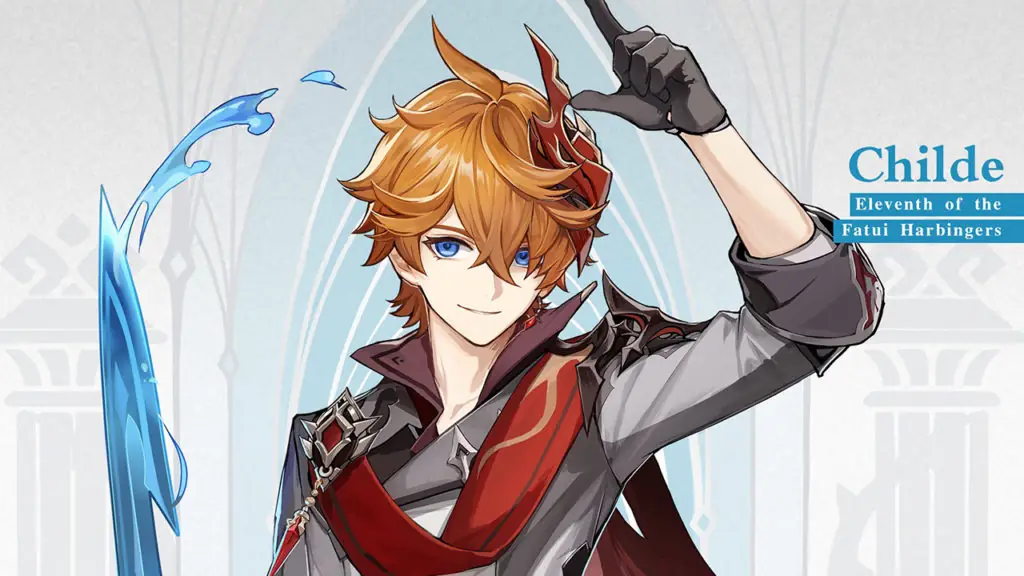 Childe is a Hydro bow-wielder in Genshin Impact that can switch between melee and ranged stance. The eleventh of the Fatui Harbingers makes his way into the game in Genshin Impact's 1.1 update. Childe has unique stance switching abilities, allowing players to do the "stance dance" mechanic prevalent in RPGs. Here's a look at our version of the best Childe build in Genshin Impact.
Overall, there is a chance to have permanent uptime on the Broken Flow debuff by having high energy recharge. The Hydro effect accounts for a lot of the damage Childe can pump out. Additionally, his ascension talents benefit greatly from CRIT chance. Childe makes a great addition to any team and element, including Electro, Pyro and Cryo. You can even pair him with another Hydro character for the Soothing Water Elemental Resonance bonus for better survivability and situational encounters with Pyro.
Best Childe Build in Genshin Impact
Here are the best weapons, artifacts, and stats to focus on with Childe:
Weapon: Rust, Sacrificial Bow.
Stats: CRIT%, ATK%, Hydro damage.
Artifacts: Noblesse Oblige, Wanderer's Troupe.
We'll go into some more depth below to take a better look at Childe's skills, stats, and gear choices.
Childe Skills
Here's a list of all known Childe skills, including basic attacks, elemental skill, and elemental burst. We'll also take a look at his three ascension talents.
Basic Attack
Basic: Shoots up to six arrows at once
Charged: Charge up a powerful shot that does water damage and applies Broken Flow.
Broken Flow: Applies AoE hydro damage to nearby enemies of the affected target as regular ATK damage.
Elemental Skill
Basic: Unleashes water object that deals Hydro damage to nearby enemies and switches Childe to melee stance.
Basic Melee: A six slash combo that does Hydro damage.
Charged Melee: Performs two slashes in front, dealing Hydro damage and using STAM.
Broken Flow Slash: Hitting enemies affected by Broken Flow in melee stance executed them, doing AoE damage based as regular ATK damage.
Elemental Burst
Ranged Stance: Shoots a magical arrow that does Hydro elemental damage in an AoE. It also applies Broken Flow to all enemies and refunds some elemental energy.
Melee Stance: Performs a wide slash that does immense Hydro damage in an AoE and triggers Broken Flow Burst.
Broken Flow Burst: Does AoE Hydro damage when enemies under Broken Flow get hit with melee Elemental Burst. It also consumes the Broken Flow affliction.
Ascensions
Level 1: Broken Flow duration is increased by eight seconds.
Level 4: Critical hits from normal and charged attacks in melee stance apply Broken Flow to the enemies.
Passive: All active team members' normal attack talent levels increase by one.
Best Stats for Childe
Because of Childe's level four ascension, which causes critical hits to apply Broken Flow, CRIT chance will be a big stat to focus on rolling. Having a high CRIT rate will massively increase your overall damage output with Childe. Judging from his talents and skills, Childe appears to be a good option for the primary carry or damage dealer role.
To maximize the damage, you'll stick with the traditional DPS stats, including ATK% and CRIT. Increasing Elemental Burst damage and Elemental Mastery should also be a priority because of how this character is designed. Here are the best stats to focus on by artifacts slot:
Sands of Eon: ATK%
Goblet of Eonothem: Hydro Damage Bonus, ATK%
Circlet of Logos: ATK% or CRIT%
The Flower of Life always rolls HP as the primary stat, and the Plume of Death always rolls ATK, so you should focus on secondary damage stats for those.
Artifact Sets for Childe
| | | |
| --- | --- | --- |
| Artifact | Two-piece | Four-piece |
| Wanderer's Troupe | Elemental Mastery +80 | Increases charged attack DMG by 35% if the character uses a Catalyst or Bow. |
| Noblesse Oblige | Elemental Burst Damage +20% | Using an Elemental Burst increases all party members' ATK by 20% for 12 seconds. |
| Exile | Energy Recharge +20% | Using an Elemental Burst regenerates two energy for party members every two seconds for six seconds. |
| Instructor | Elemental Mastery +80 | After using Elemental Skills, increases party members' Elemental Mastery by 120 for 8 seconds. |
| Berserker | CRIT Rate +12% | When HP is below 70%, CRIT Rate increases by 24%. |
| Gladiators | ATK +18% | If the wielder uses a Sword, Claymore, or Polearm, normal attack damage increases by 35%. |
Wanderer's Troupe and Noblesse Oblige set-bonuses are perfect for Childe if you look at purely five-star gear. Those players under Adventure Rank 40 may want to focus on sets like Exile and Instructor. Since CRIT is important, you may opt to focus on that, in which case Berserker is a great pick. You can also mix and match a two-piece Gladiators with any of the above options.
Best Weapons for Childe
Some potentially useful four-star weapons for Childe are the Sacrificial Bow and Rust. Sacrificial Bow provides base ATK and Energy Recharge stats, as well as the Composed passive. The passive makes it so that your Elemental Skill has 40% a chance to end its cooldown, once every 30 seconds. You may want to use this if you're looking to spam your abilities as much as possible.
Rust is another four-start weapon, and it provides base ATK and Physical DMG Bonus, along with the Rapid Firing passive. The passive increases normal attack damage by 40% and aimed shot damage by 8%. If you're looking to maximize your regular attacks' damage, this is a great pick.