Best Qiqi Build in Genshin Impact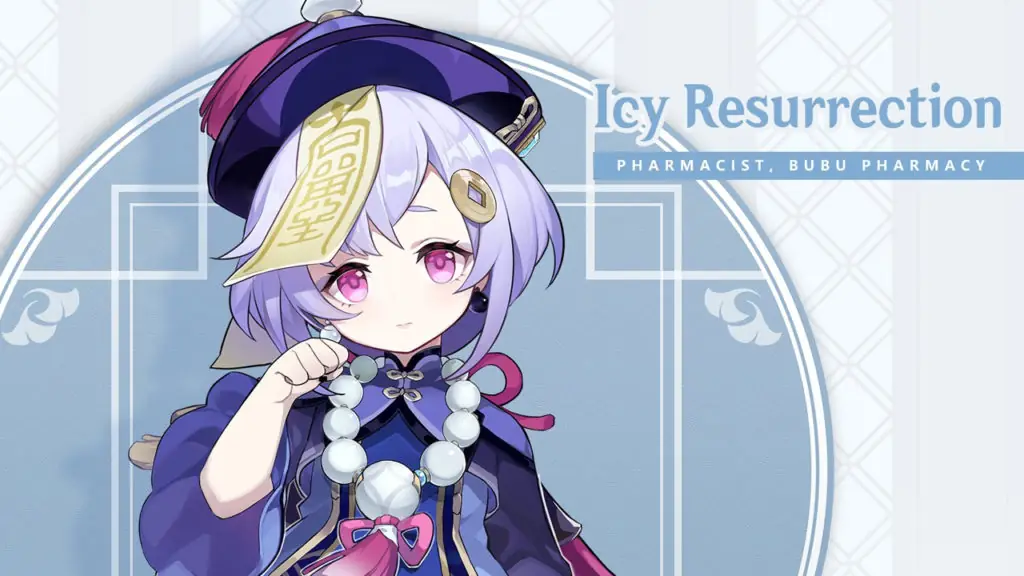 Qiqi doubles as a healer and DPS since her healing abilities scale off of ATK. She makes an excellent addition to any team, especially if you are looking to build a healer that can dish out the damage numbers. Qiqi is a well-rounded character, with some potent healing abilities capable of keeping a full team alive in any situation. If you're looking to gear up your Qiqi but aren't sure what to focus on, we got you covered. Here's our version of the best Qiqi build in Genshin Impact.
Before diving into the weapons, stats, and artifacts, let's take a look at her kit. First up is her "E" ability, Herald of Frost. When this ability is active, Qiqi's attacks heal party members and nearby allied characters regularly based on her ATK. The move also follows the in-play character around doing Cryo damage. Thanks to the passive talent Life-Prolonging Methods, when a hero with Herald of Frost triggers an Elemental Reaction, their incoming healing bonus goes up by 20%.
Qiqi's ultimate ability is the Preserver of Fortune, which marks nearby enemies and deals Cryo DMG. When enemies affected by the Talisman receive damage, the character who dealt the damage regenerates health. Her ultimate is a great way for one of your ranged party members to heal up while dishing out damage from a distance.
Best Qiqi build in Genshin Impact
Here are the best stats, weapons, and artifacts to focus on for Qiqi:
Stats: ATK%, ATK, CRIT, CRIT%
Weapons: Sacrificial Sword, Prototype Rancour, Skyward Blade
Artifacts: Gladiator's Finale, Noblesse Oblige, Bravery, Maiden Beloved
Qiqi Stats
Don't let Qiqi's size fool you because she can certainly pump out the damage. Her abilities scale with ATK, so the primary stat you're looking for is ATK% and ATK. If you're building Qiqi as a damage dealer, you'll also want to throw on some CRIT and CRIT%. Stack all of your Artifacts with ATK as the main stat, and you won't regret it.
When it comes to Artifact stats, you'll want the primary stat to be ATK% on the Helmet, Goblet, and Hourglass. Cryo damage on the goblet is also viable, depending on how you want to play it.
Qiqi Weapons
Your weapon choice will depend on what you have available. If you're lucky enough to have a Skyward Blade already, it's a solid choice for Qiqi. The passive gives a 4% increase to CRIT. It also offers Skypiercing Might after using elemental burst, which increases movement speed and ATK speed by 10% and increases the damage of regular and charged attacks by 20%.
If you're not all that lucky, you may want to look into Prototype Rancour and Sacrificial Sword. These items provide a nice Base ATK bonus and are not as challenging to obtain as the Skyward Blade. There are many options for Qiqi, and the main thing to focus on is ATK as a base stat.
Qiqi Artifacts
You already know what stats to focus on, but how about Artifact sets for the bonuses? A solid choice for DPS is Gladiator's Finale, and you probably won't have an issue finding the pieces from Hypostasis bosses. Exile's set is also a good option if you want to spam the ultimate thanks to the Energy Recharge bonus. We recommend either of these if you are under Adventure Rank 40.
For those of you above AR40, look at the Noblesse Oblige set, with the two-piece providing a 20% increase to Elemental Burst damage. The four-piece provides a 20% ATK bonus for 12 seconds to all party members after using an Elemental Burst ability. Next up, Bravery or Sojourner is a good option due to the set's flat ATK bonuses.
Overall, there are many viable sets you can use with Qiqi. However, if your main goal is healing, your best bet is Maiden Beloved. The set will give you a huge healing boost, especially with the four-piece, which increases healing received by all party members by 20% for 10 seconds after using an Elemental Skill.
Qiqi Materials
If you want to know Qiqi's character ascension and talent level up materials, here they are:
Teachings of Prosperity
Divining Scroll
Shivada Jade Sliver
Hoarfrost Core
See also: Genshin Impact Character Ascension Materials Cheatsheet