Pokémon Unite – Gengar build, items, and moves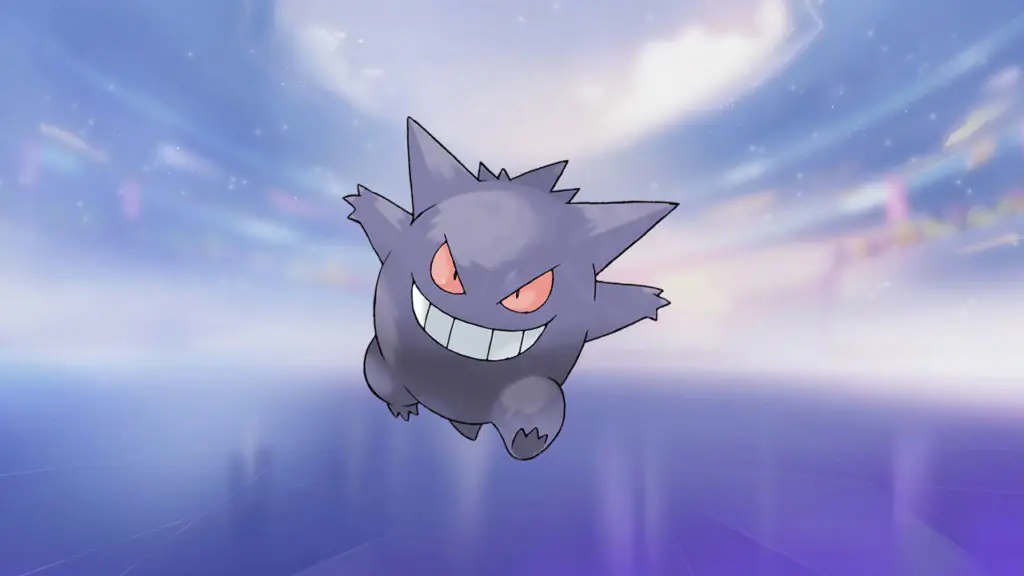 Gengar is one of my favorite Pokémon. I know it's supposed to be creepy, but just look at it; it's so… round and purple! I love it! Who couldn't love that face, I ask you? Well, maybe whoever it's hurling cursed flames at, that's probably a mood killer, but luckily, you're not on the receiving end of that. Here's the best Gengar build in Pokémon UNITE, including the top-tier Held Items, Battle Items, and Moveset.
Gastly, Haunter, and Gengar are textbook glass cannons; they can't take a punch for beans, but when it comes to damage-dealing, they're right up there with the big boys. A good Gengar build takes advantage of that damage potential while taking a few measures to round out that lousy survivability. Gengar is a solid jungler if you opt for that route. The goal is to hit level 7 as quickly as possible to upgrade the abilities. After that, you can help either top or bottom lane, depending on what's happening in the match.
Gengar is one of the top-rated Pokémon on our Pokémon UNITE tier list. Make sure to check it out if you want to see how Gengar stacks up against the competition.
Best Gengar Build in Pokémon UNITE
Here is the best Gengar build in Pokémon UNITE:
Battle Items: X Attack or Eject Button
Held Items: Wise Glasses, Sp. Atk Specs, Shell Bell
Moveset: Hex+, Sludge Bomb+
Battle Items
When it comes to Battle Items, you have a few possible options for Gengar. If you want to prioritize pure attack damage, you can go with the X Attack. It's a standard pick in lower-level games when you can outplay mostly everyone just by pumping high DPS. When you start climbing up the ranks, you may want to consider testing out items like Eject Button and X Speed for even more mobility. However, Gengar is already fairly mobile, so it may not be necessary.
Held Items
For your Hold Items, you'll first want the Wise Glasses to boost Gengar's special attack even further. Powerful moves bring skirmishes to quick, decisive conclusions. Secondly, you'll want a Shell Bell to restore some health every time a special move connects. This'll allow Gengar to stay in the thick of things for at least a little bit longer. Finally, you'll want Sp. Atk Specs to boost Gengar's Sp. Atk whenever you score a goal. As always, try and get all your Held Items to level 20 as quickly as possible!
Moveset
There are two possible movesets you can go with for Gengar in Pokémon UNITE: Hex and Sludge, or Dream Eater and Shadow Ball. The former is certainly the most popular and effective build in the current meta.
For Moves, start with Will-O-Wisp at level 1. Its burning aftereffect will give your young Gastly a little extra staying power, and it's great for taking on Wild Pokémon. At level 5, when Gastly evolves into Haunter, you can grab Sludge Bomb. It's mostly just a trade-up from Will-O-Wisp, replacing burning with poison, but it's vital for the level 7 Move, Hex. Whether you're still a Haunter at this point or have evolved into Gengar, Hex deals massive damage to any opponent nursing a status ailment while also teleporting you a short distance. Set 'em up with Sludge Bomb and knock 'em down with Hex; it's a devastating one-two punch.
For some added fun, at level 9, you can use Gengar's Ultimate (Unite move), Phantom Ambush. Activate it once to become super fast, then activate it again to deal AoE damage and slow in a large radius, setting up foes for another Sludge Bomb and Hex combo. To get the most benefit and damage output, use your moves first, followed by your Unite move.
Eldegoss
Talonflame
Lucario
Absol
Wigglytuff