Pokémon Unite – Gardevoir build, items, and moves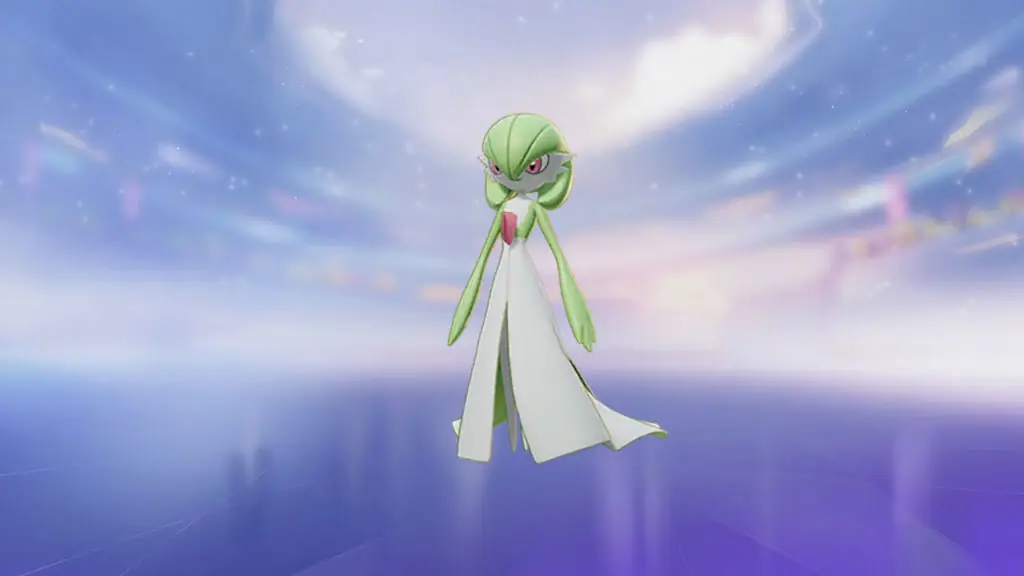 Gardevoir is a Pokémon introduced to Pokémon UNITE on July 28, 2021, in the first post-release update for the game. Gardevoir is an intermediate difficulty ranged attacker. Here's the best Gardevoir build in Pokémon UNITE, including the top Battle Items, Held Items, and moves to pick for your setup.
The Psychic and Fairy-type Pokémon known as Gardevoir may be a newcomer to the MOBA, but it's quickly becoming one of the best. Utilizing a proper Gardervoir build will take you the distance and help you climb the ranks. Read on to find out the highest-damage setup for this attacker.
Best Gardevoir Build in Pokémon UNITE
Here's the best Gardevoir build in Pokémon UNITE:
Held Items: Eject Button
Battle Items: Shell Bell, Wise Glasses, Energy Amplifier
Moves: Psychic, Psyshock
Items
For the first Battle Item, we're going with Shell Bell to provide some health regeneration whenever a move hits an enemy. This scales with higher Sp. Atk. Aim to get this to level 20 as soon as you can for the 60 HP minimum heal.
Next up, go with Wise Glasses to increase the Sp. Atk by a flat percentage. This item synergizes perfectly with Shell Bell. Again, try to get this to level 20 for the 5% Sp. Atk boost as soon as you can.
Finally, the last Battle Item we're going with is the Energy Amplifier. It's one of those items you don't see used a lot, but it's definitely a top-tier pick for Gardevoir. If you're not familiar, this item increases the Pokemon's damage by 7%/14%/21% after using a Unite Move.
As always, we'll be picking the Eject Button for this Gardervoir build. It's a top-tier item on any Pokémon, and there's a reason for that. The mobility it adds is crucial in any high-ranking matchup.
Gardevoir Moves in Pokémon UNITE
Here are all of Gerdevoir's moves in Pokémon UNITE:
Confusion: Attacks straight in the designated direction.
Teleport: Has the user warp to the designated area, increasing the damage dealt by one basic attack after warping.
Psyshock (Lv. 6): Attacks the designated location three times. This move's cooldown is reduced each time one of these attacks hits an opposing Pokemon. Upgrading also increases the damage.
Future Sight (Lv. 6): Sets a delayed explosion. When the explosion hits an opposing Pokemon, it reduces this move's cooldown. Upgrading resets this move's cooldown when the explosion hits an opposing Pokemon.
Psychic (Lv. 8): After hitting an opposing Pokemon or traveling its maximum distance, deals damage over time to opposing Pokemon in the area of effect and decreases their movement speed for a short time. Upgrading reduces this move's cooldown.
Moonblast (Lv. 8): Has the user attack while moving back to create distance. When the move's blast hits, it deals damage to the opposing Pokemon in a cone and leaves the opposing Pokemon closest to the user unable to act for a short time. Upgrading also grants the user a shield when using the move.
Fairy Singularity (Unite): Warps space in the designated area, drawing in opposing Pokemon. Shoves and deals damage to opposing Pokemon the instant the warped space disappears.
Synchronize (Passive): When an opponent inflicts decreased movement speed or a damage-over-time condition on Gardevoir, the same is inflicted on that opponent. Synchronize goes on cooldown after it is triggered.
At level 6, you'll want to pick up Psyshock over Future Sight. The latter offers a delayed damage move, and we want that quick and guaranteed damage for a better burst. Next, pick Moonblast at level 8 for a nice damage move that not only stuns for a brief period but also grants you a shield when it's upgraded to Moonblast+.
Eldegoss
Talonflame
Lucario
Absol
Wigglytuff