Best Ayaka Build in Genshin Impact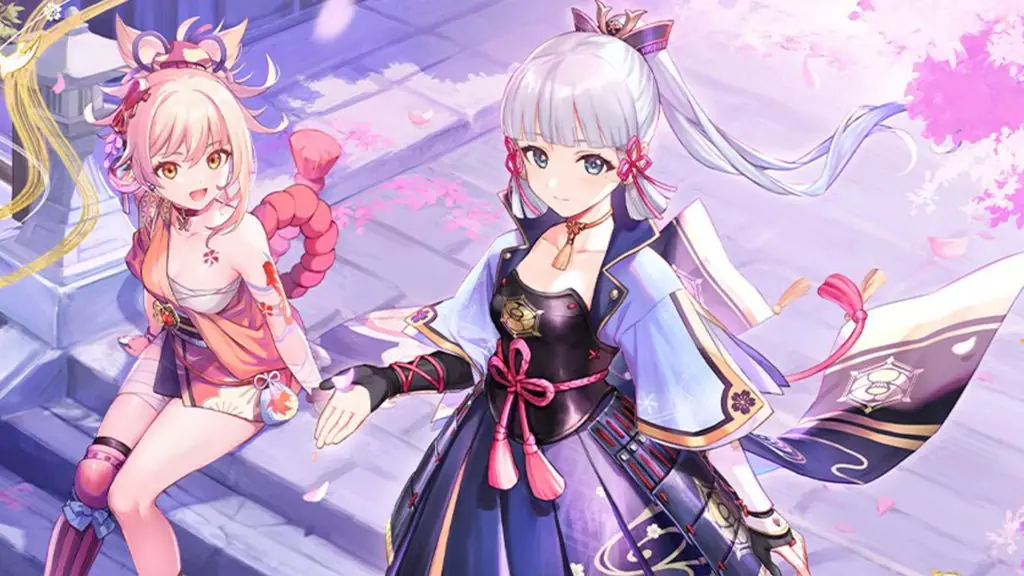 Kamisato Ayaka is a playable character introduced to Genshin Impact in Version 2.0. update. She is available to pull in The Heron's Court wish event, which begins on July 21, 2021. This Cryo character is an excellent addition to any team that utilizes freeze and can output serious damage if built properly. In this guide, we'll take a look at and break down the best Ayaka build in Genshin Impact.
If you get lucky enough to get your hands on this character or plan to test your luck in the future, refer to our guide below so you know exactly which Artifacts, skills, and weapons to focus on for Genshin Impact's Kamisato Ayaka.
Best Ayaka Build in Genshin Impact
Here are the weapons, artifacts, and stats to focus on for the best Ayaka build in Genshin Impact:
Weapon: Mistsplitter's Reflection, Summit Shaper, Primordial Jade Cutter, Blackcliff Longsword
Artifacts: Blizzard Strayer, Shimenawa's Reminiscence, Gladiator's Finale
Stats: Crit DMG %, Crit DMG, Energy Recharge, and Cryo DMG
Best Ayaka Weapons
Ayaka has a few viable weapon options available, depending on what you have in your arsenal and whether or not you're free-to-play. Her signature weapon is undoubtedly the Mistsplitter's Reflection, a new sword introduced to the game alongside Ayaka. This sword grants Crit DMG and Base ATK, alongside the Mistsplitter's Sheath passive.
Mistsplitter's Sheath

: Gain a 24% Elemental DMG Bonus for every element and receive the might of Mistsplitter's Seal. At stack levels 1/2/3, Mistsplitter's Seal provides a 16/32/56% Elemental DMG Bonus for the character's Elemental Type. The character will obtain one stack of Mistsplitter's Seal in each of the following scenarios: Normal Attack deals Elemental DMG, casting Elemental Burst; Energy is less than 100%. Each stack's duration is calculated independently.
Another excellent weapon option is the Summit Shaper, a five-star Sword with ATK and Base ATK stats. The Summit Shaper is an option you can go with if you can maintain a shield. The Primordial Jade Cutter is another good option for its CRIT rate sub-stats. If you run anything other than a freeze comp, this is probably one of the best bets.
For all the free-to-play players out there, we didn't forget about you. The best free weapon to use for Ayaka is likely the Blackcliff Longsword. It gives Crit DMG sub-stats and has a nice passive that complements Ayaka well. It's easy to obtain for free players, but you probably won't be able to dive deep into Abyss with this one, unfortunately.
Best Ayaka Artifacts
The best-in-slot Artifact set for Ayaka is hands down the 4-piece Blizzard Strayer. It goes well with a freeze team composition, allowing you to maximize your bonus crit rate with a 40% increase. It also goes great with Ayaka's Ascension stats so that you can stack more CRIT and ATK on Artifact pieces.
There are some decent alternatives if you can't farm a 4-piece Blizzard Strayer. The bad news is you'll always want to be running at least two pieces of Blizzard, but you can pair them with either Gladiator's Finale or the new Shimenawa's Reminiscence set. The latter is a good option for reverse melt teams and people using the Primordial Jade Cutter. On the other hand, Gladiator is good for boosting the overall damage and ATK, but you will lose out a bit on Crit Rate.
Best Ayaka Stats
In terms of the best Ayaka stats to focus on for your Artifact pieces, there are a few things you'll want to consider. First, we recommend aiming for around 120% Energy Recharge overall. Next, you'll want to try and pick up a Goblet with Cryo DMG bonus, a Sands with ATK, and a Circlet with Crit DMG %. Again, remember to get a little bit of Energy Recharge as a sub-stat so you can get it to where it needs to be. Ayaka's moves cost a lot of energy, so you're going to need some.