Best Warzone loadout setups for Call of Duty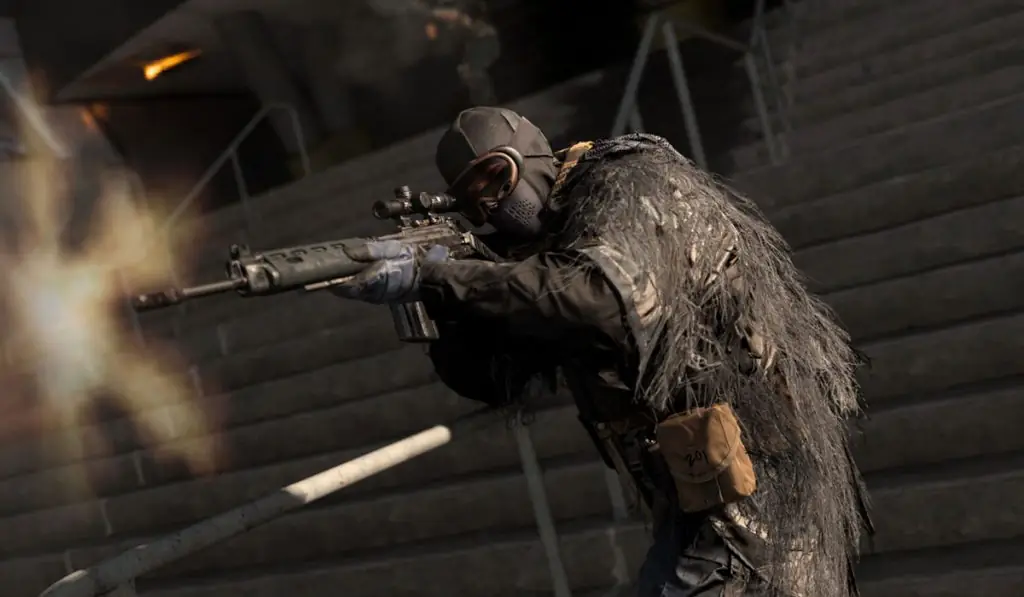 Trying to find the best Warzone loadout to secure some victories in Call of Duty? Warzone is currently in its fourth season, and the meta is continually evolving. Some weapons and setups from previous seasons are no longer the best. Making the proper custom loadouts to grab from buy stations will make all the difference in winning those Warzone matches.
Loadouts are a way to create your class in Call of Duty Warzone. You can equip different weapon attachments, primary and secondary weapons, perks, and tactical and lethal equipment. When you pick up enough cash from in-game crates or contracts, you can head to a buy station and call in one of your pre-made loadouts. If you're coming to Warzone from Modern Warfare multiplayer, you might quickly notice people running different setups.
Specific weapons and attachments are a lot more useful in Warzone than they are in Modern Warfare multiplayer. For example, nearly every top tier loadout you will come across uses a Monolithic Suppressor attachment. Furthermore, professional players tend to favor Ghost and Cold Blood perks for end-game situations. No matter your playstyle, we have one of the best Warzone loadouts to pick from to help you get that victory.
Best Warzone Loadout
Here are some of the best Warzone loadouts to choose from, including primary and secondary weapons, attachments, perks, and utility.
Best Season 4 Loadout Drop
Season four brings two new weapons to the game: CR-56 AMAX and Fennec. The latest Warzone assault rifle and SMG are versions of the Galil and Vector. Both of these weapons are popular in the best loadouts for Season 4. Mastering these weapons might take a while, but these attachments can make it easier:
Primary: CR-56 AMAX (Galil)
Muzzle: Monolithic Suppressor
Barrel: XRK Zodiac S440
Laser: Tac Laser
Underbarrel: Commando Foregrip
Ammunition: 45 Round Mags
Secondary: Fennec (Vector)
Barrel: ZLR 18″ Deadfall
Stock: No Stock
Underbarrel: Merc Foregrip
Ammunition: 40 Round Drum Mags
Perk: Sleight of Hand
The best CR-56 AMAX Warzone loadout will almost always run some variation of the attachments listed above. One thing to consider is the recoil of this weapon. It's not laser beam like the Grau, but it still has the stopping power necessary to carry you to victory. Coupled with the Fennec, you have a fantastic mid-long range AR with a top-tier close-range weapon.
Sniper and SMG Warzone Loadout
There is an ongoing debate about whether the HDR or AX-50 is the best Warzone sniper. While the AX-50 has slightly quicker ADS than the HDR, we find the best HDR loadout has much better bullet velocity and an overall better feel. This setup maximizes range with the primary and utilizes the best MP7 loadout for close-quarters combat. Here are the attachments to run with this setup:
Primary Weapon: HDR
Muzzle: Monolithic Suppressor
Barrel: 26.9″ HDR Pro
Laser: Tac Laser
Optic: Thermal Sniper Scope
Stock: FTAC Stalker-Scout
Secondary Weapon: MP7
Muzzle: Monolithic Suppressor
Laser: Tac Laser
Foregrip: Merc Foregrip
Barrel: FSS Strike
Ammunition: 60 Minute
Nickmercs Warzone Loadout
Popular Twitch streamer and personality Nickmercs Warzone loadout utilizes the Grau 5.56 and the MP5. Here are the attachments he likes to run:
Primary: Grau 5.56
Muzzle: Monolithic Suppressor
Barrel: Tempus 26.4″ Archangel
Optic: VLK 3.0x Optic
Underbarrel: Commando Foregrip
Ammunition: 60 Round Mags
Secondary: MP5 (Milkweed)
Muzzle: Monolithic Suppressor
Optic: PBX Holo 7 Sight
Underbarrel: Ranger Foregrip
Stock: Classic Straight-line Stock
Nickmercs considers it the best Grau 556 Warzone loadout because of the non-existent recoil. The Grau works at all ranges, but the MP5 will be doing all the work for close-range. Like most top-tier players, two identical loadouts with Overkill and Ghost here is optimal. Call in the Ghost loadout mid to late-game via a buy station.
Dr Disrespect Warzone Loadout
A crowd-favorite and the two-time champion, Dr Disrespect, has been playing a lot of Warzone lately. He experiments with a variety of loadouts, and he seems to like the Grau and MP5 setup the best. His loadout is similar to Nickmercs, with a few minor attachment changes. Here's the Dr Disrespect Warzone loadout:
Primary: Grau 5.56
Muzzle: Monolithic Suppressor
Barrel: Tempus 26.4″ Archangel
Laser: Tac Laser
Underbarrel: Commando Foregrip
Ammunition: 60 Round Mags
Secondary: MP5
Barrel: Monolithic Integral Suppressor
Laser: Tac Laser
Underbarrel: Commando Foregrip
Ammunition: 45 Round Mags
Rear Grip: Rubberized Grip Tape
Many people love to experiment with different weapons, so their loadouts are continually changing. Dr Disrespect tends to always use similar attachments on all of his loadouts, though. So regardless of his gun, his attachments will likely be the same.
Shroud Warzone Loadout
Shroud, known for his impeccable aim in first-person shooters, is another one who has been dominating in Warzone. He tends to favor the best M4A1 Warzone loadout. Here are the attachments he uses to shred through the competition.
Primary: M4A1
Muzzle: Monolithic Suppressor
Barrel: FSS 14.5″ Tac Lite
Optic: Operator Reflex Sight
Stock: No Stock
Ammunition: 60 Round Mags
Secondary: RPG-7 or Pistol
For a secondary in the Shroud Warzone loadout, he likes to use either an RPG-7 or a pistol he is feeling confident with at the moment. Rocket launchers are great anti-vehicle weapons and were part of the meta in Season 3.
Best weapon attachments in Warzone
Some weapon attachments are superior to others, and here's a look at some of the ones you generally want to include in your setups.
Ammunition: Extended Magazine
Warzone is a lot more ammo intensive than multiplayer, so one thing to consider is using extended magazines whenever possible. It's not always an option with all weapons, but getting an extra twenty to thirty bullets per clip does help in the long run. Dropping people requires a lot of ammo, especially when they have full armor.
Muzzle: Monolithic Suppressor
Everyone loves to run the Monolithic Suppressor in their setup. The reason it's so popular is that it hides your position on the radar. Showing up on the radar with five full squads around you might be the last thing you want. There is little to no downside when using this Muzzle, so it's a no-brainer.
When it comes to the best scope for Warzone, a lot depends on personal preference. There are some important things to note, however. A lot of players like to run some variant of a Thermal scope to locate enemies quickly. Other things to consider are ADS time and how the optics affect your weapon stats, all of which are available when selecting your attachments at the gunsmith.
One thing to keep in mind is the Warzone scope glint. Your sniper scope glint will give away your position, but there are Warzone scopes without glint. This information is available on the description for each attachment in-game. Generally, any long-range scope glints, but the 3x optics do not. On assault rifles, we recommend going with the VLK 3.0x scope.
Grips: Stippled Grip Tape
On most SMGs, running a stippled grip tape is a requirement. It provides additional aim down sight (ADS) speed, as well as spring to fire speed. The only downside is it lowers your aiming stability. However, considering SMGs are strictly close-quarters combat weapons, stability does not matter.
Best perks in Warzone
Perks are an essential part of every loadout. In Warzone, the best practice is to have two identical loadouts with different perks. Let's say you love running the M4A1 and MP7 setup. You will want one loadout that has Overkill to allow you to run that second primary weapon. But you also want an identical setup that has Ghost for late-game survivability. The strategy is to buy the loadout with Ghost later in the game, and then pick up the second primary weapon you held from your first loadout. Doing this gives you a free Overkill perk, without taking up the slot for it.
The best perks in Warzone are EOD, Ghost and Overkill, and Amped. The EOD Warzone perk gives you some useful damage resistance to fire and explosives. Lots of people love running explosives, so this will help your survivability. Overkill allows you to run another primary weapon, which you want to switch out later in the Ghost game. The Amped perk increases your weapon swap time and gives you quicker rocket launcher reload speed.
Best tactical and lethal equipment in Warzone
Most skilled Warzone players will tell you there are two utility items you should always run. Consider how often your tactical and lethal equipment in Warzone come in handy. You should always pick something that can be used in every situation and help you secure the dub.
Tactical: Heartbeat Sensor
There are two pieces of equipment you always want to include in your setups. First is the Heartbeat Sensor, which you can use to alert you to any nearby enemy. Enemies running Ghost will not show up on the radar, but a vast majority of hardcore campers won't be using it.
The best lethal at the moment is most likely the C4. It's excellent for an anti-vehicle utility and is just as effective on enemy players. You won't have to worry about getting run over anymore when you have some C4 in your loadout.
For other top Loadouts:
There are some of the best Warzone loadout drops in Call of Duty Modern Warfare right now. Builds are always changing over time, and we want to keep this relevant, so be sure to check back often.