Best MP7 loadout in Warzone: attachments, perks, and setup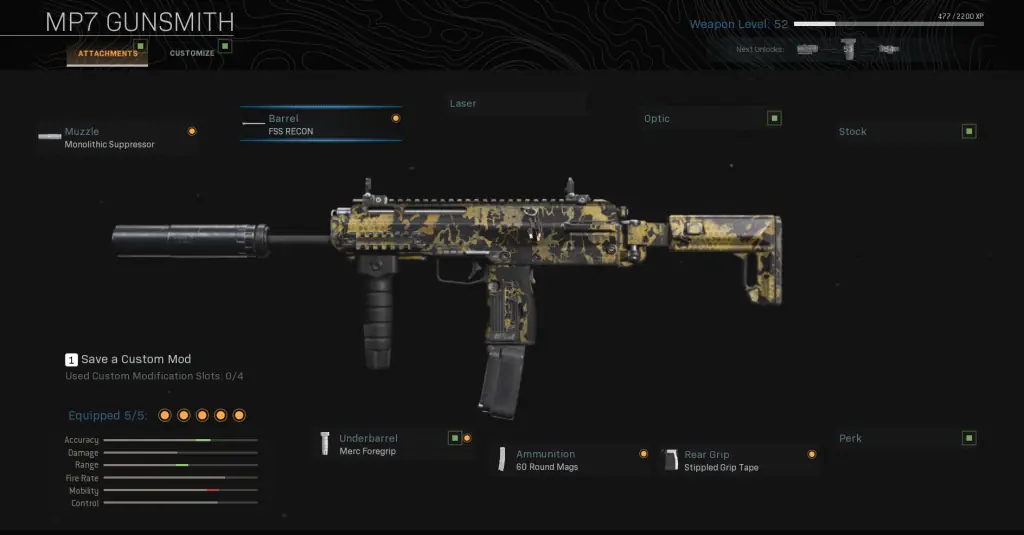 Are you looking for the best MP7 loadout in Warzone? This SMG has remained a popular secondary weapon choice since the launch of battle royale. Compared to the MP5, this weapon has a faster rate of fire, reload speed, and larger mag size. When it comes to close-quarters combat, you can't go wrong with this one. With the right attachments, this is a versatile weapon you can get a lot of use with for your setups.
You will want to pair this weapon with a reliable assault rifle or sniper to make for the best Warzone loadout. Let's take a look at the best attachments for the MP5, as well as some good perks and equipment to run with it.
Best MP7 loadout in Warzone
Here are the attachments for the best MP7 loadout in Warzone:
Muzzle: Monolithic Suppressor
Barrel: FSS Recon
Underbarrel: Merc Foregrip
Ammunition: 60 Round Mags
Rear Grip: Stippled Grip Tape
Attachments
The Monolithic Suppressor is a no-brainer for Warzone. It adds sound suppression, which hides you from the radar and allows you to be a lot more stealthy. You probably want to run one of these on every single one of your Warzone loadouts.
Next up, the FSS Recon barrel adds damage range, velocity, and recoil control. You might be thinking it doesn't make sense to add a barrel for range since it's an SMG. If you run this as a secondary to your sniper, running this barrel allows you to be effective at mid-range. Not only that, but the FSS Recon also adds vertical recoil control, which makes much more accurate. If you want to run the MP5 with one of the best assault rifles in Warzone like the Grau or CR-56 AMAX, we have a different option. With ARs, we recommend using a laser attachment instead.
Underbarrel and grips are going to be the most noticeable attachment for the MP7. Between the Merc Foregrip and the Commando Foregrip, we settled on the Merc. The main reason is because of the hip-fire accuracy it provides, which we'll be doing a lot of in close quarters combat. Stippled grip tape also provides the most overall gain to the weapon stats by improving aim down sight speed and sprint to fire speed.
Ammunition is essential with your submachine gun because these weapons have a high rate of fire. The less you have to reload, the more time you have for fragging. Running 60 round mags will be sufficient, at the slight cost of lower aim down sight speed. Using these attachments makes for one of the best MP7 loadout in Warzone. You can mix and match a few different ones depending on your personal preference.
Perks
When it comes to perks, a lot of top tier players like to run two identical loadouts with different perks. Your first loadout should include overkill so you can grab two primary weapons. Later on in the game, when you have enough money to buy another loadout, call in another and swap out Overkill for Ghost. You can then pick up your weapon from the other loadout and be good to go. We like to run EOD, Overkill, and Amped for the best MP7 loadout.
Lethal and Tactical
The meta since Season 4 is to run a Heartbeat Sensor and C4, which makes sense for Warzone. Heartbeat Sensors have unlimited uses and can be used to locate annoying campers. Swap over to the C4 if someone tries to run you over or push your location. It will also help you in the close-quarters combat situations.
That's our top MP7 loadout, and why it's one of the best SMGs in Warzone. If you want to test out some other good loadouts, you might like these: