Top 10 Best Genshin Impact Fan Art Pieces
You're all so talented!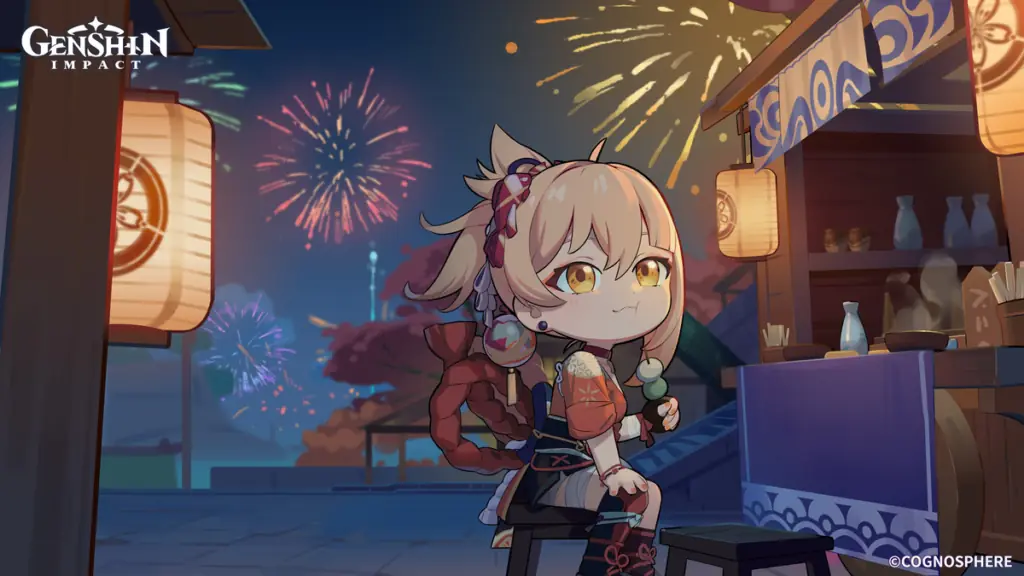 If only we knew how to draw then our fan art pieces would be on this list. Thankfully, we have plenty of talented artists and fans over the franchise who have no problem showing off their skills. There are tons of fan art pieces out there and we miraculously found artwork that we wanted to include on this list. This in no way means that these pieces are better than the others out there. It just means we saw them and liked them. Here are the top ten Genshin Impact Fan art pieces!
Top 10 Genshin Impact Fan Art Pieces
Ready to be blown away by the incredible artists we have found? Whether you want to draw your favorite character or your favorite ship we have picked ten of the best Genshin Impact fan art pieces. Some of these are either cute or incredibly sexy. You be the judge! Here are some of the top ten Genshin Impact fan art pieces.
1. EiMiko
The popular duo, that's rising in popularity and might even surpass Beidou and Ningguang, Raiden Ei and Yae Miko are featured in this artwork in a cup of ramen. What's cute about this artwork is that their home town Inazuma is the brand of ramen they're in. It's a cute chibi inspired drawing showcasing friendship versus intimacy. The duo are simply together as they're getting ready to eat a delicious cup of ramen.
2. Diluc the Babysitter
Diluc would be daddy in this situation, or, maybe he's just the babysitter? No, we're going to say he's daddy. Diluc is taking care of Klee and is holding a bottle for the little one. This is incredibly cute where we have Klee calling for his momma and holding onto Diluc. What's clever about this artwork is what's in the bottle. Diluc owns Dawn Winery and makes some of the best grape juice, or wine, for the adults reading this. It makes sense why Diluc would give Klee some grape juice versus a bottle of warm milk.
3. Yoimiya
You know what this reminds us of? It reminds us of the animated film, Belle artwork. The stunning visuals, beautiful coloring, and depiction of how Yoimiya spends her time during the festivals. The coloring is reflective over fireworks illuminating the night sky. You see orange and shades of darker colors representing a firework display. It's beautiful to look at and it represents Yoimiya perfectly.
4. Friendship is magic
During the Summertime Odyssey quest, Fischl and Mona have really showed off their friendship. Mona plays along with Fischl during her long explanations. She is the voice of reason and helps newcomers try to understand her. Their friendship is refreshing and realistic with Mona being irritated at Fischl for suggesting she's a bad swimmer, with Fischl demanding they have a swim off, and Mona helping her make new friends. This artwork shows their friendship and what its like traversing together in Mondstadt. With Mona being an intelligent astrologist it makes sense to create art that focuses on the stars. We give this one a 10/10. Tremendous work!
5. Zhongli
Zhongli is the oldest character in Genshin being around 6000 years old. Our Geo Archon has lived for so long he deserves to take rest. What we love about this piece is the longer you look at it the more easter eggs you can find. Mora, what Zhongli lacks, is buried with him. Zhongli has no problems buying whatever he wants and expecting others to buy them for him. Now, he has his own mora tucked away with him. The popping bit of blue indicated from the flower doesn't take too much away from Zhongli but helps us to focus on him.
6. Ittosara
The best frenemies in the game. Arataki and Sara were both orphaned and are constantly always fighting. Fans love a good rivalry and in this artwork we see Arataki pestering Sara trying to get her to fight him. She obviously is not feeling it but she's not pushing him away entirely. This is prompting for Kuki to take a picture so she can show Arataki proof that Sara didn't beat him up when she had the chance to. They're obviously cute together and have very different personalities. Opposites attract and with this pairing fans come up with cool designs.
7. Recruit Training
Here are the rules little ones. Always follow Arataki and always have fun. Since Arataki isn't the most reliable leader, Kuki is the second-in-command and acts more like a boss than he does. It would make sense that she would be the one to tell new recruits the rules of the gang. In this charming fan art we have Kuki guiding some Dodoco's. With Arataki not in sight we get the feeling that Kuki is far more relaxed in her current state.
8. Xinyan
This is a beautiful. No words. Xinyan has a fiery personality that reflects her career as a musician. She's upbeat and has no problem making people around her smile. In this Genshin Impact fan art, we see a different side of Xinyan. We see a more serious approach over her music. We also are given a different perspective on her entirely. She's matured more and appears older but not in a way that would take away from her beauty. In fact, this Genshin Impact fan art enhances her features. She has a smoldering look that captivates you into listening to her music.
9. Tartaglia
We can't feature beautiful Genshin Impact fan art without adding Tartaglia/Childe to the list. He was voted as one of the most attractive characters in the franchise. It might have something to do with his bad boy persona and charismatic personality. Tartaglia draws you in and makes you feel as if this is someone you should befriend. When you find out he's actually one of the bad guys it doesn't deter us to want to draw him and learn more about his backstory. This picture questions his morality and gives us a dark feel over the character. It's very well made and gives the audience just enough to swoon over.
10. King Kaeya
King Kaeya, daddy, or just simply Kaeya. It doesn't matter how you address him. Just know he's a fan favorite and there's tons of artwork focused on his looks and fashion. The reason we picked this image is because of how diverse his hairstyles are. No matter what style he's rockin' he looks perfect in each one. We have seen plenty of Genshin Impact fan art that has Kaeya wearing different outfits, however, this is the first time, we're seeing Kaeya wearing different hairstyles.
What do you think? Those are the top ten Genshin Impact fan art pieces we have found. For everything Genshin Impact be sure to check out Gamer Journalist. We post daily news, guides, and codes about upcoming and current gaming titles.
Related: Top 5 Best Genshin Impact Headcanons