How To Make Sabz Meat Stew In Genshin Impact – Recipe
A dish with a unique taste.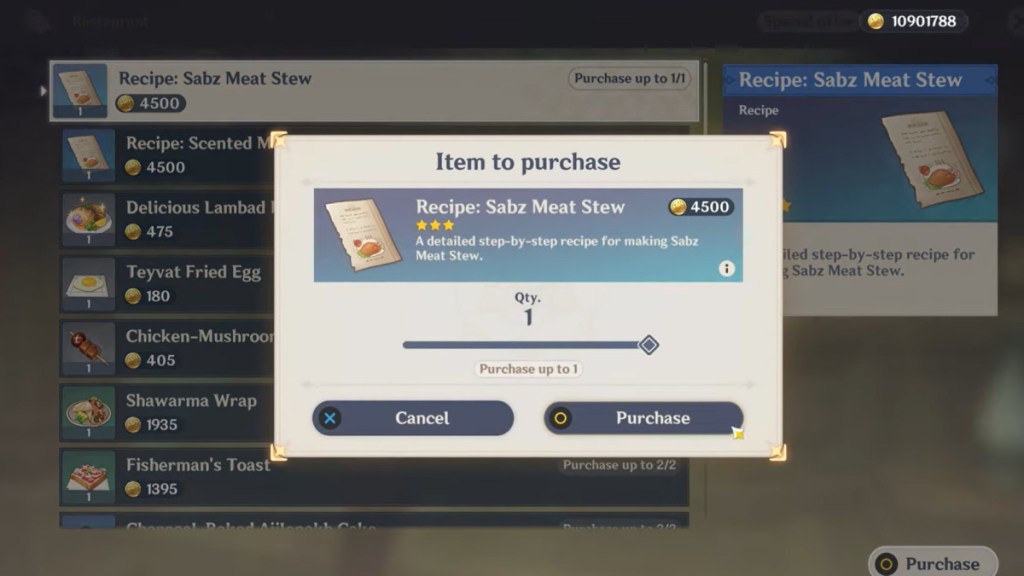 While it's easy to find a tavern to purchase a meal to sate your character's hunger or restore their HP. Nothing beats finding ingredients to create a 3-star dish, even better if that dish produced an ideal circumstance. So, with the latest 3.4 Version update, The Exquisite Night Chimes here's how to make Sabz Meat Stew in Genshin Impact.
Genshin Impact – How to make Sabz Meat Stew
Sabz Meat Stew is one of the latest recipes you can now purchase. To get this recipe, you'll need to make your way to Sumeru City; from here, seek out Lambad's Tavern. Once you've made your way inside the store, you can purchase this recipe for 4,500 Mora. Unfortunately, this 3-star dish can't be bought ready-made, and you'll have to acquire all the ingredients.
Related: How to Make Scented Meat Balls in Genshin Impact – Recipe
Below we have detailed all the necessary ingredients to make Sabz Meat Stew:
Raw Meat 2x
Snapdragon 2x
Onion 2x
Spice 1x
This will make 1x Sabz Meat Stew. This recipe will restore 30% – 34% Max HP and an additional 600 – 1,900 HP. As a bonus, ensure that you have Althaitham equipped when cooking Sabz Meat Stew; this will increase your chances of making an Ideal Circumstance meal. The Ideal Circumstance is a special food item (which can only be triggered by Althaitham) that will restore 40% of a character's Max HP and an additional 2,350 HP.
---
That concludes our guide on how to make Sabz Meat Stew in Genshin Impact. To stay up to date with our content, check out Gamer Journalist on Facebook and join in on the discussion. Here are more Genshin Impact guides you may like How to get the Red Dead of Night Diluc Skin in Genshin Impact or How to Unlock Missive Windspear in Genshin Impact.