How to Make Scented Meat Balls in Genshin Impact – Recipe
Who doesn't love a meaty dish?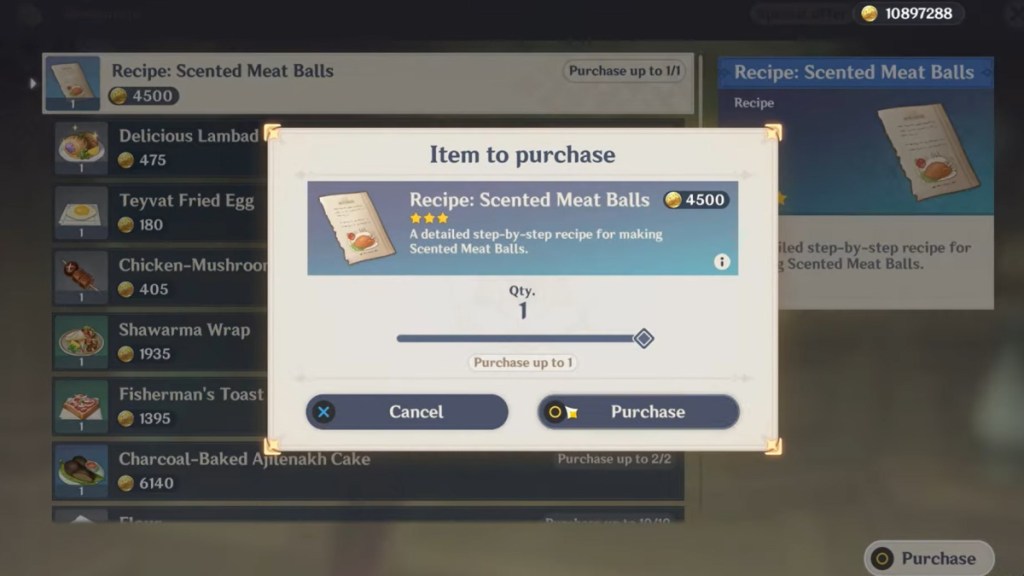 With the start of the new year, Genshin Impact has also released a new update called The Exquisite Night Chimes. Along with this update, you can enjoy new events and, most importantly, new recipes. So now that the new update has arrived, make your way to Sumeru City (money in tow) to get the latest recipe. Here's a guide that details how you can make Scented Meat Balls in Genshin Impact.
Genshin Impact – How to make Scented Meat Balls
Genshin Impact has dozens of meals to keep your hunger at bay, and all with added bonuses. Scented Meat Balls is one of the latest food items released in the recent Version 3.4. To get this item make your way to Lambad's Tavern, which is located in Sumeru City. Once inside, find Lambad to purchase the Scented Meat Balls recipe for 4,500 Mora. In addition, you will need the following ingredients:
Mysterious Meat 3x
Wheat 2x
Onion 2x
Spice 2x
Related: How to Get Fading Twilight in Genshin Impact (& Is It Worth It)
These ingredients will create 1x Scented Meat Ball, restoring 24%-40% of Max HP and an additional 450-2,350 HP. Now that you have all your ingredients make your way to the nearest cooking station to try out the Scented Meat Balls.
---
And that concludes our guide on how to make Scented Meat Balls in Genshin Impact. Check out Gamer Journalist on Facebook for more content and join in on the discussion. If you love Genshin Impact, check out these other guides Genshin Impact – What is Silly Wisher? Answered or How to Get Wanderer's Advice in Genshin Impact.