Genshin Impact – When Does Oni's Royale Banner Release?
We NEED Arataki! NOW!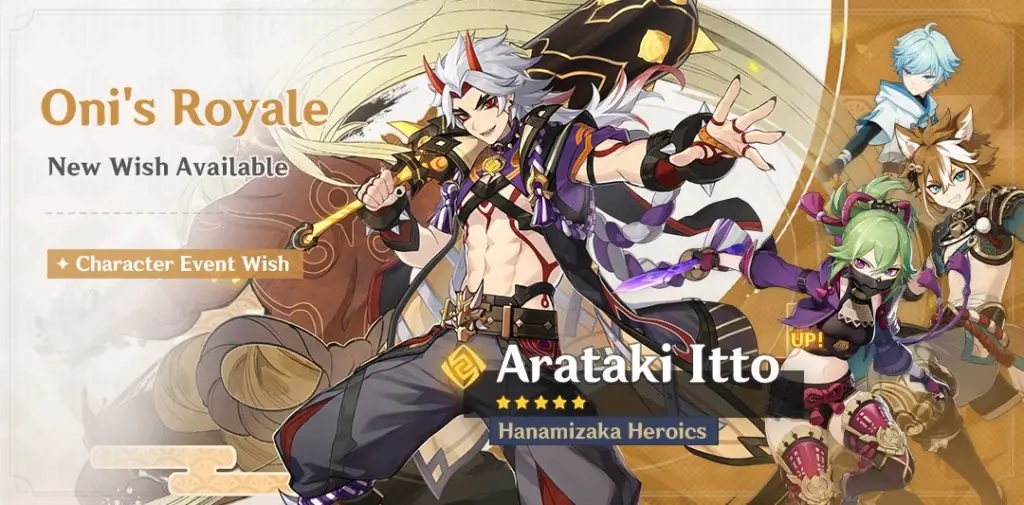 What's enticing about Genshin Impact is the vast amount of characters you can collect and fight with. There are over 30 characters each with specific abilities, elements, and fun personalities. With new updates happening quite frequently we are introduced to banners. Genshin Impact releases banners that help to boost past characters and introduce new ones. Here's everything you need to know for the banner Oni's Royale.
Genshin Impact Oni's Royale Banner
Oni's Banner released on June 21 2022 and features two new characters: Arataki Itto and Kuki Shinobu. With the release of Yelan, Kuki, a four-star character, was teased to be an upcoming character as the month progressed. Looks like we finally will be able to see Kuki and her electric powers come to the big screen. Arataki is a five star character and will only be released through Oni's Royale Banner.
Previous Banners on Genshin Impact
Discerner of Enigmas and Invitation to Mundane Life preceded Oni's Banner on Genshin Impact. Invitation to Mundane Life and Discerner of Enigmas both came to an end on June 21, 2022. Those Banner events featured the five-star characters of Yelan & Xiao!
Related: Genshin Impact – How to Beat Almighty Arataki Festival Event