Genshin Impact – How to Beat Almighty Arataki Festival Event
You could be the next drummer boy.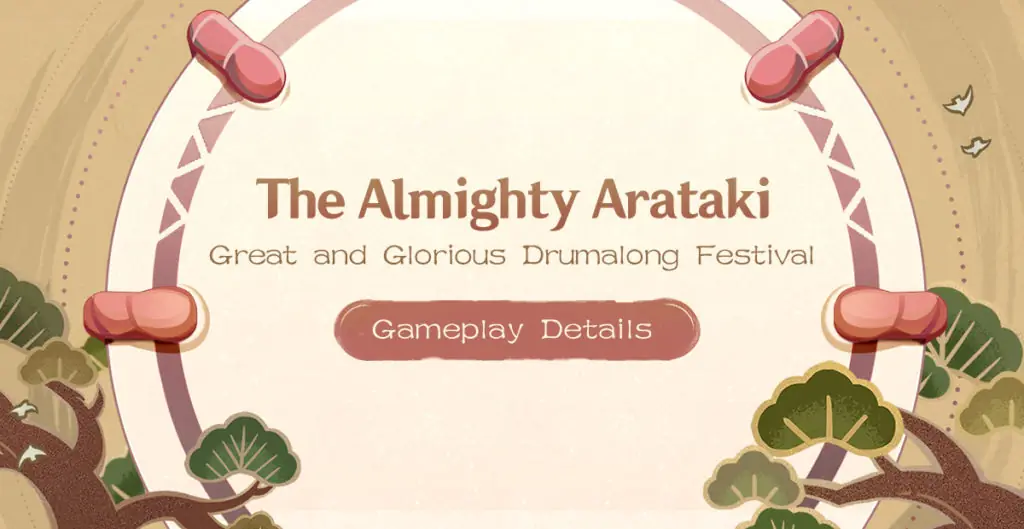 Genshin Impact is back at it again with a new limited-time festival event! Grab your gear and unlock those requirements because this is an event you don't want to miss. You have the opportunity to win primogems, Mora, and plenty of Mystic Ore to upgrade your characters. The event started June 14th and will run through July 4th.
Here's everything you need to know about The Almighty Arataki Great & Glorious Drumalong Festival!
How to Unlock The Almighty Arataki Festival
Majority of the events require you to achieve a certain rank before you can participate. This will help tremendously when you're trying to advance through the game. The stronger you get the easier taking down enemies will be. In this festival you will need to reach adventure rank 30 and clear the Ritou Escape Plan quest. This quest is part of the Inazuma Archon quest line.
In order to unlock the quest, once you've acquired everything you need to beat it, Head over to Ritou where you will start the quest and a cutscene will appear. You'll then want to go to Amakane Island, which is near Inazuma City, to do the same thing. You will come across a character named Arataki Itto who is surrounded by a gang near the shore close to the festival grounds. Once you speak with him he will pass along his drum for you to use.
Playing your drum & beat maps
During this event you get to use a drum to create a beat map. There are three parts to this event and they are:
Completing event challenges
Edit your own beat map to add new notes
Play other beat maps other players have created
When you're playing the mini game, the higher the difficulty, the harder it will be to control the flow. Learn the songs first before you decide to take on harder challenges. For PC players we recommend using a controller, however if you want to use your keyboard, use ASD & JKL to control it. This rhythm game will also allow you to share your beat maps with other players. In order to share your code you need to save your beat map after editing it, complete it on higher difficulties, and you'll get your code. If you want to play someone else's beat map just paste the beat map code into your game under "Find Composition" menu to play theirs.
The Almighty Arataki Rewards
The list below will show you the different types of rewards you will gain while completing this event stages:
Blossoms of Summer Night – 60 primogems, 3 Jeweled Branch of a Distant Sea, 3 Heroes Wit, 40,000 Mora, 6 Mystic Enhancement Ore
Time to Shine – 60 primogems, 3 Narukami's Joy, 3 Heroes Wit, 40,000 Mora, 6 Mystic Enhancement Ore
Drifter's Destiny – 60 primogems, 3 Make of the Tigers Bite, 3 Heroes Wit, 40,000 Mora, 6 Mystic Enhancement Ore
Devotion of The Keeper – 60 primogems, 3 Jeweled Branch of a Distant Sea, 3 Heroes Wit, 40,000 Mora, 6 Mystic Enhancement Ore
Let's Go, Crimson Knight! – 60 Primogems, 3 Narukami's Joy, 3 Hero's Wit, 40,000 Mora, 6 Mystic Enhancement Ore
Rage Beneath the Mountains – 60 Primogems, 3 Mask of the Tiger's Bite, 3 Hero's Wit, 40,000 Mora, 6 Mystic Enhancement Ore
Termination of Desires – 60 Primogems, 1 Arataki's Great and Glorious Drum (gadget), 8 Adventurer's Experience, 40,000 Mora, 6 Mystic Enhancement Ore
Related: Genshin Impact Codes (June 2022)