Fortnite Chapter 2 Season 3 Guide: weekly challenges, skins, and info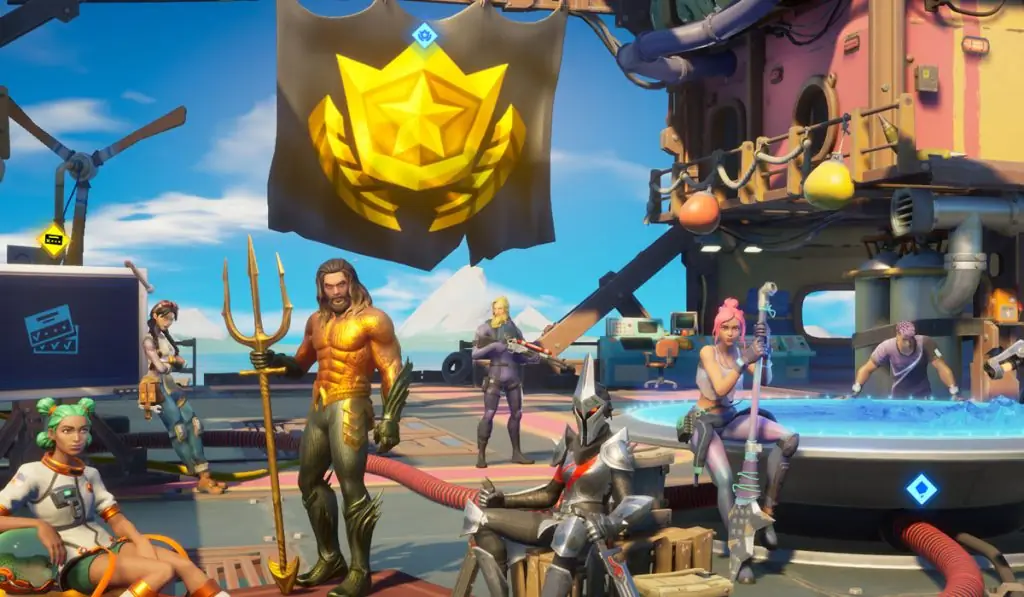 Our Fortnite Chapter 2 Season 3 guide contains a list of every available challenge for the season. Completing every mission and quest allows you to maximize your XP so you can unlock the best skins and cosmetics.
Many different challenges throughout the season unlock every week. We keep this guide up to date with the most recent challenges as soon as they become available. Make sure to bookmark the page and check back frequently for updates.
Fortnite Chapter 2 Season 3 Guide
Below you can find a breakdown of weekly challenges, Aquaman challenges, XP Coins, Punch Cards, and secret missions.
Fortnite Chapter 2 Season 3 Weekly Challenges
Aquaman Challenges
The ultimate skin in Season 3 of Fortnite is the Aquaman skin and the Arthur Curry variant. A separate set of challenges is available to unlock this skin.
XP Coins
XP Coins return for Season 3 and players can find them scattered around the Fortnite map. Collect these to earn big bonus XP towards your Battle Pass. There are a total of twelve coins every week, with 8 Green Coins and 4 Purple Coins.
Punch Cards
Punch Cards are back, but functioning a bit differently than last season. We have a complete guide that updates as soon as new punch card categories are available.
Fortnite Chapter 2 Season 3 Challenge Lists
Each of the challenges below awards players 35,000 XP per completion. The objectives include various tasks around the map, and you can complete them by playing regularly. There's no need to go out of the way for a lot of them.
Fortnite Season 3 Week 1 Challenge List
Deal 200 damage to Loot Sharks at Sweaty Sands
Deal damage in ten seconds of landing at Hydro 16
Enter the vault at Catty Corner
Find three Gnomes at Homely Hills
Search seven chests or ammo boxes at Rickety Rig
Land at Misty Meadows and finish in top 25
Get three eliminations at Steamy Stacks
Fortnite Season 3 Week 2 Challenge List
Use eight different ziplines at The Authority
Search seven chests or ammo boxes at Holly Hedges
Find three Deadpool floaties at The Yacht
Score one goal at Pleasant Park
Get three eliminations at Lazy Lake
Headshot twenty Henchmen at The Fortilla
Gather or consume five foraged items at The Orchard
Fortnite Season 3 Week 3 Challenge List
Search Chests or Ammo Boxes at Misty Meadows (7)
Eliminations at The Authority (3)
Collect Floating Rings at Lazy Lake (4)
Dance on top of the Crane at Rickety Rig (1)
Deal damage from inside a cornfield at Frenzy Farm (100)
Destroy cars within 60 seconds of landing at Retail Row from the Battle Bus (2)
Land a Choppa at the bottom of Steamy Stacks (1)
Deal damage to opponents at Catty Corner (200)
Fortnite Season 3 Week 4 Challenge List
Search Chests at Salty Springs (7)
Eliminations at Holly Hedges (1)
Collect Floating Rings at Pleasant Park (1)
Complete a lap at Motorboat Mayhem (1)
Land at Frenzy Farm and finish Top 25 (1)
Collect Metal from Rickety Rig (200)
Dance on camera for 10s at Sweaty Sands (10)
Search Ammo Boxes at Steamy Stacks (7)
Deal damage to opponents at The Authority (500)
Fortnite Season 3 Week 5 Challenge List
Search Chests at Sweaty Sands (7)
Get Eliminations at Retail Row (3)
Use a Firefly Jar or Flare Gun at Misty Meadows
Land at the Yacht and Finish Top 25
Catch fish at Craggy Cliffs (5)
Upgrade a weapon at Salty Springs
Collect Floating Rings at Steamy Stacks
Search Ammo Boxes at The Fortilla
Fortnite Season 3 Week 6 Challenge List
Deal damage at Rickety Rig (500)
Eliminations at Pleasant Park (3)
Land at The Authority and finish Top 25
Gas up a Vehicle at Catty Corner
Catch a weapon at Stack Shack
Search Chests (10/100)
Search Ammo Boxes at Salty Springs (7)
Search Chests at Lazy Lake (7)
Fortnite Season 3 Week 7 Challenge List
Search Chests at Retail Row (7)
Gain health or shields from SLURP at Slurpy Swamp (100)
Collect Floating Rings at Weeping Woods (1)
Find balls of yarn at Catty Corner (3)
Collect Stone from Rapid's Rest (300)
Eliminate Players (5/50)
Search Ammo Boxes at Pleasant Park
Eliminations at Sweaty Sands (3)
Fortnite Season 3 Week 8 Challenge List
Search 7 chests at Frenzy Farm (7)
Eliminate 3 people at Salty Springs (3)
Complete the boat time trial at Motorboat Mayhem
Drive a car from Retail Row to Pleasant Park in under 4 minutes
Collect wood from Holly Hedges (500)
Do damage to opponents from inside of a vehicle (1)
Do damage to opponents from inside of a vehicle (100)
Search ammo boxes at Lazy Lake (7)
Fortnite Season 3 Week 9 Challenge List
Search Chests at Pleasant Park (7)
Eliminations at The Fortilla (3)
Gas up a Vehicle at Catty Corner (1)
Stoke Campfires at Camp Cod (3)
Collect Metal at Hydro 16 (200)
Eliminate Henchmen or Marauders (7)
Eliminate Henchmen or Marauders (70)
Search Ammo Boxes at Misty Meadows (7)