Best Starfield Sex Mods
Adults only space adventure!!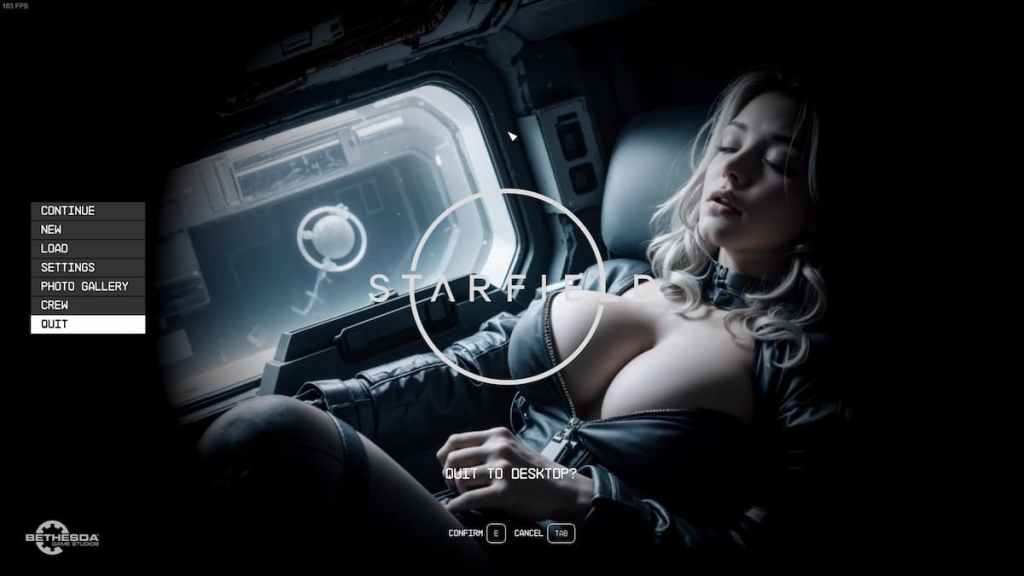 Starfield, Bethesda's newest foray into interstellar exploration, has captured the imaginations of gamers around the world. While the game's developers have meticulously crafted a vast and immersive universe, the modding community, as always, is poised to take it to new, uncharted frontiers!
This list journeys beyond the official release to explore a risqué galaxy of user-created modifications. Read on for a full list of Starfield sex mods that cater to a very specific audience of galactic explorers!
Please be advised that the content discussed in this article is intended for mature audiences only and is not endorsed or supported by the official developers.
Related: Best Nier Automata Sex Mods
Best Starfield Sex Mods
With a game as massive as Starfield, it shouldn't be surprising that there are already so many mods so soon after its release, yet I'm still dumbfounded by the sheer number of mods that I've been bombarded with for this game.
Starfield has just barely been released and yet modders are already tweaking every portion of the game they can find. Of course, since Starfield is an adult-oriented game and this is the internet, many modders have chosen to take an alternative route to in-game changes.
If you're 18+ and were hoping to get a spicier Starfield experience, then you've come to the right place! This list contains all of the nastiest, sauciest Starfield mods that the darkest corners of the internet have to offer.
Here are all of the best Starfield sex mods, chosen by someone who can't believe this is her job:
No Bras in Space Mod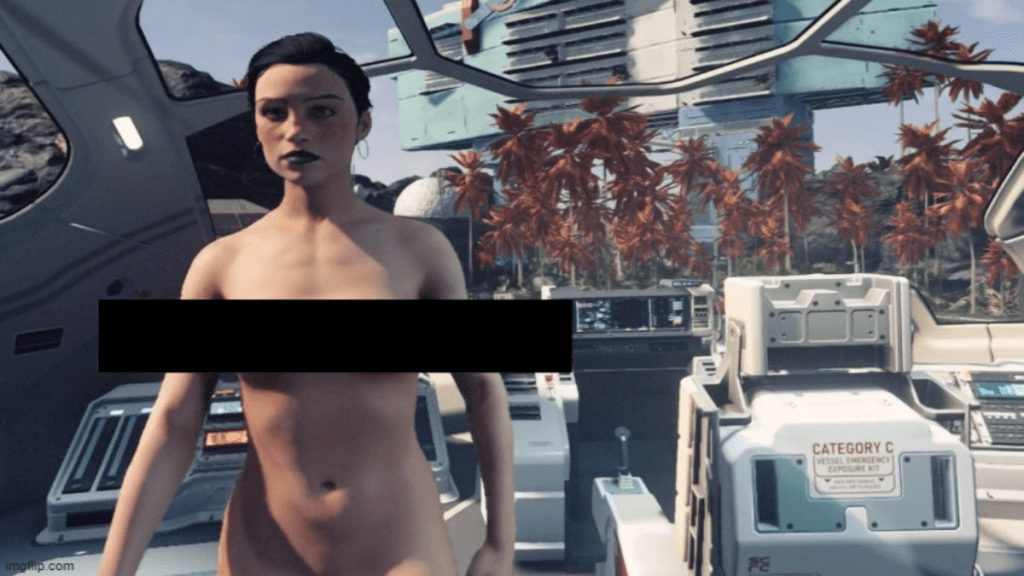 The No Bras in Space mod by StarLoddy on NexusMods offers players a glimpse into what Starfield would be like without the burden of over-the-shoulder-boulder-holders. If you were tired of being boob-blocked by the burdensome bras of this game, then congratulations, you've just found the perfect mod for you!
The No Bras in Space mod takes care of all those terrible bras that no one asked for, so you can enjoy as much virtual cleavage as your little heart desires. This mod takes "less is more" to a whole new level!
Ahegao Flashlight Mod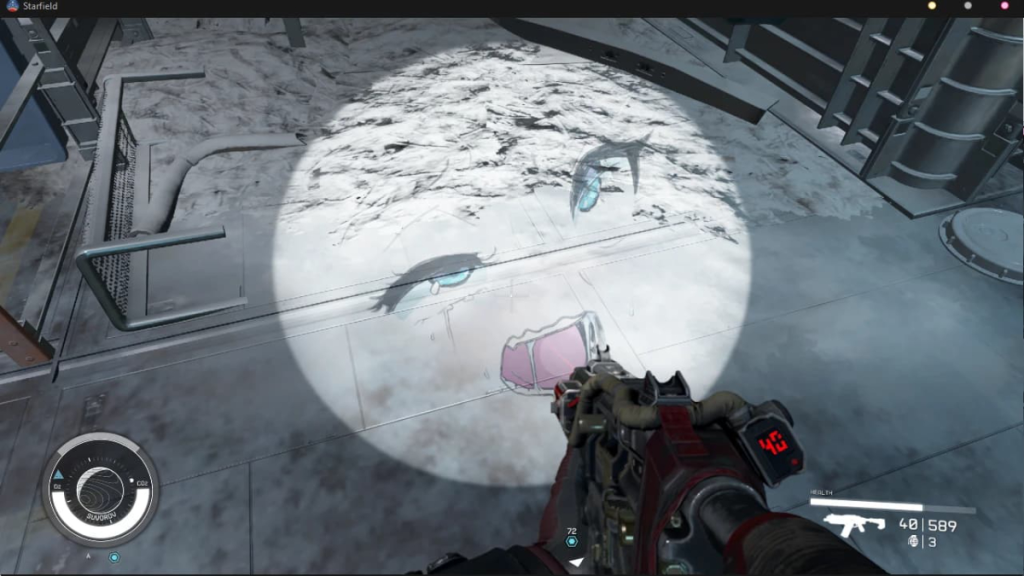 This mod is mostly just for fun, but that doesn't mean that it's any less worth downloading than the other mods on this list. The Ahegao Flashlight mod by Mayleen16 on NexusMods does pretty much exactly what you think it does: it transforms the beam of your flashlight into a disgusting, weeaboo-attracting Ahegao face.
For those of you who are unaware, an "Ahegao" face is a term for the face that anime girls make when they… get excited. If you want to add a dash of depraved nastiness to your game, or just want to have a laugh every time you flick on your flashlight, then go ahead and check out this mod on NexusMods!
NSFW Loading Screens Mod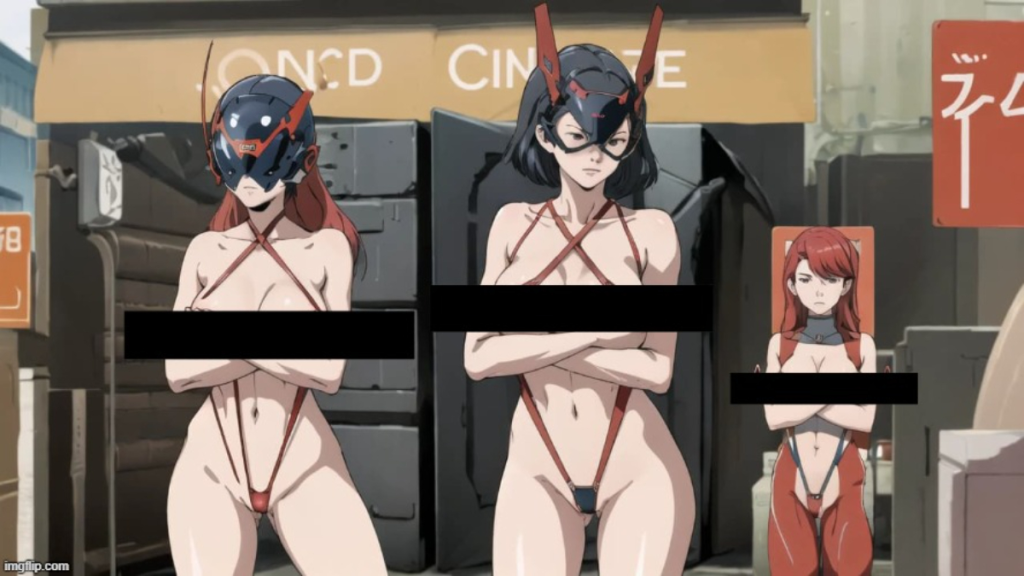 If you've ever found yourself wishing the loading screens in Starfield weren't so kid-friendly, then don't worry, lardtom on NexusMods has got your back! As its name would suggest, the NSFW Loading Screens mod changes Starfield's loading screen images with saucier alternatives.
According to its creator, this mod's sole purpose is to simply provide players with "a little something to look at while waiting". With the NSFW Loading Screens mod, you'll actually find yourself looking forward to Starfield's unskippable loading screens!
Adult Advertisements and Magazines Mod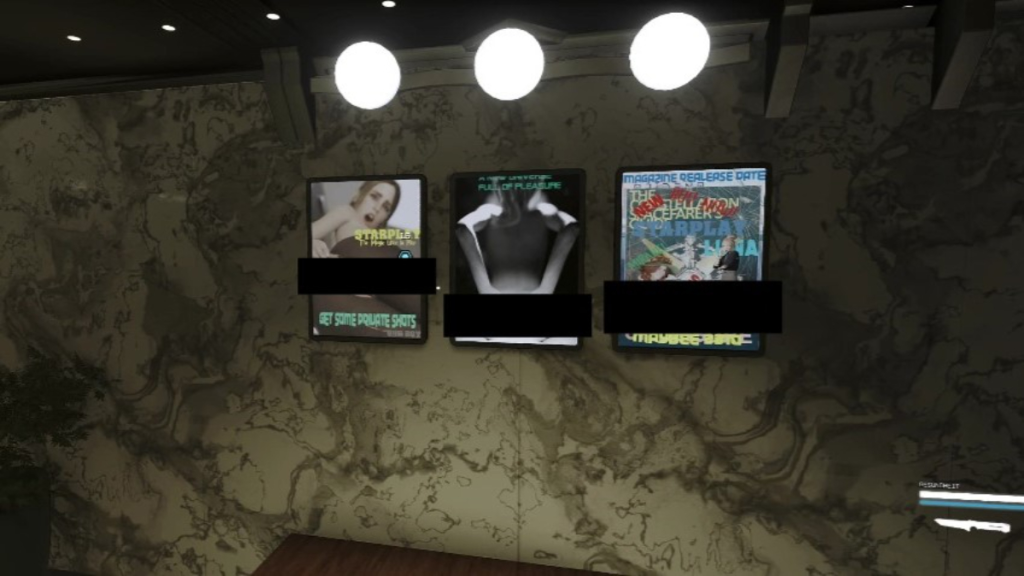 This mod isn't as overtly NSFW as some of the other Starfield sex mods on this list, but it's the perfect choice for players who want to sneak in a little extra nastiness to their Starfield experience. The Adult Advertisements and Magazines mod by redbuly on NexusMods replaces nearly all of the in-game advertisements and magazine covers with naked, near-naked, and overall scantily clad women.
It's honestly easy to forget sometimes that you even have this mod downloaded, that is until you look over at a magazine and see a giant pair of bazongas staring at you. The amount of effort and attention to detail that went into this mod is actually pretty impressive; even if you're not planning on downloading it, you should still check out its page on NexusMods to admire the creator's handiwork, if nothing else.
Don't Bully Me I'll C*m Shirt Mod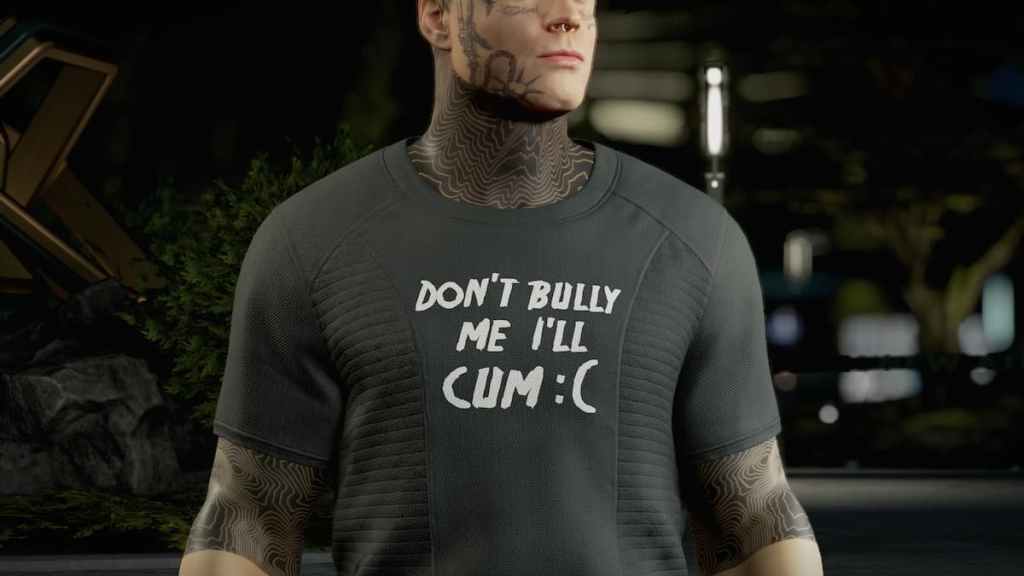 Okay, this one isn't technically a sex mod, but come on. What Starfield experience wouldn't be made exponentially better with this shirt.
The Don't Bully Me I'll C*m Shirt mod by drownjrdrown on NexusMods replaces Starfield's Space Trucker Shirt with the hilariously infamous "Don't Bully Me I'll C*m" shirt. It's a well-known fact that all space truckers love being bullied. Even if you don't download any of the other mods on this list, then please, at least download this mod. There's literally no downside. You won't regret it. I'll cry if you don't.
Naked Swimsuit Replacer Mod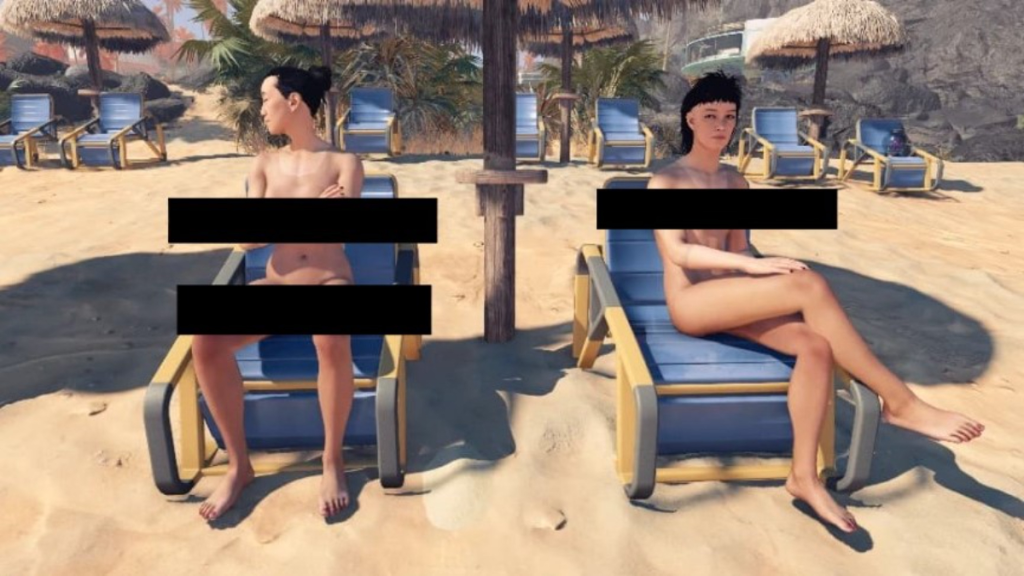 If you're a fan of public nudity and indecent exposure, then you need to check out the Naked Swimsuit Replacer mod by CRAFTYxGAMER on NexusMods. With this mod, you can make every beach a nude beach in Starfield!
The Naked Swimsuit Replacer mod does exactly as its name suggests: it replaces all of the in-game swimsuits with birthday suits. Good luck trying to progress through the game when every beach is full of naked-boobed babes!
C*msl*t Undies Mod
The C*mslut Undies mod by Zireaelwow on NexusMods allows all male-presenting characters to don themselves with some exceedingly fashionable, neon pink C*msl*t Undies. Never did I ever believe that I'd be including the word "c*msl*t" in any of my professional content as a freelance writer, but, here we are.
It's hard to stay focused on space combat and saving the galaxy when you're rocking a pair of these booty-boosters. Good luck with becoming a brave warrior of the stars when you're wearing this borderline-lingerie; you'll have to beat the thirsty aliens off of you with sticks!
Hairy Men for Starfield Mod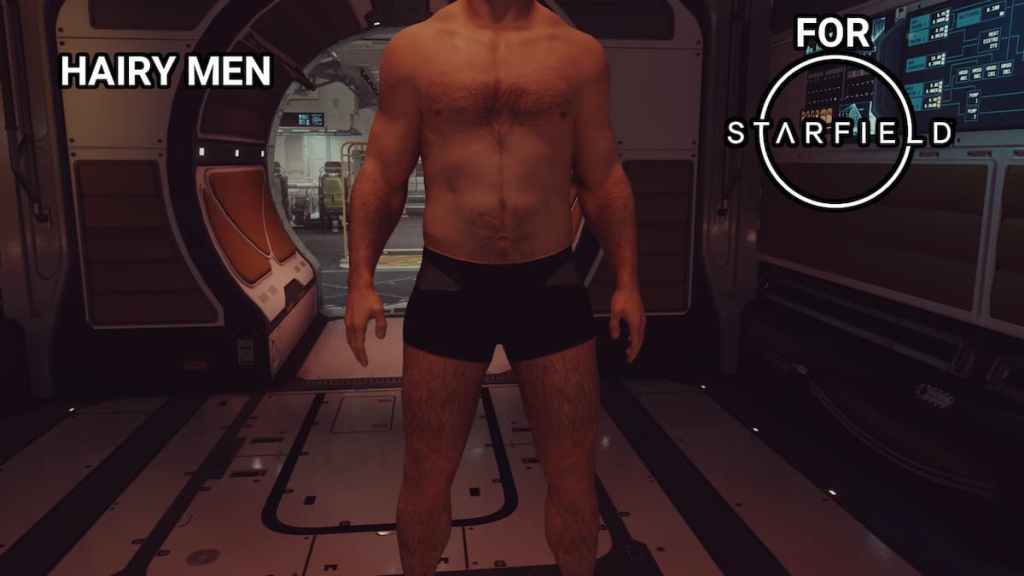 We're ending this list off with a big hairy bang. If you're a hairy hunk who's tired of seeing all these smooth, hairless, plucked-clean twinks and twunks in video games, then you're the perfect candidate to test out the Hairy Men for Starfield mod by Jay33721 on NexusMods.
The Hairy Men for Starfield mod adds a generous amount of body hair to all the juicy male body textures, including chest hair, belly hair, leg hair, back hair, lower back hair, arm hair, and yes, even butt hair. This mod is a godsend for everyone who likes their men to have a little something extra to hold onto.
---
Sex mods may not be everyone's cup of tea, but if you're here, then there's a good chance that they're yours. If you love spicing up your games with some less-than-SFW mods, then you've come to the right website!
Gamer Journalist has tons of sex mod recommendations for video games; check out our recommendations for Stardew Valley, Elden Ring, Skyrim, and more!
About the author