When Does the Blood Moon Festival Event End in Cult of the Lamb?
Goodnight Blood Moon
The Blood Moon Festival is a limited-time-only event recently launched by Cult of the Lamb's developers, Massive Monster. This event includes new rituals, new follower forms, and new base decorations; if you needed a reason to get back into Cult of the Lamb, this is it! Keep reading to see how long the Blood Moon Festival event in Cult of the Lamb is going on!
When Does the Blood Moon Festival Event End in Cult of the Lamb?
Who wouldn't want to raise the dead for fun if given the chance?? This event allows you to do just that in Cult of the Lamb, but it won't last forever! This Halloween event began on October 24th and is set to end on November 10th.
November 10th will be here before you know it, you'll definitely want to participate in this event soon (if you haven't already) before you miss out. You can get up to three new spooky follower forms and four new horrifying decoration blueprints; these items won't be available ever again once this event ends, so don't miss this awesome opportunity!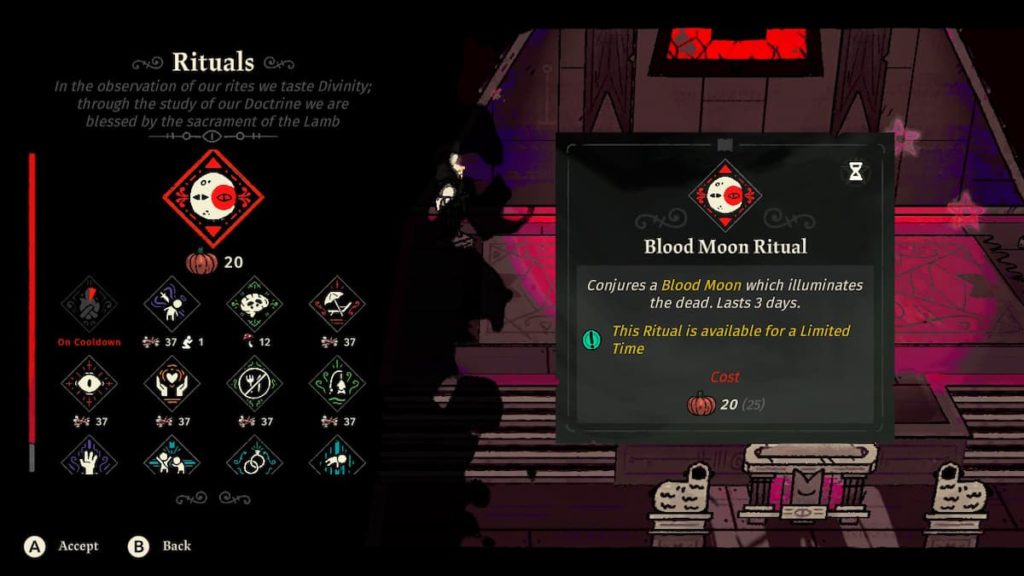 Related: How to Return Ratoo's Heart in Cult of the Lamb
Even without the amazing rewards that it offers, the Blood Mood Festival event is an immensely entertaining way to spend the Halloween season. What better way to get in the Halloween spirit than to summon the spirits of dead cult members?
Getting to chase the ghosts of your dead followers around your base is almost enough of a reward in itself, but the new follower forms and base decorations are definitely appreciated! Check out Gamer Journalist's other guides on Cult of the Lamb if you want to know more about this spooky event!