What Would Suit Me in Final Fantasy 7 Remake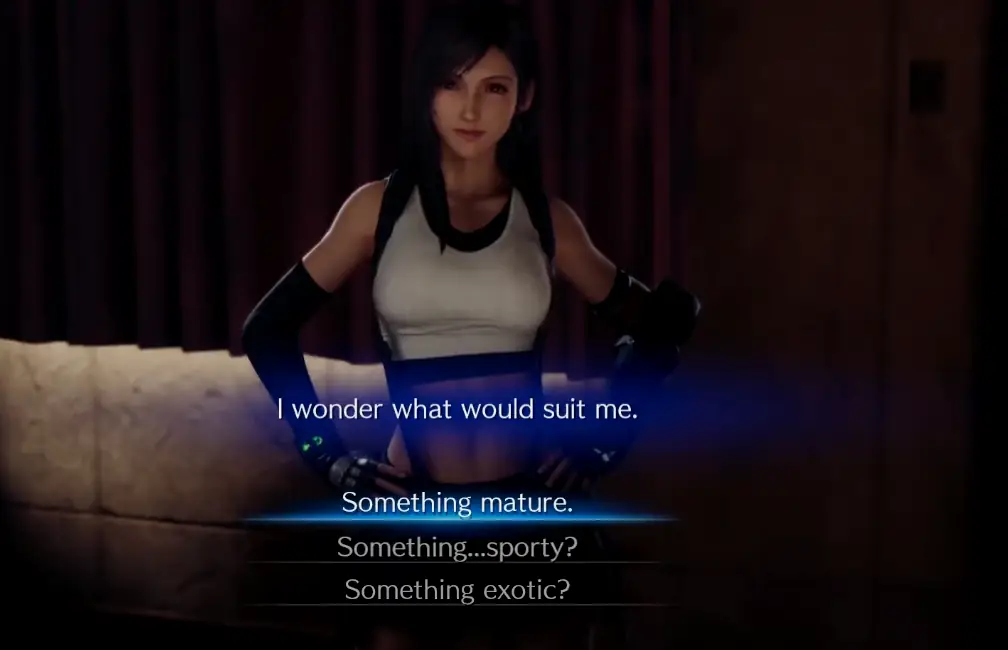 In the Final Fantasy 7 Remake, you will have to make a choice near the end of Chapter 3. When Tifa talks to you about going to the bar, she asks what kind of clothes you think she should wear. The options are either to wear something sporty, exotic, or mature, and the results might surprise you. If you are wondering exactly what the consequences of your choice will be, you can read on.
What Would Suit Me in Final Fantasy 7 Remake
Tifa will ask 'I wonder what would suit me' with the following options:
Something mature.
Something… sporty?
Something exotic?
To be honest, this makes little difference at all other than how she looks in a scene later on in the game. The description of each outfit is not quite what you would expect, though. For that reason, we will describe each outfit here.
Something Mature will make Tifa appear in a short blue dress with her hair down, and will look familiar to you from the FF7 trailer. This is the most revealing option by far.
Something exotic may sound like the best option, but it's actually the least revealing. This will cause her to wear a short black kimono with a flower-patterned headband.
Lastly, something sporty is the second most revealing option. Tifa says it's no different than what she normally wears but that's not the truth at all. Here's an image of Tifa's outfits.
Tifa's Outfits in FF7 Remake
From left to right, we have Tifa Sporty, Tifa Exotic, and Tifa Mature.
As you can see, all options look nice, so you can decide which one you left the best and choose from there.