How to get Killua Spec in A Universal Time (AUT)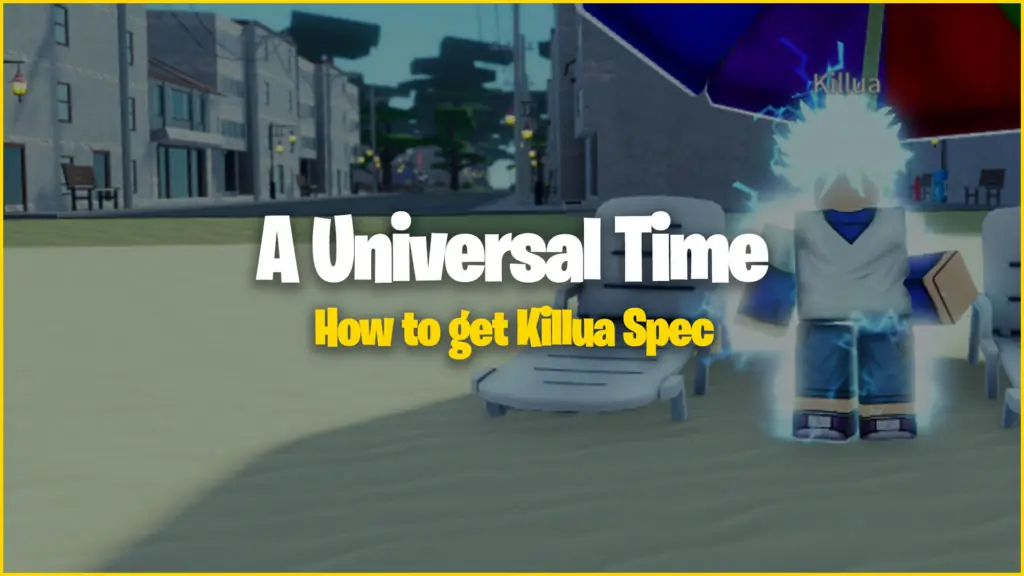 Killua is a newcomer to A Universal Time in the September 5 update. The character shows up on the beach as an NPC, and he also has a quest available for players that want to obtain the Killua Spec. Obtaining the spec may take anywhere between thirty minutes to a couple of hours, so we're here to show you an easy way to do it. This guide will explain how to get Killua Spec in A Universal Time (AUT).
Killua is from the Hunter × Hunter anime series, and he proves to be a very powerful spec in AUT. To get the Killua Spec in AUT, you will need to complete a three-step process, including a series of quest objectives. You'll need to know how to get Arrows in AUT, as well as some other basics. Refer to our guides if you're new to the game and not sure what you're doing.
How to get Killua Spec in A Universal Time (AUT)
To get Killua Spec in AUT, follow these steps:
Go to the Beach
Speak with the Killua NPC
Complete Killua's Training quest
Obtain and use the Yo-Yo item
Head over to the beach located next to the park, and find the Killua NPC. Speak with Killua, and listen to his dialog. He will say, "assassination is a key aspect that's held in high regard within my family. Do you wish to be a successor to such a tradition?" Reply by saying, "Yes." Confirm this again after he asks you if you think you're ready.
You will then receive a quest called Killua's Training. The Killua's Training quest requires completing the following objectives:
Endure the Way of the Yakuza: 777
Inflict Damage: 777
Dash: 77
Take Damage: 7777
Use Arrow: 7
Successfully counter with Brawler's Instinct: 77
How to complete Killua's Training Quest in AUT
The quest objectives can prove pretty difficult and time-consuming, especially if you're not sure how to do them. We'll walk you through each step of the way, though, to make it easier.
One part of this quest you may be confused with is how to Endure the Way of the Yakuza in AUT. Endure the Way of the Yakuza is a Standless move you can use by pressing the "H" key. Walk next to one of the attack dummies and get your health to drop into the red. You will gain HP, and then slowly drain it after using this move, so you'll need to lose a total of 777 HP in total. The move has a decently long cooldown, so you can do other things while you wait. You can also get hit a few times to take damage, as well. Pay attention to your cooldowns and use them when they are up. Remember dash around, as well.
Inbetween casting the Way of the Yakuza, press the "V" key to counter Dummy's attacks using Brawler's Instinct. You will need a total of 77 counters, so you should complete this task along with the previous one in a similar fashion. If Way of the Yakuza and Brawler's Instinct are both on cooldown, you can attack the Dummy to inflict damage. You'll need a total of 777 damage inflicted normally, which should be pretty easy to complete.
To obtain seven arrows, you can go to the shop located on the side street between the park and the soccer field. Speak with the NPC and buy seven arrows. These cost 1,500 UC a piece, and you can also find them in chests or meteors if you don't have the coin. When you have seven arrows, find Enrico Pucci next to the bus stop in the park. Have him reset your stand, and then proceed to repeat this step while using all seven arrows.
How to get the Yo-Yo item in AUT
You obtain the Yo-Yo item after completing the Killua's Training quest. After completing the final objective, the Yo-Yo will automatically show up on your item bar. To use it, press the number key associated with it on your item bar, and left-click to use it. Use the Yo-Yo to obtain the Killua Spec!
AUT Killua Spec Moves and Controls
M1 – Regular attack
Q – Otherworldly Aura (damage buff)
E – The Snake Awakens (combo extender)
R – No Mercy (dash)
T – Thunderbolt (ranged)
Y – Rhythm Echo (clone summoning)
F – Instant Death (dash)
G – Godspeed (increases jump power and speed)
H – Onslaught (AoE beatdown)
You can use Killua by comboing a few basic attacks into The Snake Awakens, followed by more basic attacks into No Mercy and a Thunderbolt. He has many abilities, which makes Killua a very versatile PvP spec. There are many options and playstyles to use, but try to make use of all your moves while considering cooldowns and optimizing damage.
Check our website's A Universal Time section for more related content and guides!