A Universal Time (AUT) Private Server Codes (October 2023)
Here are some codes for A Universal Time (AUT) private servers where you can play for free!
Last Checked: October 26, 2023

We are on the lookout for the newest codes today!
A Universal Time is one of the many Roblox RPG games best played on a private server. Considering there are a limited number of meteor and chest spawns, you'll be competing with tons of players on public servers. For that reason, if you have access to a private server, you'll have a much easier time progressing through the game. We put together a list of AUT private server codes that you can access free of charge. We've even set up a server for our readers to use.
To obtain a private server of your own in A Universal Time, you will need to purchase the Private Server VIP from the in-game shop. You can access the in-game shop by pressing the "M" key and clicking the top left icon to open the Products page. A Private Server Game Pass will cost you 150 Robux. Not everyone has 150 Robux to spare, and that's where our list of free AUT private server codes comes in handy.
Here is a list of AUT Private Server codes you can use to access the VIP Private Servers free of charge.
A Universal Time Private Server Codes
CmyFzXnmzrMDpurPtr
tljxlmpKNJEEsLKroC
PqIWHGXtSZYKMpjGXm
If the server does not work, it is likely full, or the access code has changed. We will update the list regularly so that you'll always have an AUT Private Server to play on!
Roblox AUT Private Server Frequently Asked Questions
How to find more free private servers in A Universal Time (AUT)
To find more AUT Private Servers, you can visit this link and browse the server list. Scroll down and continue clicking the load more button until you get to the AUT Private servers that are not full. You may have to continue scrolling down the list for a while. Eventually, you will get to servers that have free space.
The method above is the best way to find AUT Private Servers on your own. You do not need to pay anyone or use any browser extensions for access to a private server. Spend a bit of time searching through the list, and you will eventually find some to join!
How to join a private server in AUT
To join a private server, follow these steps:
Launch A Universal Time
From the main menu, select Private Servers
Input the code in the "Join Private Server by code" section
Tap the button to Join Private Server by code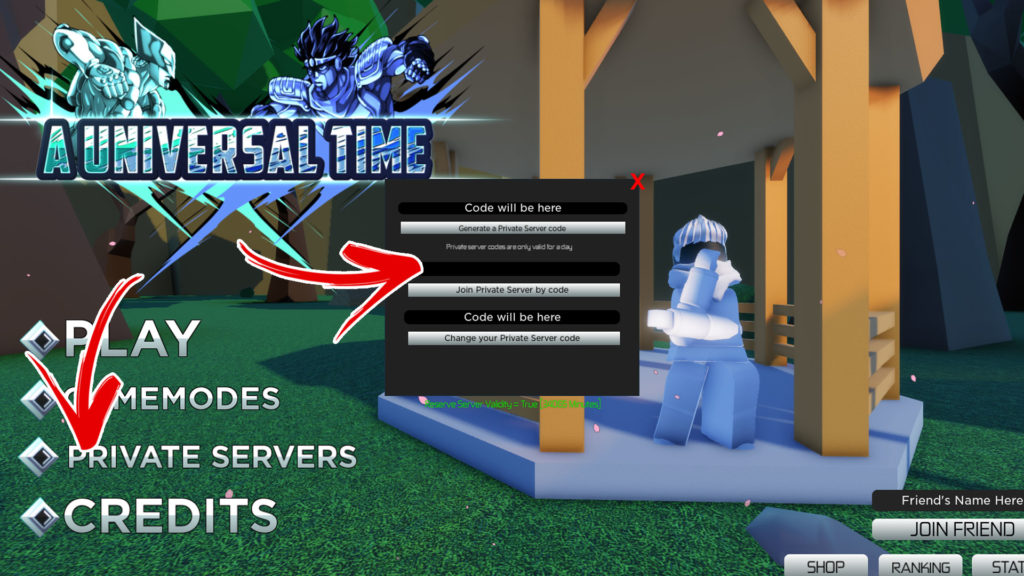 For related content, check out our A Universal Time section! We have lots of helpful guides on how to obtain special Stands and Specs.
About the author