A Universal Time Update Patch Notes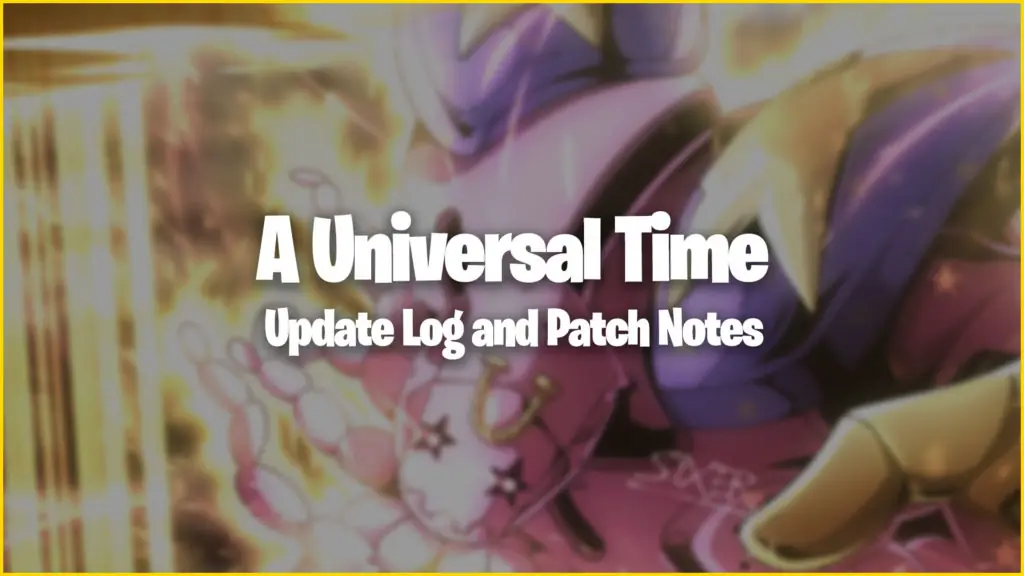 The developers of Roblox's popular JoJo's Bizarre Adventure-inspire game, A Universal Time, or AUT for short, have been busy pushing out the updates. Whether it's new Stands or forms, there are always new things coming to AUT to keep the players busy. Keeping track of all the changes can be tough, especially with a jam-packed Discord like AUT. That's why we have a running list of all the A Universal TIME (AUT) updates and patch notes, so you can easily see what's updated or changed.
Find the full A Universal Time update log and patch notes down below. We will update this page for each major update, so feel free to bookmark the page if you find it useful! We'll also be providing many guides for A Universal Time to help our readers out.
A Universal Time (AUT) September 6 Update Patch Notes
A Universal Time's September 6 update adds a few new voice lines, and lots of balance changes to Tusk, Killua, and The World over Heaven. Players can now also earn U-Coins and Wins when the enemy leaves or disconnects. As always, there were also some minor bug fixes, as well.
New
You now earn U-Coins and Wins if somebody logs or leaves
Added 3 new quotes for Killua
New voiceline for Killua's No mercy move
New voiceline for Killua's Godmode enterance
Added new dash SFX for Killua's R and F moves
Added new SFX for No mercy move and voiceline
Balances
Increased Tusk Act 4 Wormhole Barrage cooldown to 15 from 10
Tusk Act 4 Infinite rotation (Unrelenting Assault) shot no longer guard breaks, but instead bypasses through everything
Tusk Act 4 Rotational Guidance damage is now 9.25 from 8.25, abd multiplies by x5 between punches (Blockable)
Dark Determination cooldown is now 100 was 120 same as sptw awakening now
The World Over Heaven

Ground strike cooldown increased to 20 was 10 and damage buffed to 20
LMB combo no longer deals 10 per hit its now 8
Barrage damages 1.3 per hit now was 1.4 since length is high too
Barrage cooldown increased 6 was too low – Made Tusk's m1s really fast now

Added a spawn cooldown for SPTW's Awakening
King Crimson's Donut now actually stuns properly sorry for not testing it before that was my fault
Killua

HP is now 400
Speed of lightning cannot be used during stun anymore, and increased cooldown sligtly
Snake Awakens damage is now 1.3 from 2.5
Thunderbolt CD is now 10 was 8 – Killua's both modes cooldowns increased by 20 extra seconds
Endlag on F and R reduced and instant death damage slightly reduced

Timed Speed of lightning with an animation now
Fixes
Speed of Lightning being broken in 1v1s fixed
Teleport moves should work properly now
Fixed Gojo Amplification
Fixed D4C's Counter move endlag
A Universal Time (AUT) September 5 Update Patch Notes
The A Universal Time September 5 update is a big one, adding Killua NPC and Killua form to the game. There's also a new move for SPTW and a new model for Pucci, as well as some updated 1v1 mechanics.
New
Added Killua

Killua NPC can be found in the beach

New move for SPTW "Y" Key (must be low HP to use it)
Added new model for Pucci
Updated 1v1s
Balance Changes
Nerfed Killing Doll damage slightly and increased the cooldown
Sakuta's G move no longer guard breaks because it's very fast and instant
Slightly nerfed Sakuta's Triple Shot damage
Nerfed Gaster's Saws and Stuns
Nerfed Gaster's Stun and increased LMB cooldown to fix annoying combos
Fixes
Tusk not being able to use Nail Shots in all acts is fixed
Unrelenting Assault is fixed
Fixed 1v1 breaking characters
Fixed Sans Bad Time being blocked mid-usage
Shadow Dio issue fixed
Collission bugs fixed
Fixed Gaster stuff