How to Get a Pull-Ups Mini-Game High Score in FF7 Remake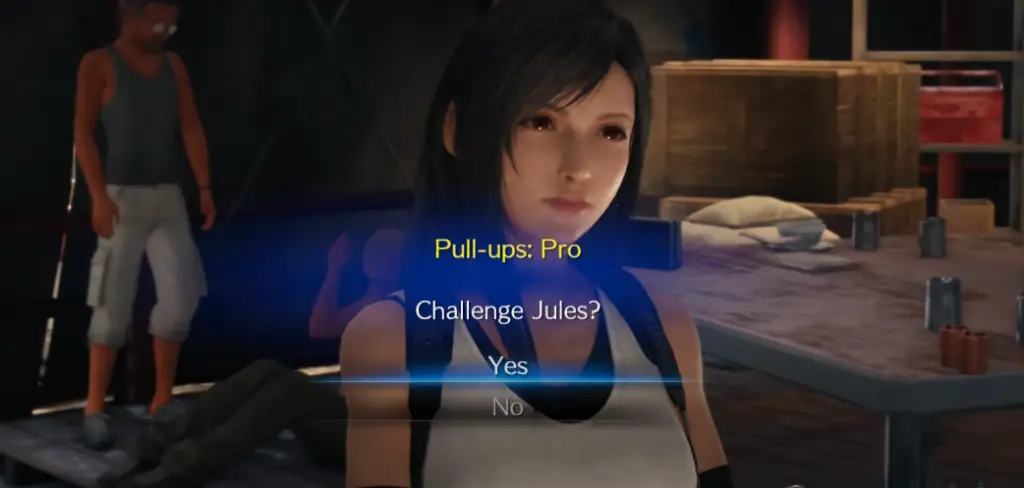 In Chapter 14, Cloud returns to the Wall Market Gym where Tifa must do pull-ups against a few competitors. Each competitor becomes increasingly more challenging, and this mini-game proves to be quite difficult. Here's how to get a high score in the pull-ups mini-game in the FF7 Remake.
How to Get a Pull-Ups Mini-Game High Score in FF7 Remake – Trophy Challenge Guide
You will need to utilize four buttons on your controller for the pull-ups mini-game.
| Button | Action |
| --- | --- |
| Triangle Button | Sequence 1 |
| X Button | Sequence 2 |
| Circle Button | Sequence 3 |
| Square Button | Sequence 4 |
The first two competitors Tifa goes against in this challenge are not all that difficult. All you need to do is follow the sequence of buttons shown on the screen. Where you might find yourself stuck is at the third challenger Jules.
Jules will mess up early on in the challenge but quickly gain momentum. The game will often get you in a nice comfortable rhythm, and then throw in one button you need to hit simultaneously. This might mess everything up for you. It's likely the hardest mini-game challenge in the entire game.
You will need to perform perfectly and avoid making any mistake at all because that will cost you the game. If you want to get this trophy in the bag, you'll need to complete about 43 pull-ups to win.