How to Call the Tow Truck in Flashing Lights
It's even easier than in real life!
Flashing Lights is a totally immersive police, firefighting, and EMS simulator game that has finally come out of its early-access phase! This open-world emergency services sim gives players the chance to become the law and save lives, without any real-life commitment; what could be more epic than that?
One of the many popular features of Flashing Lights is the Tow Truck, which is fairly self-explanatory. The Tow Truck will get rid of unwanted vehicles, but it'll need to be specifically called upon first. Keep reading if you want to find out how to successfully call the Tow Truck in Flashing Lights!
How to Call the Tow Truck in Flashing Lights
The Tow Truck is an incredibly useful (and fun) feature in Flashing Lights; this highly-requested feature becomes available to players once they've completed selected police callouts. It's up to you to decide which cars get to remain and which must go, which is honestly a pretty formidable feeling!
Catching parking violators is all fun and games until you actually have to call the Tow Truck, however, and realize you have no idea how to do it. Thankfully, it's a lot easier than it seems!
Calling the Tow Truck in Flashing Lights is an incredibly simple process. All you have to do to call the Tow Truck is approach a suspect's vehicle, stand next to it, and left-click. That's it! Once you know how it works, you can call as many tows as your little law-abiding heart desires!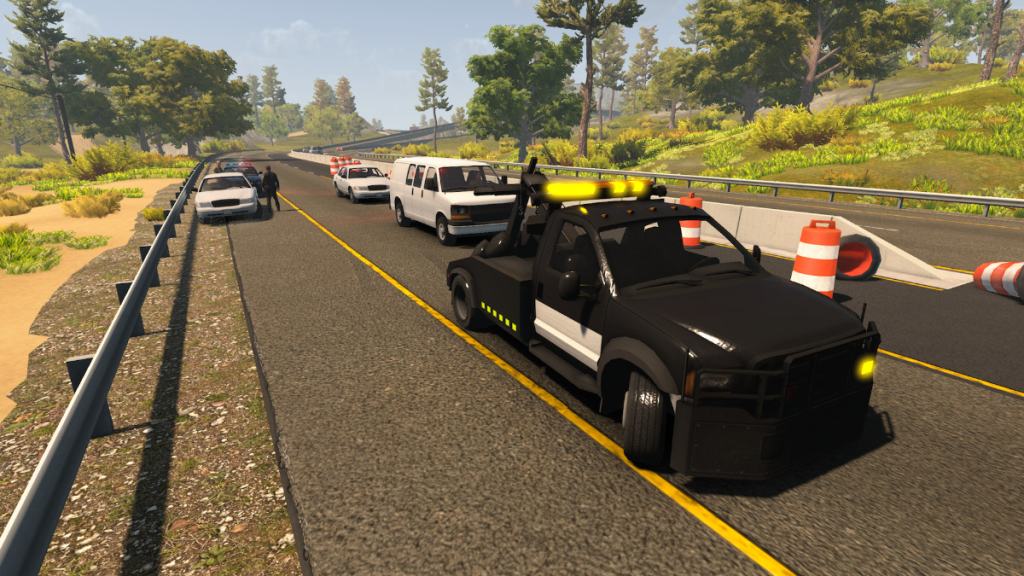 What Constitutes a Parking Violation in Flashing Lights?
Unfortunately, you can't just tow away any old vehicle that's parked on the street, though that would make the game more fun. In order to properly make use of the Tow Truck in Flashing Lights, you'll first need to locate a vehicle that exhibits a parking violation in some way.
Parking violations aren't always obvious, but you should always try to keep your eyes peeled for vehicles committing any of these offenses in Flashing Lights:
No valid parking permit.
Parked in a "No Parking" area.
Parked in a handicapped space.

Obviously, this only applies if the vehicle is not being operated by a handicapped individual.

Blocking driveway or access.
Other obvious offenses.

There are other offenses that you can list on your parking violation ticket that may not fall into any of the above categories.
Just be careful when marking this section, and make sure that the vehicle is definitely in violation of the law prior to calling the Tow Truck!
Related: How to Call the Airship in Chained Echoes
Does Flashing Lights Have Multiplayer Co-Op?
The only thing more fun than playing an emergency services simulator is playing one with your friends! Thankfully, the developers of Flashing Lights took that fact to heart when making this game; Flashing Lights is one of the best multiplayer co-op games on the market.
Not only does Flashing Lights have multiplayer capabilities, but it also allows players to play with up to 10 people at once! This massive online multiplayer limit allows players to get their whole families or entire friend groups in on the action, which only increases the game's enjoyability.
No matter how many friends you have, you can enjoy arresting and saving people together in Flashing Lights!
---
Flashing Lights is one of the most immersive simulator games on the market, but even the most immersive games can get old after a while. If you love playing simulator games like Flashing Lights and are looking for something new to play, then you'd love GTA V and Need for Speed Unbound!
Both of these games are similar to Flashing Lights in the sense that they frequently feature law enforcement and are all about vehicles, so there's no way that you won't fall in love with them as soon as you log in. Check out Gamer Journalist's guides for both of these games for more information!
About the author