Cram-o-Matic Recipes in Pokemon Sword & Shield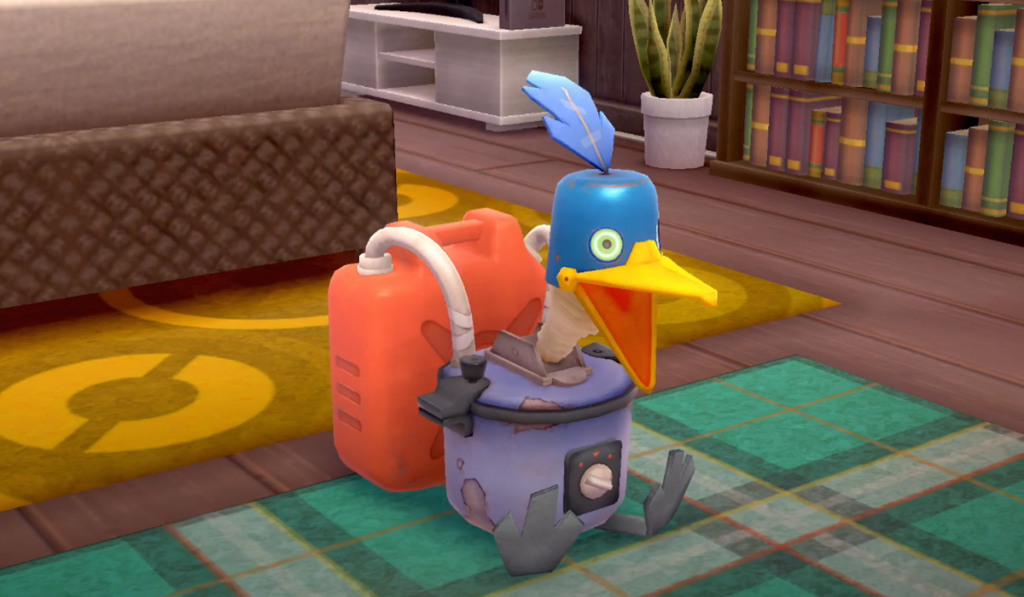 Are you looking for Cram-o-matic recipes? At the beginning of the new Pokemon Sword & Shield's new Isle of Armor DLC, you will unlock an item combiner that Hyde calls the Cram-o-matic.
It turns out there are many exciting item combinations you can use in this machine. In this guide, we're going to list all of the known Cram-o-matic recipes we have discovered so far.
How to unlock the Cram-o-matic
To unlock the Cram-o-matic, you need to own the Isle of Armor expansion pass. You can pick this up in the Nintendo e-Shop if you don't have it already.
Next, head inside the Dojo to the room with Hyde. You need to supply Hyde with 500 Watts to get his machine up and running, which will unlock the Cram-o-matic for you to use.
For 100 Watts, Hyde will give you a random recipe to test out. Unfortunately, there is no easy way to keep track of these Cram-o-matic recipes in-game yet.
How to use the Cram-o-matic
Using the Cramorant Item Combiner in Pokemon Sword & Shield is relatively simple. You can take any four items and throw them into the machine. The game will quick-save, so keep that in mind, because you cannot revert your decision. Those four items will then combine into something new.
There are many different item recipes out there, including tiered recipes that require materials that you can only get some combining items. Let's take a look at some of the Cramorant Item Combiner recipes. Keep in mind the order you input the items into the Cram-o-matic does matter.
Cram-o-matic Recipes in Pokemon Sword & Shield
Poke Ball Recipes
One essential set of Cram-o-matic recipes to learn is Poke Balls. Players can use four Apricorns of a specific color, obtained from trees around the Isle of Armor, to create a Poke Ball.
Dive Ball – Blue Apricorn x4
Dusk Ball – Black Apricorn x4
Fast Ball – White Apricorn x4
Friend Ball – Green Apricorn x4
Great Ball – Yellow Apricorn x4
Heal Ball – Pink Apricorn x4
Heavy Ball – Black Apricorn x4
Level Ball – Red Apricorn x4
Love Ball – Pink Apricorn x4
Lure Ball – Blue Apricorn x4
Luxury Ball – Black Apricorn x4
Moon Ball – Yellow Apricorn x4

Nest Ball – Green Apricorn x4
Net Ball – Blue Apricorn x4
Poke Ball – Green Apricorn x2, Yellow Apricorn x2
Quick Ball – Yellow Apricorn x4
Repeat Ball – Red Apricorn x4
Sport Ball – Red Apricorn x2, Black Apricorn x2
Timer Ball – White Apricorn x4
Ultra Ball – Green Apricorn x4
Full Cram-o-matic Recipe List
| | | | | |
| --- | --- | --- | --- | --- |
| Item | Recipe | | | |
| Ability Capsule | Rare Candy | Rare Candy | Rare Candy | Rare Candy |
| Absorb Bulb | Sticky Barb | Balm Mushroom | Balm Mushroom | Balm Mushroom |
| Adrenaline Orb | Dusk Stone | Dynamax Candy | Dynamax Candy | Dynamax Candy |
| Air Balloon | Mago | Power Weight | Eject Pack | Eject Button |
| Assault Vest | Metal Powder | Cracked Pot | Dubious Disc | Ice Stone |
| Balm Mushroom | Big Mushroom | Big Mushroom | Big Mushroom | Big Mushroom |
| Big Mushroom | Aguav | Big Pearl | Big Pearl | Big Pearl |
| Big Nugget | Nugget | Nugget | Nugget | Nugget |
| Big Pearl | Pearl | Pearl | Pearl | Pearl |
| Black sludge | Oran | Oran | Oran | Oran |
| Blunder Policy | Pretty Feather | Flower Sweet | Quick claw | Rose Incense |
| Bottle Cap | Big Nugget | Big Nugget | Big Nugget | Comet Shard |
| Bright Powder | Shed Shell | Shed Shell | Shed Shell | Shed Shell |
| Cell Battery | Electric Seed | Electric Seed | Exp. Candy L | Exp. Candy L |
| Cleanse Tag | Mago Berry | Balm Mushroom | Balm Mushroom | Star Piece |
| Comet Shard | Comet Shard | Wishing Piece | Wishing Piece | Wishing Piece |
| Cracked Pot | Spell Tag | Destiny Knot | Wishing Piece | Lax Mint |
| Destiny Knot | Moon Stone | Wishing Piece | Wishing Piece | Wishing Piece |
| Dragon Fang | Aguav | Pearl | Pearl | Pearl |
| Dragon Scale | Dragon Fang | Dragon Fang | Dragon Fang | Dragon Fang |
| Dubious Disc | Light Ball | Wishing Piece | Wishing Piece | Wishing Piece |
| Electric Seed | Pecha | Pecha | Pecha | Pecha |
| Everstone | Hard Stone | Hard Stone | Hard Stone | Hard Stone |
| Eviolite | Hard Stone | Hard Stone | Big Nugget | Big Nugget |
| Expert Belt | Macho Brace | Balm Mushroom | Balm Mushroom | Balm Mushroom |
| Flame Orb | Cheri | Cheri | Rare Bone | Rare Bone |
| Float Stone | Oval Stone | Stardust | Stardust | Stardust |
| Gold Bottle Cap | Bottle Cap | Bottle Cap | Bottle Cap | Bottle Cap |
| Grassy Seed | Green Apricorn | Kebia Berry | Kebia Berry | Kebia Berry |
| Grip Claw | Sharp Beak | Balm Mushroom | Balm Mushroom | Big Mushro |
| Hard Stone | Float Stone | Float Stone | Float Stone | Float Stone |
| Icy Rock | Ice Stone | Ice Stone | Ice Stone | Ice Stone |
| King's Rock | Dragon Fang | Black Glasses | PP Up | PP Up |
| Life Orb | Dragon Scale | Balm Mushroom | Balm Mushroom | Balm Mushroom |
| Light Ball | Fossil Bird | Fossil Bird | Comet shard | Comet shard |
| Light Clay | Soft Sand | Rare Bone | Rare Bone | Rare Bone |
| Love Sweet | Whipped Dream | Balm Mushroom | Balm Mushroom | Balm Mushroom |
| Macho Brace | Carbos | PP Max | Ice Stone | Wishing Piece |
| Magnet | Cell Battery | Cell Battery | Cell Battery | Cell Battery |
| Metal Coat | Iron Ball | Iron Ball | Iron Ball | Iron Ball |
| Metal Powder | Iron Ball | Charti Berry | Adrenaline Orb | Grepa Berry |
| Misty Seed | Kee Berry | Kee Berry | Kee Berry | Kee Berry |
| Muscle Band | Calcium | Nugget | Water Stone | Grepa Berry |
| Mystic Water | Fossil Fish | Fossil Fish | Comet Shard | Comet Shard |
| Never Melt Ice | Fossil Dino | Fossil Dino | Fossil Dino | Fossil Dino |
| Odd Incense | Dusk Stone | Figy Berry | Figy Berry | Figy Berry |
| Oval Stone | Charti Berry | Dusk Stone | Ring Target | Wave Incense |
| Pearl String | Balm Mushroom | Balm Mushroom | Balm Mushroom | Balm Mushroom |
| Poison Barb | Toxic Orb | Wishing Piece | Wishing Piece | Wishing Piece |
| PP Up | Armorite Ore | Armorite Ore | Armorite Ore | Armorite Ore |
| Pretty Feather | Lum | Lum | Lum | Lum |
| Prism Scale | Big Pearl | Big Pearl | Balm Mushroom | Balm Mushroom |
| Protector | Lagging Tail | Light Clay | Light Clay | Light Clay |
| Quick Powder | Wishing Piece | Wishing Piece | Wishing Piece | Blue Apricorn |
| Random Sweet | Any Sweet | Any Sweet | Any Sweet | Any Sweet |
| Rare Candy | Big Nugget | Comet Shard | Comet Shard | Comet Shard |
| Razor Claw | Icy Rock | Pomeg Berry | PP Max | Galarica Cuff |
| Red Card | Red Apricorn | Wishing Piece | Wishing Piece | Wishing Piece |
| Ribbon Sweet | Pink Apricorn | Rare Candy | Rare Candy | Rare Candy |
| Ring Target | Dusk Stone | Sachet | Luck Incense | Water Stone |
| Rocky Helmet | Everstone | Everstone | Everstone | Everstone |
| Room Service | Berry Sweet | Metal Coat | Roseli Berry | Silver Powder |
| Satchet | Moon Stone | Sweet Apple | Black Sludge | Sticky Barb |
| Scope Lens | Black Apricorn | Wishing Piece | Wishing Piece | Wishing Piece |
| Sharp Beak | Any Feather | Any Feather | Any Feather | Any Feather |
| Shell Bell | Fossilized Fish | Fossilized Fish | Fossilized Fish | Fossilized Fish |
| Silver Powder | Bug Memory | Pecha Berry | Dynamax Candy | Dynamax Candy |
| Smoke Ball | Oran Berry | Maranga Berry | Sweet Apple | Blunder Policy |
| Snowball | Aspear | Pecha | Cheri | Pecha |
| Spell Tag | Dusk Stone | Wishing Piece | Wishing Piece | Wishing Piece |
| Star Piece | Iapapa Berry | Calm Mint | Fossil Drake | Ribbon Sweet |
| Star Sweet | Pink Apricorn | Rare Candy | Rare Candy | Rare Candy |
| Stardust | Moon Stone | Oran Berry | Oran Berry | Oran Berry |
| Starpiece | Stardust | Stardust | Stardust | Stardust |
| Strawberry Sweet | Pink apricorn | Rare Candy | Rare Candy | Rare Candy |
| Terrain Extender | Nugget | Ribbon Sweet | Snowball | Upgrade |
| Toxic Orb | Black Sludge | Black Sludge | Oran Berry | Oran Berry |
| Upgrade | Pecha | Pecha | Nugget | Nugget |
| Utility Umbrella | Babiri Berry | Smoke Ball | Power Anklet | Aguav Berry |
| Weakness Policy | Air Balloon | Spell Tag | Macho Brace | Prism Scale |
| Whipped Dream | Roseli | Balm Mushroom | Balm Mushroom | Balm Mushroom |
| White Herb | Absorb Bulb | Absorb Bulb | Absorb Bulb | Absorb Bulb |
| Wide Lens | Maranga | Maranga | Maranga | Maranga |
| Wishing Piece | Damp rock | Heat rock | Smooth rock | Icy rock |
About the author