Best M4A1 loadout Warzone: attachments, perks, and equipment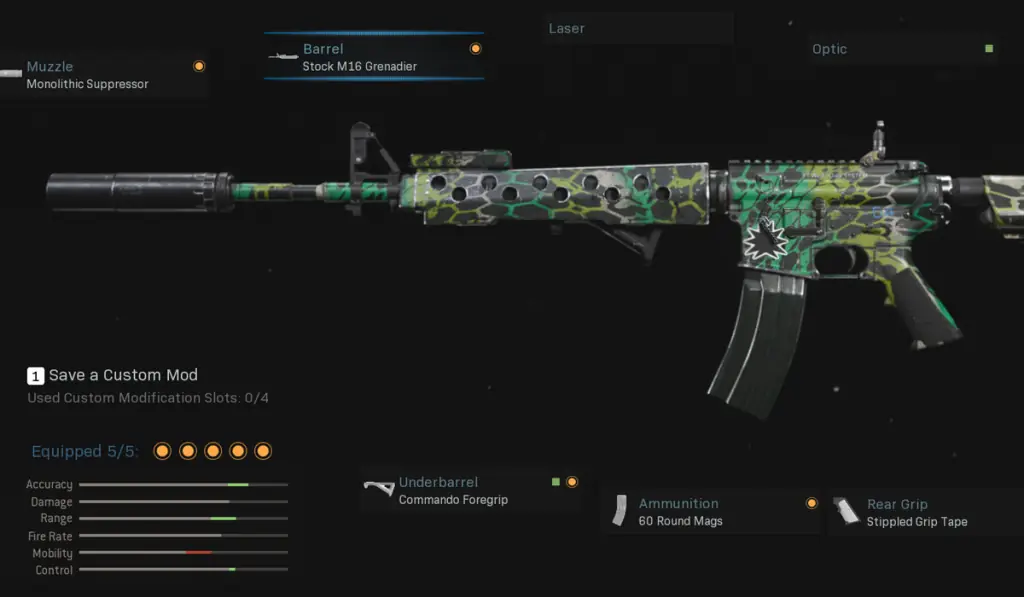 The M4A1 has remained a popular gun throughout all of Call of Duty Warzone Season 3 into the start of Season 4. Along with the Kilo 141, Grau 556, and the new CR-56 AMAX, it's one of the best all-around assault rifles in the game. There's a reason why this weapon's popularity transitioned from Modern Warfare multiplayer into Warzone so well.
If this is your first season of Warzone, you will likely have to grind out some levels to unlock the best M4A1 attachments. It's all worth it in the end, though. We have searched far and wide, and racked up what feels like an endless amount of frags trying to figure out the best M4A1 loadout for Warzone. Testing different attachments yield some interesting results, but only one loadout can reign supreme.
Keep in mind that some people may prefer using different scopes or other attachments, and that's fine. It's part of what makes Call of Duty such a dynamic game. The loadout down below balances the weapon's recoil, mobility, and long-range damage output, making it an excellent choice in most situations.
Best M4A1 Loadout Warzone
Here is the best M4A1 loadout in Warzone:
Muzzle: Monolithic Suppressor
Barrel: Stock M16 Grenadier
Underbarrel: Commando Foregrip
Ammunition: 60 Round Mags
Rear Grip: Stippled Grip Tape
To start things off, we're going to pick up the Monolithic Suppressor, which has become a staple in every Warzone loadout known to man. Throwing on the Commando Foregrip gives us a little more recoil control that makes this thing fire like a laser.
The Stock M16 Grenadier is going to increase the weapon's range and add some more control to the spray. Another necessary attachment is the rear grip to make up for the lack of mobility. Lastly, we always like to have some extra ammo on-hand, so the 60 Round Mags are a perfect addition to our setup.
Now it's time to focus on a good secondary weapon. In Season 4, we have seen a lot of people running the Fennec to complement the assault rifle in Warzone. It's a great option, but for this setup, we're going with the tried and true MP7. This classic submachine gun won't let us down in those close-quarters combat situations.
MP7 Attachments
Muzzle: Monolithic Suppressor
Barrel: FSS Recon
Laser: Tac Laser
Ammunition: 60 Round Mags
Rear Grip: Stippled Grip Tape
The Monolithic Suppressor comes as a surprise to nobody. Combining the FSS Recon barrel with the Tac Laser makes this thing a lot more reliable for close-range combat. The rear grip is another must-have to boost the weapon's mobility. We also pick up the 60 Round Mags once again because ammo goes quickly in Warzone.
Best M4A1 Loadout Drop Perks
Let's take a look at the best perks to use on this M4A1 loadout. We tend to run the same perks for all of our Warzone setups. If you want to get sweaty, you are going to want to have two different loadouts. For one loadout, we go with EOD, Overkill, and Amped.
Once we have enough money to buy another loadout drop, we switch to a duplicate loadout that uses Ghost instead of Overkill. This way, you can swap out your secondary for the MP7 while having the more useful Ghost perk active. The Ghost perk is mandatory in most endgame situations if you want to stay off the radar and secure a victory.
Tactical & Lethal Equipment
Similar to the perks, we always go with the same two pieces of tactical and lethal gear. The Heartbeat Sensor is something you are going to want to use to counter those pesky campers. You get unlimited uses out of it, so it's probably the best choice to run.
Last up is the C4, arguably the best lethal item in the game right now. It's great for countering vehicles and a lot more fun to use than all of the other options.
That's our top loadout, and why the M4A1 is one of the best Warzone guns. Check out some of the other best Season 4 Warzone loadouts to see what else people have been running.