Best Genshin Impact Pick Up Lines
Time to switch and combo our elements together.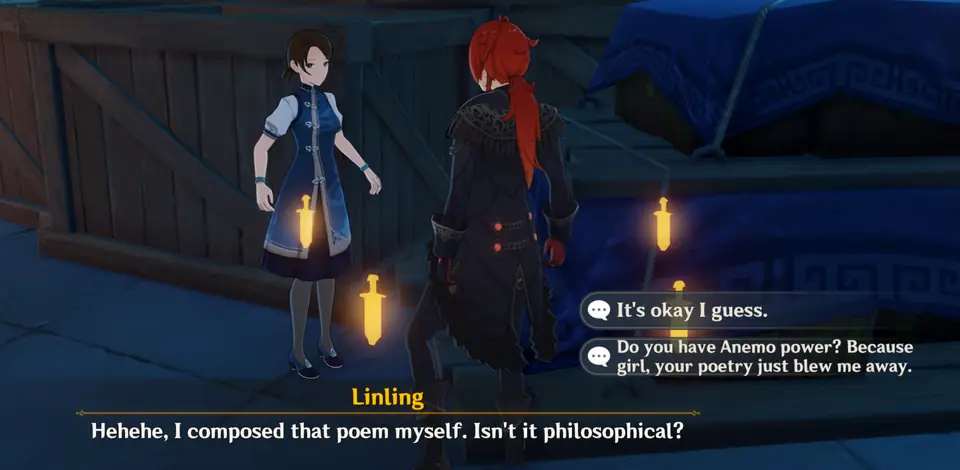 Yes, you read that correctly. We are going to be featuring some of Genshin Impact best pick up lines. Why are we doing this? Because we can. Because we know this is something everyone wants to know about. Whether you're dating a gamer and want to woo them or you want to impress people with your pop culture abilities, we have the perfect pick up lines for you. Some of these range from the type of vision holder you are or to see just how much knowledge you have over the game. There's a pick up line for everything.
List of Genshin Impact pick up lines
Babe, are you a pyro? Because you're smoking hot.
A classic. This simple yet effective line has even got us blushing. If you're into the hot elements this is certainly going to win your partner over. It's clever, quick, and will land you a smile for sure.
I'll never want to re-roll you in my life.
You have hit the jackpot. You have found a partner who you want to add to your party. This is someone who you want to keep forever. If you tell someone this you're letting them know they are a five star character, one that should never be re-rolled again. Don't let them go. They mean too much for you. Take them through dungeons and use theme in battle.
Hey are you a commission? Because I'd like to do you four times a day.
This might get a chuckle or you might get slapped. It's a line you should use towards someone if you're already fairly friendly. They understand your humor and you aren't coming across as weird, you're being romantic in your own sort of way. You're blunt and straight to the point. This is a task you're willing to partake in over four times a day and it will never become boring. Use only if you're on friendly terms with your partner.
Are you mora? Because I always seem to need mora you.
Mora is what we all need to buy resources and materials. This will probably raise a brow if someone who has never played Genshin knows what mora is. Those who get it, get it. Try this pick up line on someone who you know plays Genshin. You might get a smile when they realize you need them just as much as you need mora in game.
Do you have an electro vision? Because I'm feeling the spark.
Electro mains know what it's like to see the baddies go berserk when they're hit with your electro powers. If you use this line to someone who plays the game you will get an immediate reaction. We recommend using this on electro mains. They will appreciate it.
Do you have anemo power? Because girl, your poetry just blew me away
A classic. Diluc himself said this to Linling when she talked about her poetry. Diluc doesn't need pick up lines. He just stands there and instantly gets women and men. It's comforting knowing that Diluc still uses corny pick up lines to woo people. Just the idea of him saying this to an actual person makes us chuckle and swoon a little inside.
Girl, you teleported into my heart.
Teleporting is very common in Genshin. You're always needing to hop from one place to the next to complete missions and to farm for artifacts. This pick up line is the right amount of cheesy to make anyone feel all warm inside. It might not come across as a Genshin pick up line, so before you say it, make sure you've picked a gamer or someone who has a sense of humor.
Check out this five-star unit in my pants.
Actually, now that we're thinking about this. Don't use this as a pick up line. Use this for someone you're extremely close with. If you said this to someone you don't know very well they could possibly kick you where it hurts or call the police. We're trying to save your life. We repeat do not use this pick up line for anyone!
Are you a primogem? Because I can't get enough of you.
We need more primogems! You can never have too many primogems. They're the most important currency on Genshin Impact. You need them to roll for wishes so you can unlock rare five star characters. If you're calling someone a primogem they are giving you the respect you deserve. You're rare in their eyes and they need more of you.
Are you a firework? Because I can see the sparkle in your eye.
Yoimiya is a popular Genshin Impact character who light up the skies with her beautiful firework displays. She works for the Nagaohara Fireworks and has a huge passion towards creating something beautiful. If you're telling someone they sparkle, prepare for instant blushing. If Yoimiya can see the beauty that fireworks display in the night sky, then we believe you, when you ask if someone is a firework. You see beauty.
That's everything you need to know about pick up lines in Genshin Impact! We had to scour Reddit and the internet for this list to determine which ones were our favorites. If you want to learn more about Genshin Impact we are constantly keeping up-to-date with the latest news and guides. Gamer Journalist also features upcoming and popular gaming titles you need to check out.
Related: All Challenges and Rewards for Summer Fantasia Event in Genshin Impact