Where to find Flora in Genshin Impact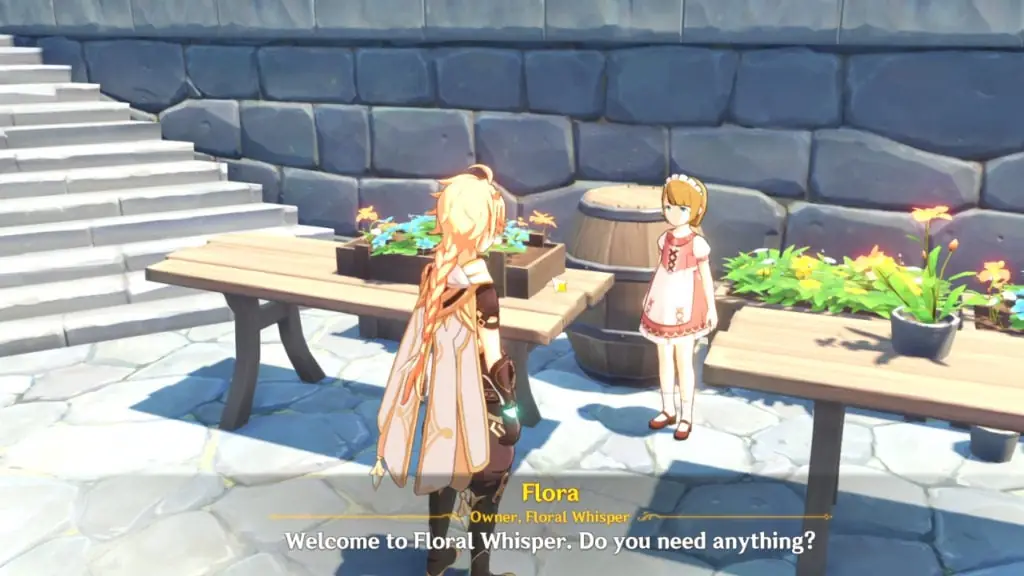 If you're wondering where Flora is located in Genshin Impact, you've come to the right place. You'll first encounter Flora during the story quest with Lisa, in which you have to retrieve some overdue books. You will pay a visit to various NPCs around Mondstadt to get them to return the books to Lisa. One NPC named Donna works at the flower shop, and she'll tell you to speak with Flora to get an idea of what type of flowers Lisa might like.
Where to find Flora in Genshin Impact
Flora is the owner of the Floral Whisper, the flower shop of Mondstadt. She's only a kid, though, so you can find her in front of her shop during the daytime. If you're speaking with Donna and want to pick some lovely flowers for Lisa, she'll mention that you should get a recommendation from Flora. The confusing part is that Flora is not at the flower shop during nighttime.
For this reason, you need to fast forward the time to any time during the day. You can do this by opening up the time panel by clicking on your avatar from the screen's top left. On the menu, you can see a little clock. Click on it, and a dial will show up. Change the arrow's head to any point between 9 am and 5 pm, and Flora will show up in front of her shop.
Flora sells a variety of flowers, which restock in supply every day. You can purchase Calla Lily, Small Lamp Grass, Sweet Flower, Windsheel Aster, and Cecilia. Lisa's flower of choice is the Cecilia; a flower picked from the highest mountains. Now you know where to find Flora in Genshin Impact. Go out there and make sure to get Lisa the very best gifts, if you want to impress her, that is.