Where to Find Eyes of Witness for Plimbo in Cult of the Lamb
What is it with occult monsters and eyeballs?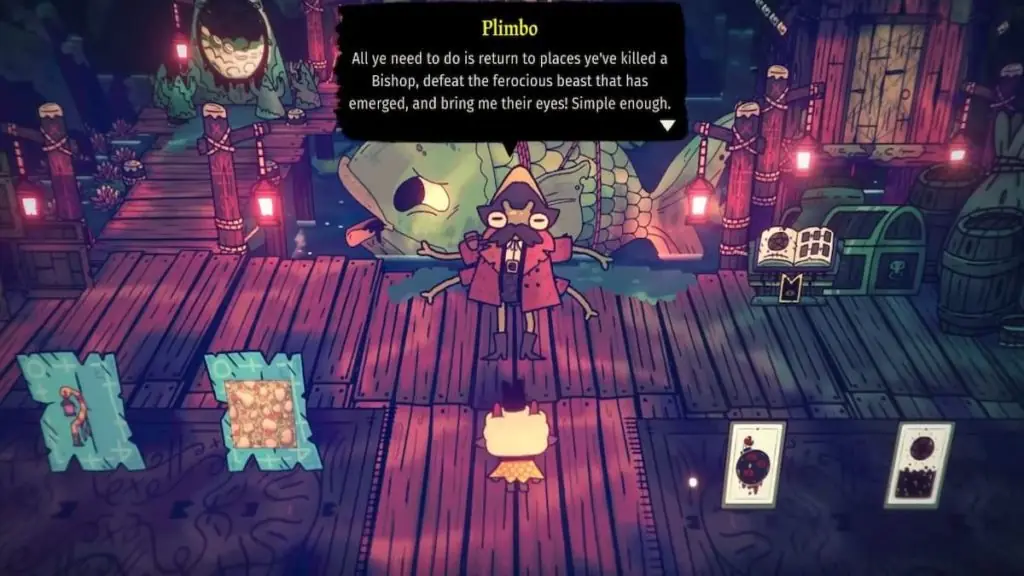 An ecosystem is a delicate balance: predators at the top, prey at the bottom. When you start knocking predators off their perches, things tend to go wild in a hurry, which can prove inconvenient in various ways. In Cult of the Lamb, this is the exact problem that Plimbo the Smuggler tasks you with fixing. Here's where to find Eyes of Witness for Plimbo in Cult of the Lamb.
Where to Find Eyes of Witness for Plimbo in Cult of the Lamb
In Cult of the Lamb's third dungeon, Anchordeep, you may have a chance encounter with Plimbo, a smuggler and connoisseur of fine goods. He invites you to see him at Smuggler's Sanctuary in the overworld, though when you get there, he's not happy. Apparently, as you've gone around killing the Bishops, you've left a power vacuum filled with dangerous, business-hostile beasties.
Related: How to Repair the Lighthouse in Cult of the Lamb
To make it up to Plimbo, you need to bring him four Eyes of the Witness, monsters that have taken up the top of the food chain in the Bishops' absence. For every Eye of the Witness you bring him, Plimbo will reward you with one Holy Talisman fragment. Four fragments make a whole Holy Talisman, which you can use to unlock a new Fleece at your Temple.
To find the Witnesses, you need to return to a dungeon you've already cleared of its Bishop and go through at least one Crusade run. Stay on your toes, as the enemies will have gotten stronger without the Bishop to keep them in check. At the end of the run, you'll encounter one of the Witnesses (denoted as such in their names). Defeat a Witness, and it'll drop its Eye alongside the usual chest of rewards. Since you need four of these, you will need to have beaten all four of the game's dungeons before you can finish this quest.
You can either bring the Eyes of Witnesses to Plimbo as you obtain them or wait until you have all four. Either way, once you've given him all four, he'll be happy that he can flip them to buy a new ship, and in exchange, will pledge his loyalty to your cause. A totem will appear in the Smuggler's Sanctuary that you can draw Devotion from on a regular basis. Don't expect any discounts on Plimbo's wares, though, he's not that generous.