Is Nicolas Cage Seriously Coming to Dead by Daylight?
National Treasure by Daylight?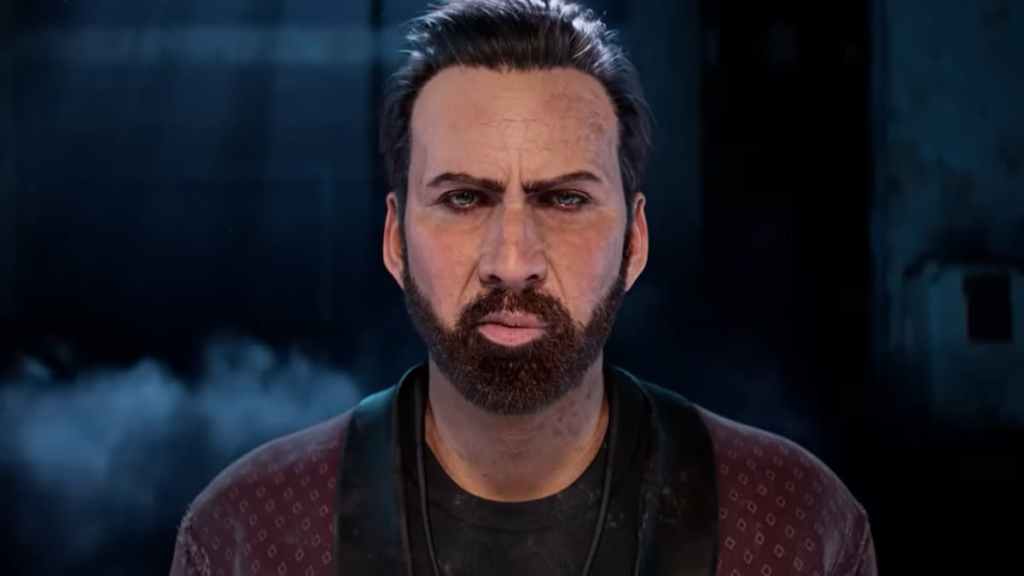 Dead by Daylight is an intense, adrenaline-driven survival horror game that could scare even the most seasoned of horror gamers. This heart-pounding horror game is played in an asymmetrical 4v1 format, where four Survivors attempt to escape the murderous clutches of one Killer. Dead by Daylight is best known in the gaming community for its unique mechanics, intensely immersive gameplay, and terrifying Killers; but what about its Survivors?
Although there were originally only 4 at the time of its release, Dead by Daylight now has almost 40 total playable Survivors. With more Survivors and Killers being added to the game at every turn, you'd think that fans would cease to be amazed by much in the game's frequent updates. But with the recent release of a certain trailer by the game's developers, that all may be about to change. Keep reading to find out if fans are really going to be seeing Nicolas Cage in Dead by Daylight!
Is Nicolas Cage Really in Dead by Daylight?
The idea of a renowned actor like Nicolas Cage starring in a multiplayer horror game may sound odd, but the idea may not actually be as ridiculous as it seems. As unbelievable as it sounds, Nicolas Cage will indeed become a permanent fixture in Dead by Daylight's gameplay.
A new playable character modeled after Nicolas Cage was officially released on July 25th, 2023, in Chapter 28.5: Nicolas Cage, a Half-Chapter DLC. A teaser trailer for his new character was released by Behaviour Interactive on May 17th, 2023, and was the first public mention of Cage's addition to the game.
Shortly after the teaser trailer was released, in an interview on the matter, Nicolas Cage himself stated that he'd personally be voicing a "heightened, exaggerated version of a film actor named Nick Cage" for the game.
He also stated that his character "…[goes] to a location thinking that he's making a movie, and instead he wakes up in The Fog." So, for those of you familiar with the franchise, it's sort of like a Johhny Cage situation from Mortal Kombat (they do have the same last name, after all).
This news came way out of the left field for many DBD fans, as the National Treasure star seemingly has nothing to do with the franchise at all. Many fans appropriately assumed the trailer was a joke, and many more still refuse to believe it, but regardless of how you feel about this new character addition, you'll still be greeted by Nicolas Cage's face the next time you log in to Dead by Daylight.
Is Nicolas Cage a Survivor or a Killer?
As hilarious as it would be to see Nicolas Cage as a Killer, he actually happens to be a Survivor. Players will finally be able to take on the role of renowned film actor Nicolas Cage to escape the undead horrors of The Fog!
As with all of the other Survivors in Dead by Daylight, Nicolas Cage has his own unique set of perks. His perks include Dramaturgy, Scene Partner, and Plot Twist. Here are all the perks that you can expect to utilize when you play as Nicolas Cage in Dead by Daylight:
Whenever your character is Healthy, the Dramaturgy perk activates the following:

Using this perk will cause your character to gain the Exhausted Status Effect for 60/50/40 seconds.
The Dramaturgy perk cannot be used when your character is Exhausted.

Whenever you are inside the Killer's Terror Radius, the Scene Partner perk activates the following:

Looking directly at the Killer will make you scream, which reveals the Killer's Aura for 3/4/5 seconds.

After you scream the first time, there is a 50% chance that you will scream again, which will extend the Aura-reveal duration by an additional 2 seconds.

The Scene Partner perk has a cool-down duration of 60 seconds.

Whenever your character is in the Injured State, the Plot Twist perk activates the following:

While motionless and crouching, you can press the Active Ability button to silently enter the Dying State, which will provide you with the following benefits:
After fully recovering from the Dying State, Plot Twist will heal you instantly and provide you with a +50% Haste Status Effect for 2/3/4 seconds.
The Plot Twist perk will deactivate after you recover yourself by any means.
The Plot Twist perk will reactivate when the Exit Gates get powered on.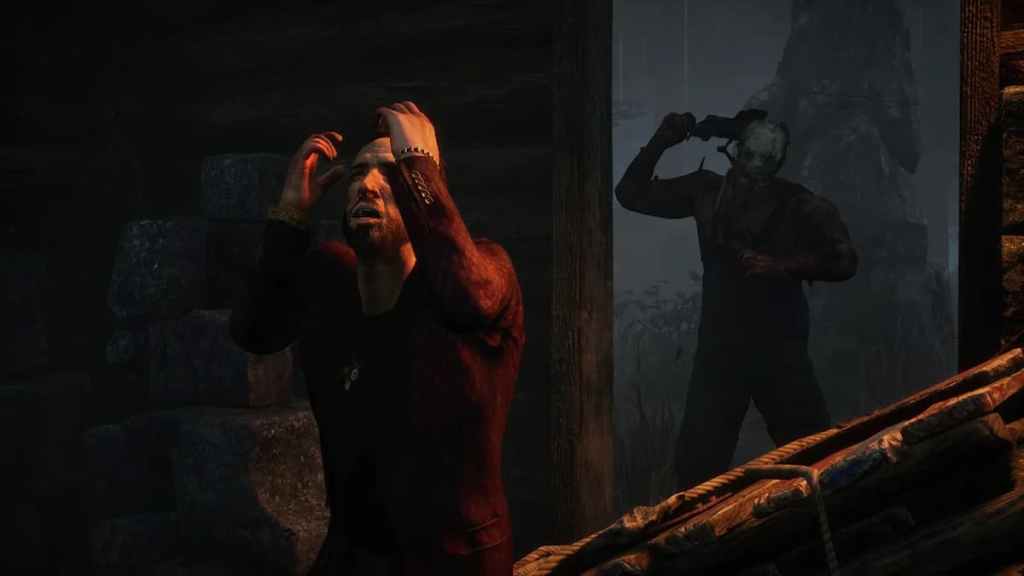 I don't know about you, but all of us here at Gamer Journalist can't wait to try out this brand-new Survivor in Dead by Daylight!
Related: Best Dead by Daylight Mods
Why is Behaviour Interactive Adding Nicolas Cage to Dead by Daylight?
After viewing Dead by Daylight's Nicolas Cage trailer, the only question on my mind, just like the question on everyone else's minds, was why?
The sudden announcement that came out of nowhere, combined with the fact that the actor and the game's developer had no prior affiliation, "why?" honestly seemed like a pretty fair question. (frankly, it still is)
Well, according to Nicolas Cage himself, "one of [his] favorite genres is horror" and he really wanted to be more involved with the genre (besides starring in horror movies). He also stated that he was a major fanboy of Dead by Daylight's infamous Killer Sadako, and he really just wanted to be featured in a game alongside her.
He specifically asked the developers to make his character a Survivor because he was charmed by the special bonds that the Survivors would have had to form with each other in order to survive in such a harsh environment. He also stated that he just really liked the teamwork of it all, and wanted to be a part of that.
While all of those reasons are perfectly valid and reasonable, it is still pretty funny that Nicolas Cage himself decided he wanted to be featured in a multiplayer horror game. I can't imagine how he went about contacting the developers to ask for a special Nicolas Cage character, but I do know that I'd give nearly anything to find out!
Nicolas Cage may not be the Survivor we asked for, but he's the Survivor we all needed. Give his character a try the next time you get down on some Dead by Daylight!
---
Out of all of the prominent characters that have been featured in Dead by Daylight, Nicolas Cage is certainly one of the oddest. Seeing the star of National Treasure at every turn in the game will definitely be an adjustment for many players!
If you love playing Dead by Daylight and enjoy learning more about it, then just take a peek at Gamer Journalist's numerous Dead by Daylight guides! From lists of redeemable codes to the best character builds, we've got you covered on the best DBD info.
About the author