Valkyrie Force Codes (June 2022)
Get the latest Valkyrie Force codes list and redeem free diamonds, batteries, milk, fortune boxes, and summon scrolls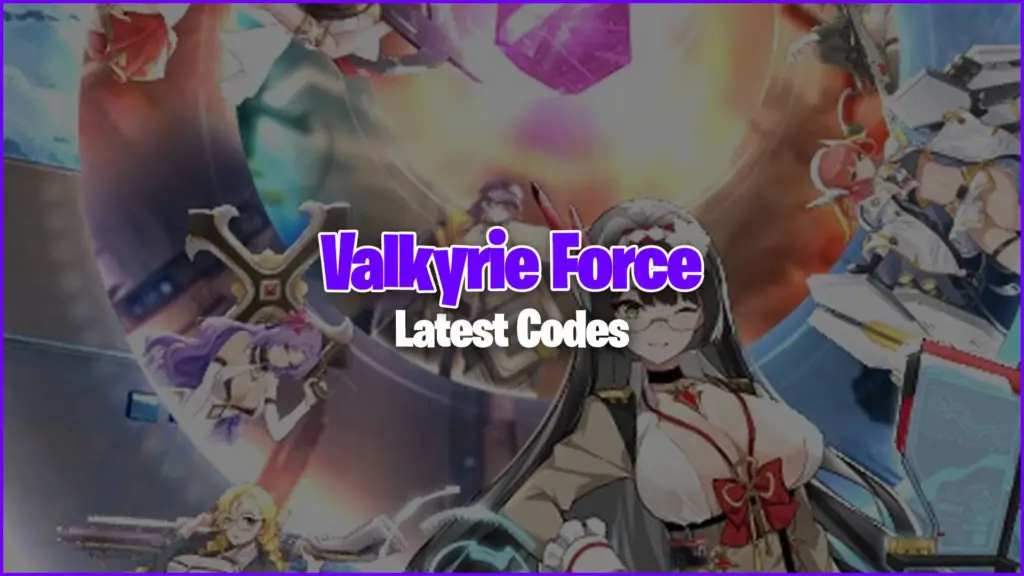 Valkyrie Force Reborn is a mobile 2D gacha game from Eyougame. In this game, players can try and collect hundreds of 2D Valkyries, assemble a team, and take them into battle. Build your roster, strengthen your relationships, and use unique synergies to defeat the powerful foes that hide within Ise Ruins and other dungeons.
The Valkyrie Force codes list lets players redeem free in-game items like gold, combat vitamins, summon scrolls, growth milk, and much more. Whether you're new to the game or just enjoy the occasional freebie, redeem these while they last because they will expire after a short time. We update the list daily, so bookmark us and check back soon for more updates.
For more like this, check our Soul Land Reloaded codes, Honkai Impact codes, and Guardian Tales codes. Or check out our list of best mobile gacha games for some new titles to try out.
Here are the latest Valkyrie Force codes
Active codes:
MarchJimmu – Redeem code for Reward
SQII94KDOK

– 10 Normal Summon Scroll, 5 Yellow Electrolyte, 10 Red Electrolyte, 10 Blue Electrolyte, 1 Lucky Bag (Gold)

HBLovelyVictoria

– 100 Combat Vitamin, 1 Lucky Bag, 200 Essence, 5 Random Giftbox, 100K Milk

MiddleOctober – 200K Gold, 200 Combat Vitamin, 2 Normal Summon Scroll, 100 Batteries, 100K Milk
surveyxur – 400K Gold, 200 Combat Vitamin, 200K Growth Milk
discordsubs – 10K Gold, 10 Diamond, 10K Milk
nwfbfollow – 500 Gold, 1000 Milk, 5 Normal Summon Scrolls
vfracademy – 100K Gold, 200 Combat Vitamin, 2 Mecha Advance Giftbox, 1 Adv Summon Scroll, 50K Milkf
youtubesubs – 10K Gold, 10 Diamonds, 10K Milk
instasubs – 10K Gold, 10 Diamonds, 10K Milk
vfr777 – 10K Gold, 10 Diamonds, 10K Milk
VfxFunnelztv – 200K Gold, 200 Vitamin, 2 Fortune Box, 2 Adv Summon Scroll, 100K Milk
Vfxtiktok – 10K Gold, 10 Diamonds, 10K Milk
AWAK3NING777 – 150K Gold, 100 Diamonds, 60 Vitamins, 50K Milk
Expired codes:
PLSJJS67JID – 200K Gold, 1 Silver Coin, 1 Fortunte Box (Valkyrie Shards), 100K Milk (Expires Jan. 2)
MZIN445DW
JSNPLPQ909
80LASMKZ2
2KSMW3IJW
Anappleaday
AIQDPS21D
What are Valkyrie Force codes?
Valkyrie Force codes can be redeemed for various items like batteries to level up your mecha, diamonds to purchase rare goods, vitamins to limit-break your Valkyries, milk to level up your Valkyries, fortune boxes for unique Valkyries, and summon scrolls to try your luck.
How do you redeem Valkyrie Force codes?
Here is how to redeem codes in Valkyrie Force:
Launch Valkyrie Force
Tap on the Settings button on the top right
Navigate to the settings tab
Enter a working code into the code redemption box
Tap on the Claim button
Redeem the rewards at the in-game mail
You can copy and paste codes directly from the list above and into the code redemption box to avoid any typos.