True Piece codes – free spins (December 2021)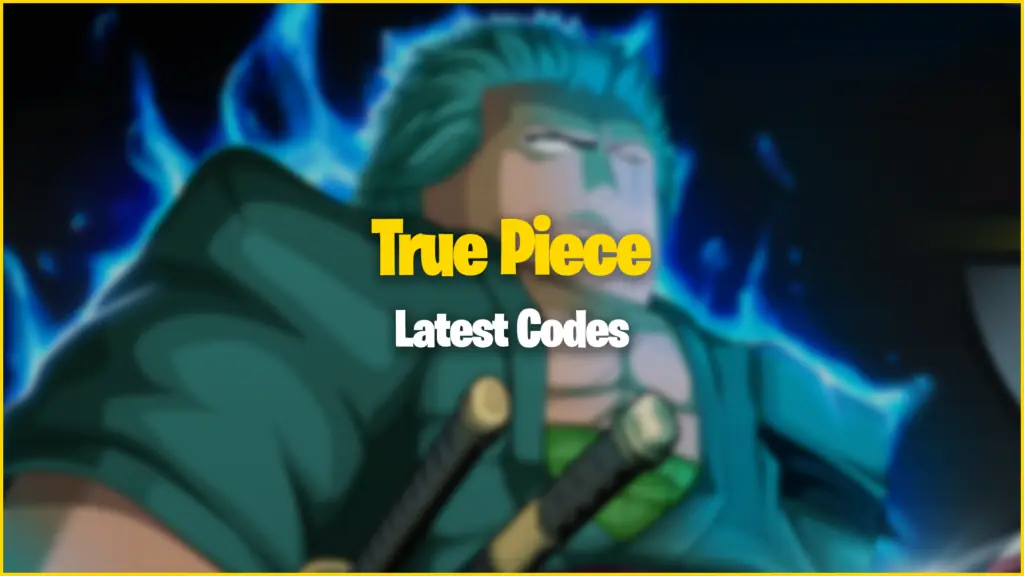 True Piece is an experience developed by DivineTempest for the Roblox platform. In this One Piece-inspired game, players can choose between being a pirate or a marine. Show off your status by acquiring bounties or reputation to increase your overall powers. You can learn various different combat and weapon skills and fight powerful bosses to obtain items to help you grow stronger. You can use these True Piece codes to gain a head start and get some free in-game rewards.
Using True Piece codes is a free and easy way to redeem in-game rewards and exclusive items. The developers release new codes often, usually when the game hits new milestones or when it receives major updates. You can bookmark this page by pressing CTRL+D on your keyboard and then check back daily for new updates.
If you find this post helpful, you can check out these Roblox posts for Squid Game codes, Corridor of Easy codes, and Lockpicking Simulator codes.
True Piece codes
Here are the latest True Piece codes:
50KTRUELIKES – 5 Perk Spins, 50 Gems, 2 Hour Drop Boost (Expires December 3)
75KFAVS – 2 Perk Spins, 1 Hour Drop Boost (Expires December 2)
NEWSERVERCODES – 3 Perk Spins
40KLIKES – 30 Gems, 2 Perk Spins, 1 Hour Drop Boost
Expired Codes
30KLIKES – 2 Perk Skins, 1 Hour Drop Time Boost
25KLIKES – 3 Perk Spins, 1 Hour Drop Time Boost
40KFAVS – 2 Perk Skins, 30 Gems
1MILLVISIT – 3 Perk Skins, 1 Hour Drop Time Boost, 30 Gems
LETSGO10K – 5 Perk Spins, 2 Hour Drop Time Boost, 50 Gems
TRUESPINS – 2 Perk Spins
GIMMIEFRUIT – 30 Gems
5KTRUELIKES – 50 Gems, 3 Perk Spins, 15 minutes XP, 30 minutes Drop Boost
2KTRUELIKES – 30 Gems, 10 minutes XP and Drop Boost
WELOVECODES – 30 Gems, 1 Race Spin
1KTRUELIKES – 30 Gems, 20 minutes Double Drop Boost
SORRYFORSHUTDOWNS – 5 Perk Spins
PERKSHOWNOW – 5 Spins
FREESPINS – 5 Spins
TRUEPIECEISHERE – 5 Spins, 2 Race Spins, 1 Hour EXP Boost, 10 Minute Drop Boost, 100 Gems
Get more codes for your favorite games through our Roblox game codes list.
How to redeem codes for True Piece
To redeem codes for True Piece, follow these steps:
Launch True Piece in Roblox.
Find and tap on the settings icon in the bottom right.
Enter a working code into the code redemption box.
Tap on the ENTER button to redeem the code.
Enjoy your free in-game rewards.
We recommend copying and pasting the codes directly from our list to ensure there are no typos or extra spaces. After redeeming the codes, you should automatically receive any in-game items or boosts on your account. If a code says it's invalid, double-check to make sure you entered it exactly as shown above.
How to get more codes for True Piece
To get more codes for True Piece, you can follow the game developers on Twitter and join the community Discord server. The developer will post new codes to both of those locations. You can also bookmark this page and follow us for the latest codes. We update our list as soon as new ones become available, so check our code wiki often to stay up-to-date.
True Piece Game Description
PC AND MOBILE COMPATIBLE!
THUMBS UP AND JOIN FOR MORE CODES!
https://www.roblox.com/groups/2676952

Welcome to True Piece, be a pirate or marine, obtain bounty or reputation to show your status increasing your offensive and defensive power! You are able to learn many different skills such as combat and weapon skills, explore the diverse world and fight bosses and obtain rare items to increase your battle power!

Fruits: Fire, Magma, Ice, Light, Lightning, Dark, Smoke, Sand, Snow, Mochi, Chop, Rubber, Tremor, String, Gravity, Operation, Barrier, Phoenix, Bomb, Spinosaur

Current level cap – 500
Fruits spawn every hour and despawn after 30 minutes.
Bosses spawn every 3 minutes.
Crews act as party system.
Premium players get 5 gems hourly!

Default Settings (THIS CAN BE CHANGED IN SETTINGS):
WW – Sprint
Q – Dash
E – Block
R – Change Weapon
Explore other experiences on our Roblox game codes page to find your favorites. Check out our Roblox promo codes page for new outfits and other freebies for your in-game avatar.