Strongman Race Simulator Codes (June 2023)
The speed is in strength.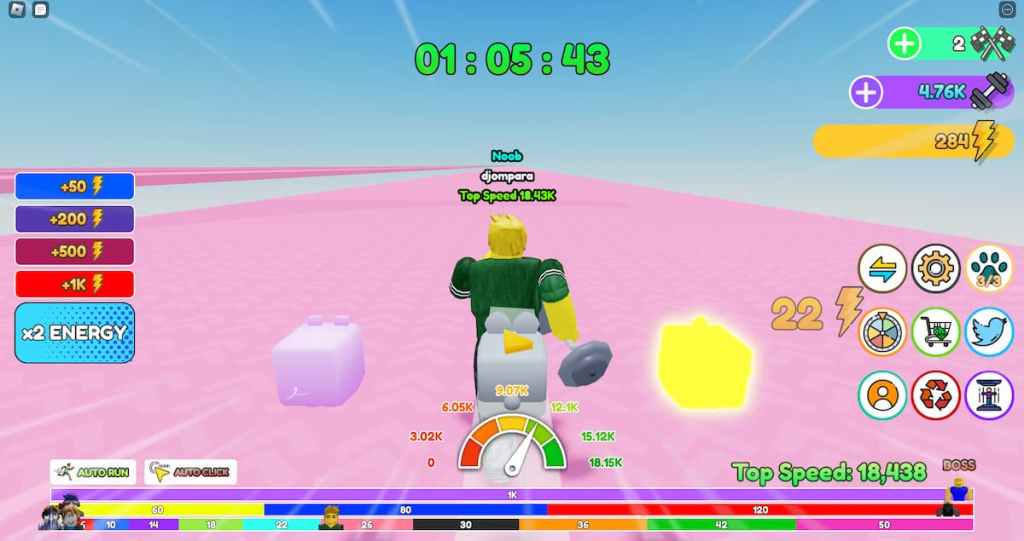 Strongman Race Simulator is a catchy racing game that you can pick up pretty quickly. You are a racer and a bodybuilder (think of it as a mix of Arnold Schwarzenegger and Usain Bolt) that competes with others to get on top of leaderboards. You race your opponents in various locations and lift weights in order to acquire much-needed energy and strength. Strongman Race Simulator Codes will help you on that path with much-appreciated boosts.
Codes in Strongman Race Simulator give you energy, the main resource that you use to purchase pets (boosts) and advance further into the game.
If you are a fan of speed games you can check out codes for other similar Roblox games such as RoStock Racing Codes, Roblox Deathrun Codes, and Roblox Driving Simulator Codes.
All Strongman Race Simulator Codes List
Updated November 2022

Added new Strongman Race Simulator Codes
Strongman Race Simulator Codes (Working)
These are all currently working codes for Roblox Strongman Race Simulator Codes.
RELEASE — Redeem for 50 Energy (NEW)
Strongman Race Simulator Codes (Expired)
There are no expired codes for Strongman Race Simulator.
How to redeem codes in Strongman Race Simulator
When looking to get your freebies in Strongman Race Simulator follow this simple three-step guide:
Join the game and click on a Twitter icon found on the right-side menu.
A mini-screen will pop up and ask for you to type in your code.
Click the "Redeem" button and claim your reward!
How can you get more Roblox Strongman Race Simulator Codes?
Keeping up with the developers of the Roblox Strongman Race Simulator and their codes is a pretty straightforward process. You can follow Smile Games Studio Roblox group or join their official Smile Games Studio Discord Server. On these places, the developers themselves post updates about the game as well as available codes.
Why are my Roblox Strongman Race Simulator codes not working?
There can be a couple of reasons why codes in the Roblox Strongman Race Simulator aren't working for you. First, and most common reason is that the code itself might be typed in wrong. This is especially the case with codes that have a long string of the same letters as well as any other code longer than 10 characters. We advise that you always copy and paste the code just to be sure everything is fine from that end. Secondly, it can happen that the code simply expired and that developers decided to retire it. In that case, there isn't much you can do, except wait for new codes to come up.
How to fuse pets in Roblox Strongman Race Simulator?
Pets are one of the most important things you need to pay attention to in the Roblox Strongman Race Simulator. They give you a speed boost and the more powerful pets you have the faster you will be. You get pets by hatching eggs on the main map. You will be getting all kinds of various pets of different rarity but in order to get those rarest and strongest ones you will have to fuse them. Go over to a fusing machine, press "E" or click on "Fuse" and choose which pets will be fused from your inventory. A single pet as well as multiple pets of the same type can be fused together. Before fusing them, the fusing machine will show you in % the chances of a successful fuse. If the fuse succeeds you get a much stronger pet than those ones that were mixed, but if the fuse fails, you lose them and get nothing in return.
What is Strongman Race Simulator?
Strongman Race Simulator is a racing and clicking game that has two main values that you need to worry about: energy and strength. Energy is received through reaching milestones in two-minute races, while strength is gained by clicking and pumping up those muscles. The energy you gain from racing is used to hatch pet eggs. You can have up to three pets with you that boost your speed in races and you can even fuse them (one of a kind or two of the same pets) for a chance to get an even better pet. Boosts from pets allow you to complete minute races and earn "Laps". Laps and strength can then be used for a "Rebirth" that will unlock new locations and give you permanent boots.
For all Roblox fans out there we have a lot more codes on our Roblox Game Codes post. Additional free stuff can be found on the Roblox Promo Codes list. In case you've already done your homework and acquired all necessary codes, stick around on Gamer Journalist and follow up on the latest news from the gaming world.
About the author