Fly Race Codes (June 2023)
Use codes to fly the farthest!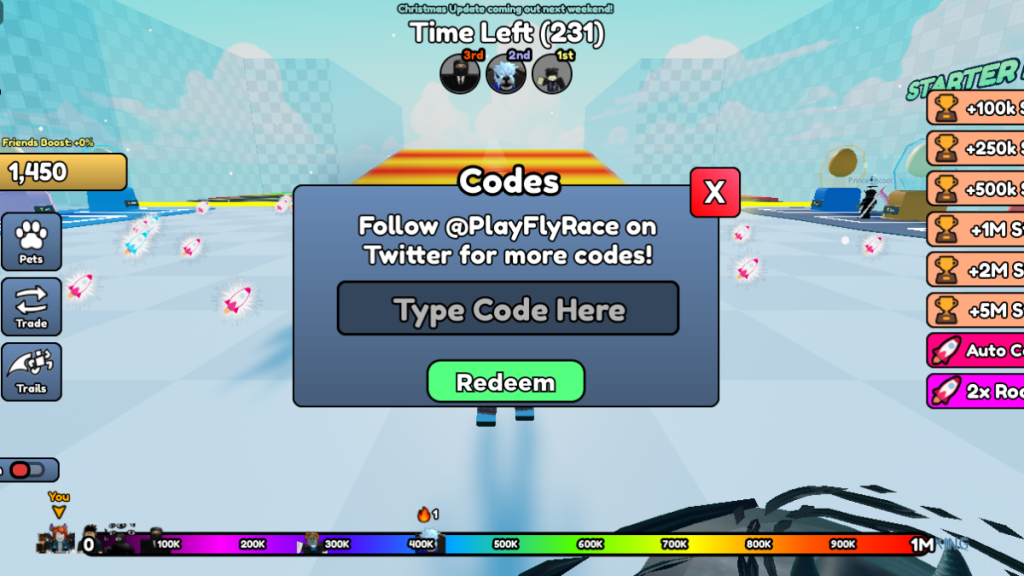 Fly Race is a free game on Roblox, an online gaming platform. Roblox has a lot of free racing games, but very few of them can compare to Fly Race. Fly Race, unlike most racing games on Roblox, actually lets you fly! Instead of running or driving, you can fly your way down to the finish line! Prior to each race, the game lets you pick up free speed boosts all around the lobby area to ensure your victory. You can also hatch eggs into pets that not only look adorable but also provide you with speed boosts to help you win!
Promo codes can give you free eggs, free Fly (power to help you fly further), and even speed boosts! In a competitive game like Fly Race, you definitely need all the help you can get if you want to make it to the finish line!
All Fly Race Codes
Last checked: January 26, 2023

Added a new code.
Fly Race Codes (Working)
These are all the working Fly Race codes.
5K FOLLOWERS — Unlocks: 1 million Trophies (New)
Twitter 4K — Unlocks: 1 million Trophies (New)
3K_FOLLOWERS — Unlocks: Trophies
Christmas 2022 — Redeem for Xmas Skin
FROSTED — Unlocks: 10,000 Fly
Fly Race Codes (Expired)
These are all the expired Fly Race codes.
There are no expired codes for Fly Race yet.
Related: Flying Race Clicker Codes
How to Redeem Codes in Fly Race
Redeeming promo codes in Fly Race is one of the easiest things you can do in the game!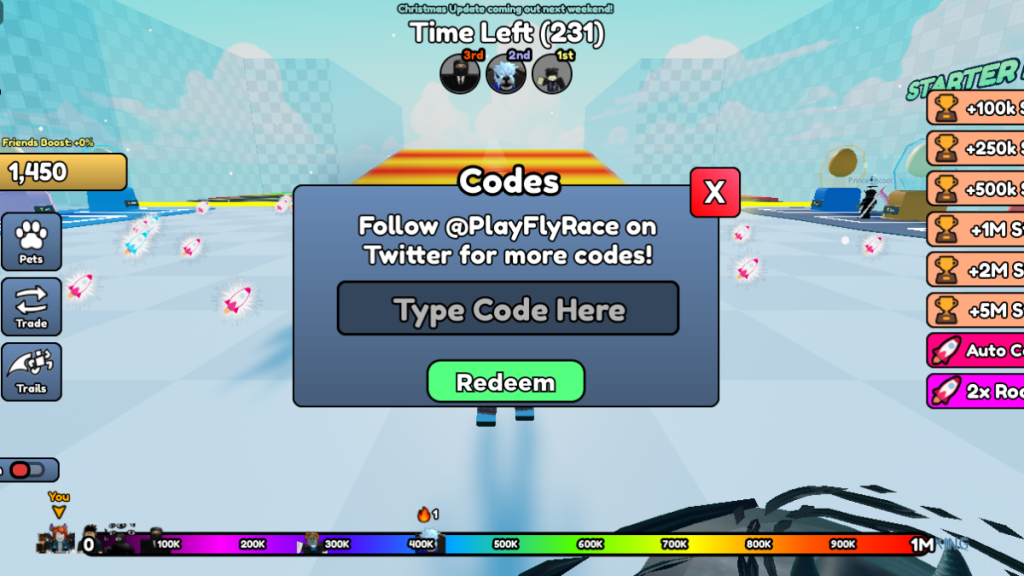 Open Fly Race in Roblox.
Click on the "Codes" button on the left-hand side of the screen.
Accurately type your code into the text box.
Click the "Redeem" button beneath the text box to claim your free rewards!
How Can You Get More Fly Race Codes?
This page gets frequently updated to include any and all new codes for this game, so by bookmarking this page, you'll always have access to all of the latest Fly Race codes. If you don't feel like checking this page over and over again for all of the latest codes, you can try following the Fly Race Discord page to get the codes as soon as they are released by the developer!
Why Are My Fly Race Codes Not Working?
If you keep on getting the "Invalid Code" error or are just not having any luck with redeeming your codes, they could be expired, or you could be inputting them incorrectly. To prevent this, make sure all of your codes are not expired, and make sure you're paying attention to how you're inputting the codes into the provided text box (these codes are case-sensitive!)
Other Ways to Get Free Rewards in Fly Race
The best way to get free rewards will always be redeeming promo codes, but there is another way that you can get free rewards in Fly Race. There should be a colorful wheel in every Fly Race lobby, you're able to spin the wheel once per day to get free rewards, such as free eggs and speed boosts!
What is Fly Race?
Fly Race is an online game in Roblox that allows you to race against numerous other online opponents on a massive race track. The faster you get, the farther you can go on the track. The farther you go on the track, the more "trophies" (in-game currency) you'll be rewarded with to buy in-game items! You can use your trophies to buy eggs, which can be hatched into pets. Pets aren't just cute animals that you can equip like any other Roblox game, however; they also give you wicked speed boosts while you're flying down the track! Fly Race isn't just another Roblox racing game, it's way better in every aspect!
If you love playing Roblox games and are always on the hunt for new codes, check out Gamer Journalist's Roblox Game Codes post! If you're looking for more Roblox racing games like Fly Race, check out our code lists for Race Clicker and Strongman Race Simulator! Be sure to bookmark this page if you want the latest codes and information for Fly Race.
About the author