Flying Race Clicker Codes (February 2023)
Gotta go fast: now in the air!
Flying Race Clicker—created by Genius Bar—is a combination clicking and racing game. It shares a ton of features as the popular Race Clicker, but who wants to run around when you can fly like an actual superhero? Before the race starts click as fast as you can to boost up your speed and win matches. There's pet eggs that need hatching and new tracks to unlock, leaving it a fun game to check out for anyone.
The codes here will give you free boosts for your experience, giving you more wins and more luck during your experience in Flying Race Clicker.
Flying Race Clicker Codes List
Flying Race Clicker Codes (Working)
These are all the new and working codes for Flying Race Clicker. The next free code will come when the game reaches 10,000 likes!
Ocean — Unlocks: Wins and 2x Boosts (New)
Hero — Unlocks: Wins and 2x Boosts
Mushroom — Unlocks: 2x Wins Boost and 2x Luck Boost!
WELCOME — Unlocks: Add 50 Wins
200Like — Unlocks: Get a Double Wins Boost and a Double Luck Boost
500Like — Unlocks: Get a Double Wins Boost and a Double Luck Boost
1000Like — Unlocks: Get a Double Wins Boost and a Double Luck Boost
Flying Race Clicker Codes (Expired)
CRYSTAL — Unlocks: a Double Wins Boost and a Double Luck Boost
Related: Race Clicker Codes (December 2022)
How to redeem Flying Race Clicker Codes:
Redeeming codes in Flying Race Clicker is fairly straightforward.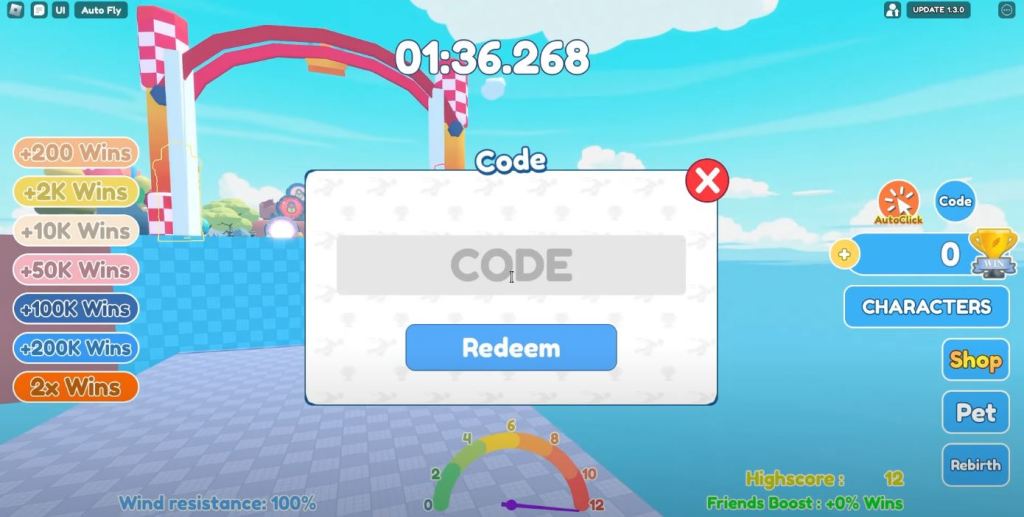 Boot up Flying Race Clicker on Roblox.
When the game's up, press the circular blue button that says Code on the right-middle side of the screen.
Copy and paste your code into the textbox provided. The placeholder text is "CODE".
Click Redeem to claim your free stuff!
How do I get more Flying Race Clicker codes?
The developer is currently posting most of their codes directly on the Flying Race Clicker page. Codes will always be posted there first and foremost, so if we don't have it on here on Gamer Journalist, it's going to be there.
Why are my Flying Race Clicker codes not working?
If the code you're using gives the "invalid code" response or is otherwise not working, you may have entered the code incorrectly or it has expired. Double check you haven't misspelled the code (copying and pasting goes a long way). If it still doesn't work, it's likely a code no longer in service. Try another code until you get your free rewards.
Related: Restaurant Tycoon 2 codes – free diamonds (December 2022)
More ways to get faster in Flying Race Clicker:
There best way to play for free is by using your Wins to buy pets, gadgets and characters in the shop. These are monumental for increasing your speed and getting even more Wins. Keep at it and keep clicking for maximum boons that will keep you ahead of the competition.
The pay-to-win (ugh!) way is also in the shop where you can also purchase the Auto-Click that will automatically click for you. The shop is in the game right underneath the Codes menu. The Auto-Click will cost you a whopping R$394, but will stay with you forever.
What is Flying Race Clicker?
Fly, race, hatch pets, unlock new race tracks, trade pets, score high on the leaderboard. Flying Race Clicker is speedy, colorful, and fast all wrapped up in the delightful package of a clicker game. A ton of the joy of this game comes in how cool it is just to fly through the race track, zipping past your competitors with a ton of pets at your side. Get to as many checkpoints as you can before the time limit runs out to get the highest score possible.
Love Roblox and want more codes for Roblox games? Check out our Roblox Game Codes section for tons of current content and codes for you to try out! We're always posting new free codes for the best games that that Roblox community has to offer. Want more Racing Games? You have to check out Alphabet Lore Race, Midnight Racing Tokyo or Strongman Race which all give out plenty of free content through codes, just like this game.