Risk of Rain 2 Artifacts List and Locations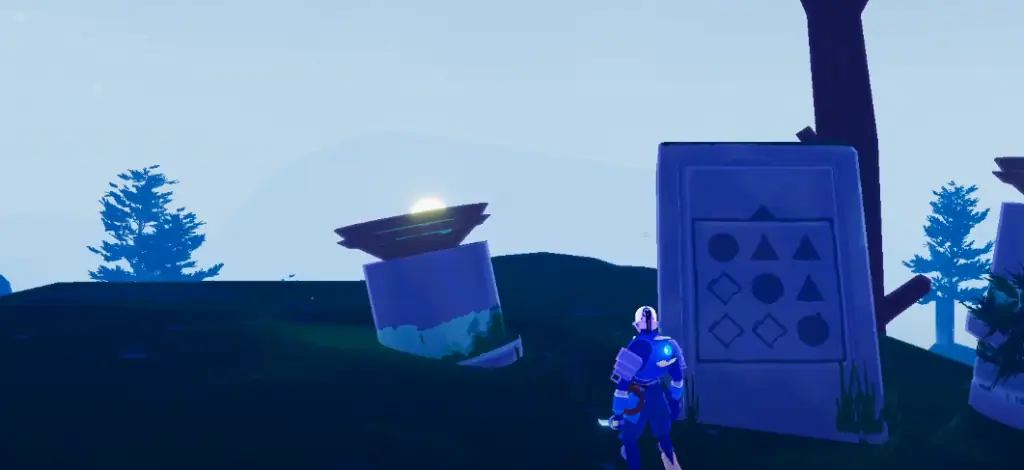 Risk of Rain 2 is a third-person roguelike video game from Hopoo Games. It's a sequel to the first Risk of Rain game and was released on March 28, 2019. Throughout the game, players can find Artifacts in the world that are basically modifiers that change different parts of the game. In this guide, we'll cover all of the different Risk of Rain 2 Artifacts.
Risk of Rain 2 Artifacts
Artifacts were in the first Risk of Rain, and are also one of the main features in Risk of Rain 2. Artifacts can be found in different areas of specific levels. You'll come across large tablets sticking out of the ground with a sequence of codes on them.
It's possible to find a piece of an Artifact code and find the other piece elsewhere. The codes will contain different shapes of either squares, circles, triangles, or diamonds in a 3×3 grid.
In order to activate Artifacts, you need to use the proper Artifact Code in the Sky Meadows realm. This is the fifth stage of the game. There are currently sixteen different Artifacts in the game. You are granted one freebie Artifact code that will be available at this location when you find it.
Artifact of Chaos
This artifact causes Friendly Fire to become enabled for survivors and monsters. The Artifact of Chaos is split into two pieces. The second half of the Artifact requires Runald and Kjaro gate to be opened first.
Location: Abandoned Aqueduct
Artifact of Command
With this Artifact, you can now choose which items you can get while playing. This one is behind a frozen blue creature, and it's very hard to see.
Location: Bazaar Between Time
Artifact of Death
When playing with other people, everyone now dies if one player dies. You'll have to jump off the side of the map and explore some underground tunnels for this one. It's very difficult to see to the naked eye.
Location: Wetlands Aspect N'kuhana's Altar
Artifact of Dissonance
Monsters can appear anywhere in the game outside of their regular areas. You will have to have good mobility to get over to this Artifact.
Artifact of Enigma
Spawn with a random item that changes into a new item each time it's activated. You will need to have good mobility to get over to this Artifact.
Location: Bulwark's Ambry – Artifact Portal
Artifact of Evolution
Monsters now evolve and use items as you progress through the game. This Artifact requires Beads of Fealty.
Location: A Moment, Whole – Celestial Portal
Artifact of Frailty
Players take twice as much fall damage now.
Location: Void Fields Null Portal
Artifact of Glass
Allies can deal 500% more damage now, but only have 10% of their regular hit points.
Location: A Moment, Fractured – Celestial Portal
Artifact of Honor
Any enemy that spawns will now be elite. This is the freebie code everyone gets when they first get to the Sky Meadows location.
Artifact of Kin
This Risk of Rain 2 Artifact makes it so there is only one enemy per level.
Location: Distant Roost Non Variation
Artifact of Metamorphasis
You will now spawn into the game as a completely random survivor character.
Location: Titanic Plains Variation
Artifact of Sacrifice
Enemies will now drop loot whenever they die, but you won't be able to find anymore chests in the world.
Location: Gilded Coast – Gold Portal
Artifact of Soul
Wisps will now spawn from dead enemies. This Artifact requires some good mobility to find.
Artifact of Spite
Killing enemies makes them drop several bombs. Head to the settings menu, and you'll see this one on the right side of the screen. You can change the LOD Bias from Ultra to Custom to see the full code.
Artifact of Swarms
There are now twice as many enemy spawns but their health is half of normal. You will need some good mobility to be able to find this one. It's on an island off the side of the map, and you can take the crates over to it.
Location: Rallypoint Delta
Artifact of Vengeance
A clone of yourself will enter the game every 10 minutes. This Artifact becomes more challenging the further you are into the game, so be sure to use it early on.
Location: Hidden Realm: A Moment, Fractured