Remnant From the Ashes Swamps of Corsus Survival Mode Guide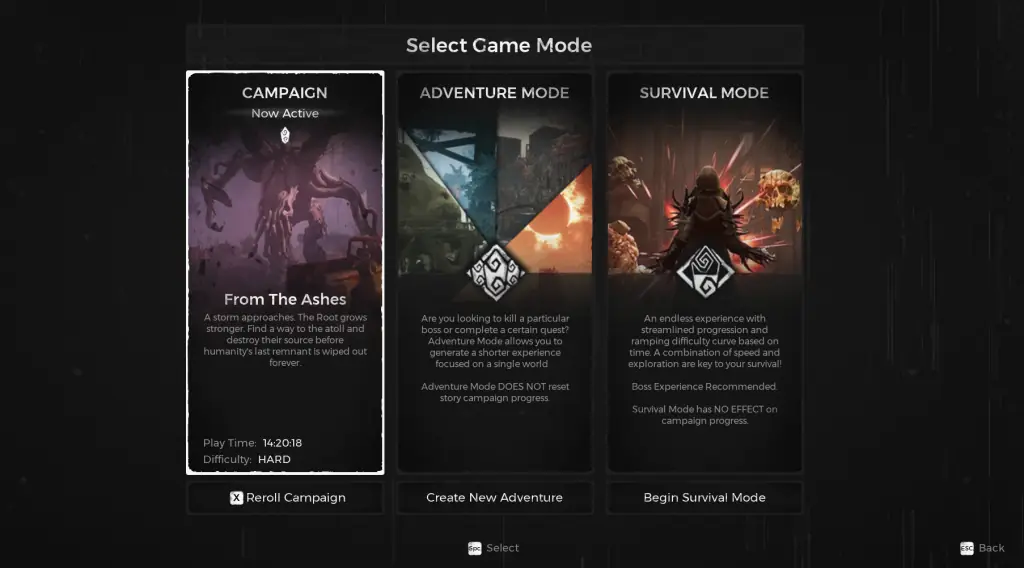 The new Remnant: From the Ashes DLC has been released, and it includes a bunch of new features you can read about here. One of the most exciting new features is the brand new Survival game mode. In this guide, we take a look at how to play Survival Mode in Swamps of Corsus.
How to Play Survival Mode in Swamps of Corsus
Survival Mode is explained as an endless experience with streamlined progression and a swamping difficulty curve based on time. A combination of speed and exploration are key to your survival. Experience with bosses is recommended before venturing into this mode. Survival Mode also has no impact on your campaign progress and is completely separate from story mode.
To get into Survival Mode, all you need to do is head over to the checkpoint. In case you forgot, this is the giant red crystal located in your hideout area.
Interact with the crystal and select World Settings from the menu. From here, you can select Campaign, Adventure Mode, and Survival Mode. For this guide we are focusing on Survival Mode.
Remnant From the Ashes Survival Mode Difficulties
Once you select Survival Mode, you can choose between the following difficulties:
Normal – The base experience. An abundance of Time, Scrap, and EXP. Timer pauses in the Labyrinth.
Hard – Less Time, Scrap, and EXP. More rewards on Boss Kills. Timer pauses in the Labyrinth.
Nightmare – Extra challenging. Extra rewarding. The timer does not stop.
Apocalypse – The most challenging experience. "TRY. HARD."
Buying Items in Survival Mode
Upon loading into the Labyrinth, you'll see five different pillars. Each of these contain different items you can purchase before venturing out. You start with 1000 credits which you can use to buy armor, weapons, or any other items.
Upgrades
Consumables
Trinkets
Weapons
Armor
It's a good idea to spend your 1,000 wisely on items to help you survive. After each zone is cleared you return to the Labyrinth to purchase more items with the scraps you collected. You start with the following limited items in Survival Mode:
Repeater Pistol
Bandage x1
Bloodwort x2
Adrenaline x1
Ammo Box x3
After buying everything you need, interact with the checkpoint between all of the pillars to travel to "Unknown Destination" and start your survival. As time progresses, enemies get more difficult so speed is of the essence. The goal is just to see how far you can get based on whatever loot you can find.
During your adventures, you can find things like random Tomes that grant character traits, weapons, ammo, armor, and other goodies. Survival Mode is definitely an interesting new aspect of Remnant From the Ashes that adds some much-needed replay value.