Minecraft Dungeons Locations: Gear Drops and Artifacts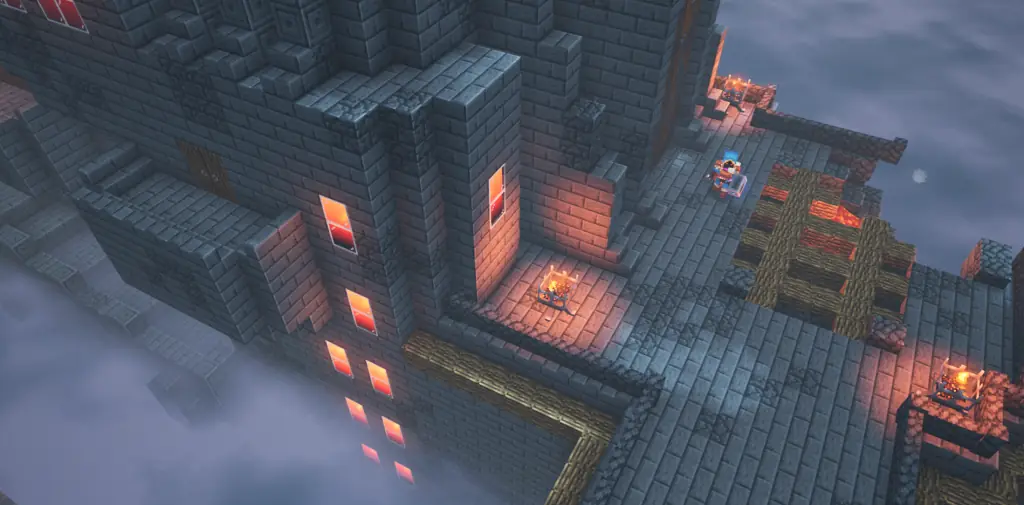 Minecraft Dungeons is a new action RPG from Mojang Studios set in the Minecraft universe. At launch, there are ten different Minecraft Dungeons locations to explore with one additional secret level. In this guide, we'll give an overview of all the different Minecraft Dungeons locations and the enemies that live there. If you are looking for a list of unique items, we have that too.
Levels in Minecraft Dungeons are procedurally generated, which means they are completely random for every player. The look and feel of each level will be the same, but the layout will be unique. Laura de Llorens and Christian Berg explain this in a lot more detail in this blog post if you want to learn more about how the levels are made.
Minecraft Dungeons Locations
Mainland
Island Realms
Camp
The Camp, or the Lobby, is the starting area in Minecraft Dungeons. From here, you can visit the Blacksmith or the Wandering Trader to gamble on items in exchange for Emeralds.
After defeating the game in story mode, you also unlock the Church area. This hidden location contains ten runes, which you can find by uncovering secret levels in each major area.
Creeper Woods
Creeper Woods is the first location you encounter after defeating the Squid Coast tutorial mission. You will notice a lot of the same mobs from the previous area, including some new ones. Monsters in Creeper Woods include Skeletons, Zombies, Vindicators, Creepers, Spiders, and Enchanters.
Inside Creeper Woods, players can unlock access to a hidden sub-location Creepy Crypt. Inside the crypt players will find Zombies, Skeleton Archers, Ghosts, and Cacti.
Creeper Woods Gear Drops and Artifacts
Gear Drops

Sword
Axe
Bow
Soul Bow
Hunter's Armor
Wolf Armor
Soul Robe

Artifacts

Boots of Swiftness
Death Cap Mushroom
Tasty Bone
Torment Quiver
Pumpkin Pastures
The next location you will encounter after beating Creeper Woods is Pumpkin Pastures. This area that came under attack by the Arch Illager and his army. You will come across Enchanters, Chicken Jockies, Geomancers, and Evokers here. After defeating the main mission, you will unlock the Wandering Trader.
Pumpkin Pastures Gear Drops and Artifacts
Gear Drops

Sword
Sickles
Soul Scythe
Longbow
Scale Male
Hunter's Armor

Artifacts

Flaming Quiver
Light Feather
Wind Horn
Soggy Swamp
The next location on the list is Soggy Swamp, which you will encounter after Creeper Woods. A hidden location called Soggy Cave is also available in this area that contains a few puzzles.
Soggy Swamp Gear Drops and Artifacts
Gear Drops

Glaive
Daggers
Soul Knife
Hunting Bow
Scatter Crossbow
Evocation Robe

Artifacts

Fishing Rod
Harvester
Lightning Rod
Totem of Regeneration
Soul Healer
Redstone Mines
The next location on the list is Redstone Mines, a location where the Illagers transport Villager to mine ore. You will see some narrow paths, flowing lava, and big caves.
Redstone Mines Gear Drops and Artifacts
Gear

Daggers
Pickaxe
Rapid Crossbow
Thief Armor
Wolf Armor
Spelunker Armor

Artifacts

Corrupted Beacon
Fireworks Arrow
Harvester
Tasty Bone
Cacti Canyon
Cacti Canyon is an area with a western feel to it. You will come across lots of cacti, along with enemies like Illagers and Geomancers.
Cacti Canyon Gear Drops and Artifacts
Gear

Cutlass
Trickbow
Shortbow
Longbow
Crossbow
Heavy Crossbow
Mercenary Armor
Spelunker Armor

Artifacts

Corrupted Beacon
Totem of SHielding
Wind Horn
Wonderful Wheat
Fiery Forge
The Fiery Forge is a location in Minecraft Dungeons containing Vindicators, Armored Vindicators, and the Redstone Monstrosity. The latter is a giant golem capable of doing knockback attacks and launching fireballs.
Fiery Forge Gear Drops and Artifacts
Gear Drops

Cutlass
Great Hammer
Power Bow
Reinforced Mail
Scale Mail
Mercenary Armor

Artifacts

Flaming Quiver
Iron Hide Amulet
Totem of Regeneration
Desert Temple
The Desert Temple is a big area full of skeleton remains from a once thriving empire. You will encounter Husks, Skeleton Vanguards, Wraiths, Summoners, and a boss called Nameless One.
Desert Temple Gear Drops and Artifacts
Gear Drops

Sickles
Glaive
Soul Knife
Shortbow
Thief Armor
Grim Armor

Artifacts

Shock Powder
Torment Quiver
Totem of Shielding
Boots of Swiftness
Highblock Halls
Highblock Halls is the castle of the Arch-Illager. You will encounter many different kinds of his minions here, with armor and shields. This area also contains the Underhalls, which is a smaller location in the basement of the castle.
Highblock Halls Gear Drops and Artifacts
Gear Drops

Mace
Axe
Power Bow
Rapid Crossbow
Scatter Crossbow
Soul Robe

Artifacts

Death Cap Mushroom
Fireworks Arrow
Light Feather
Love Medallion
Obsidian Pinnacle
Obsidian Pinnacle is the final level in Minecraft Dungeons. You reach this location by ascending the castle. Here you will face off against the final boss, the Arch-Illager. Be prepared, because it can be a tough battle.
Obsidian Pinnacle Gear Drops and Artifacts
Gear Drops

Claymore
Great Hammar
Crossbow
Heavy Crossbow
Soul Crossbow
Evocation Robe
Grim Armor

Artifacts

Lightning Rod
Shock Powder
Wonderful Wheat
Island Realms
The Island Realms location says: "The portal is currently closed. The islands map and two brand new adventures will be available for purchase soon." Available in an upcoming DLC, players can explore Island Realms and additional new content.
These are all the Minecraft Dungeons locations for now, but we will update this post when more are added to the game. For other useful Minecraft Dungeons content, check out the following: