How to Win Primogems in the Frolicking Flames Contest for Genshin Impact
Show off your artistic chops and win a prize!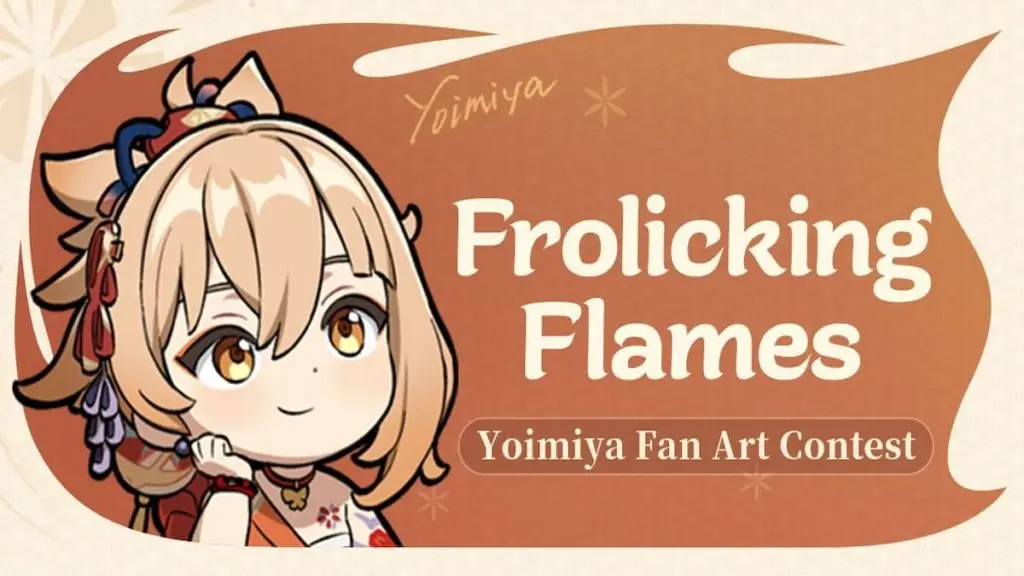 If the explosion in Genshin Impact's popularity has brought about anything, it's an absolute deluge of fanart. Check the Genshin Impact tags on any social platform, and you're guaranteed to find scores of remarkably high-quality fanart. If you're one of those ambitious fan artists, HoYoVerse has a contest you may be interested in. Here's how to win Primogems in the Frolicking Flames contest for Genshin Impact.
How to Win Primogems in the Frolicking Flames Contest for Genshin Impact
The Frolicking Flames contest is a Genshin Impact fanart contest themed around everyone's favorite firework artisan, Yoimiya. Until August 9th, HoYoVerse will be accepting submissions of Yoimiya fanart. At the end of the month, three pieces of fanart will be chosen to win three different Primogem prize packs, which also include cash prizes! Additionally, ten lucky artists will win Genshin Impact merchandise bundles.
All you have to do to enter is create a piece of Yoimiya fanart, post it to Twitter, Facebook, or Instagram with the hashtags #Yoimiya and #GenshinImpact, and also submit a formal entry using HoYoVerse's Google Form.
There are a few rules you need to keep in mind here:
The art you create needs to have been made within the past month, and you'll also need to provide screenshots of the art while it was a work-in-progress. The art also needs to be in a mostly-finished state; sketches won't work.
Plagiarism, reuploading, photo-editing, and image splicing are grounds for immediate disqualification.
You can enter multiple times with multiple pieces of art, but you can only win once.
You'll need to make both your art social post and your Genshin Impact account name public.
The winners will be announced on August 31st, with digital rewards sent directly to the winners' respective accounts. The prize tiers are:
First Prize: 3,000 Primogems and $500 USD
Second Prize: 1,000 Primogems and $200 USD
Third Prize: 500 Primogems and $100 USD
Additionally, 10 entries will be selected as Lucky Prize winners and will receive $20 worth of physical Genshin Impact merchandise. If you're a Lucky Prize winner, you'll receive a HoYoVerse message asking you to provide your shipping address. Make sure to provide your address within a month, or you'll lose your prize.