How to Get Cthulhu as a Follower in Cult of the Lamb
All hail chibi Cthulhu!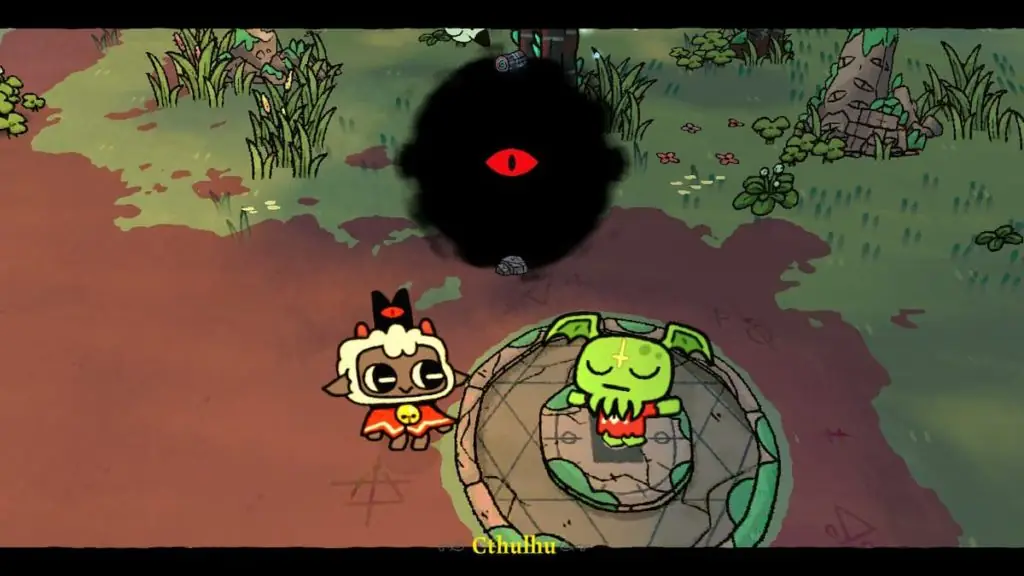 Cult of the Lamb is a roguelike action-adventure game that has already taken the world by storm! This adorably occult indie game hasn't been out long, but its popularity has skyrocketed since its release on August 11th, and it's no wonder why. This is the only game where you can strike down ancient deities, perform vengeful rituals and sacrifices, and indefinitely grow your own malevolent cult as a fluffy little lamb!
You can't have a cult without followers, so it's a good idea to collect followers whenever you can in this game. Most followers are simply woodland creatures that you can collect on your adventures, but one follower not many people knew was available is Cthulhu. An ancient, primordial deity is a far cry from the standard fluffy followers you might be used to, and for that, he's incredibly worth adding to your flock! If you want to add this cosmic entity to your flock of followers, you're in luck! Keep reading to find out how you can get Cthulhu as a follower in Cult of the Lamb.
How to get Cthulhu as a Follower in Cult of the Lamb
You won't be able to find any wild Cthulhus wandering around in the game, but you can download a Cthulhu follower form that will allow you to transform any of your unsuspecting followers into unholy, primordial beings! Followers come in all shapes and sizes, with different forms, colors, and variants. You can unlock these different forms and variants throughout your playthrough, or you can download them through DLCs released by Massive Monster (Cult of the Lamb's developers). At the time being, Cthulhu is only available as a special bonus created by Cult of the Lamb's developers.
There are a couple of ways you can go about collecting the bonus Cthulhu form in Cult of the Lamb. Those who pre-ordered the game prior to August 11th, 2022 would have received this follower form as a free bonus. So if you preordered this game before its release, be sure to double-check your available follower forms in the game, to make sure you haven't already obtained Cthulhu as an optional form.
Obviously, it's a bit too late to preorder the game now, but there is still a way you can go about getting this terrifying follower form if you didn't preorder the game. Those who downloaded Cult of the Lamb on Nintendo Switch will be able to download the Cthulhu follower form from the Nintendo Switch e-shop until August 25, 2022. This bonus follower form is completely free and only takes a second or two to download, though you must have Cult of the Lamb already downloaded to get it!
Related: Can You Change Followers' Traits in Cult of the Lamb?
Those are the only two methods to obtain Cthulhu as a follower in Cult of the Lamb, though more methods may be released in the future. Massive Monster will soon be releasing the Cultist's Pack for all consoles, which will give players 5 new follower forms and 7 new decorations! Cult of the Lamb's developers have previously stated their desire to continue adding these kinds of DLCs to the game, so although Cthulhu can't be obtained by conventional means just yet, you may be able to acquire him in the future through a DLC!