Goofy Stands Codes (May 2023)
Let's get some free stuff!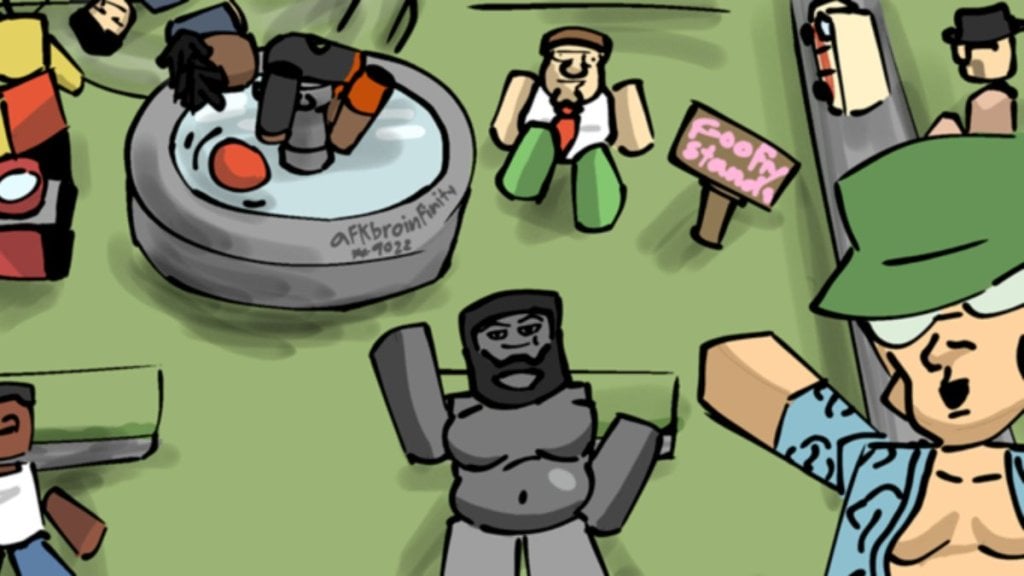 If you're a memer who also enjoys themselves some good old Roblox, then chances are you've been spending some time in Nembits' weirdly fun Roblox-created title, Goofy Stands. A title that really lives up to its name, Goofy Stands is an absurd game that really allows players to let the load off and just be silly while having interesting fights.
But even though Goofy Stands is a great game in its own right, like most games, you have to build up money while playing. This money is used for things such as the Goofy Stands you need to use to fight, but gaining more money can be easy, especially if you have a free means to do so. And, we do! So let's check out the Goofy Stands codes we have for some free ways to earn money instantly!
All Goofy Stands Codes List
Goofy Stands Codes (Working)
THISCODECOOL – Unlocks: 20,000 Zimbabwe Dollars (New)
BACONISCOOL – Unlocks: Cash and a Trash Bag (New)
SORYFORBUGLOL – Unlocks: 20,000 Zimbabwe Dollars
LONGAHHSHUTDOWNSORY – Unlocks: 23,000 Zimbabwe Dollars
THX200KVISITS – Unlocks: 17,500 Zimbabwe Dollars
Goofy Stands Codes (Expired)
CODE
GOOFYGAME
ILOVEYOUGUYS
MILUBADDEV
MILUSHUTDOWNBAD
NEMBITSCOOL
SHINYLOL
SORYSHUTDOWNLOL
THX30KVISITS
THX90KVISITS
WALTUH
Related: A Bizarre Timeline codes – Soul Orbs, cash, and more (February 2023)
How to redeem codes in Goofy Stands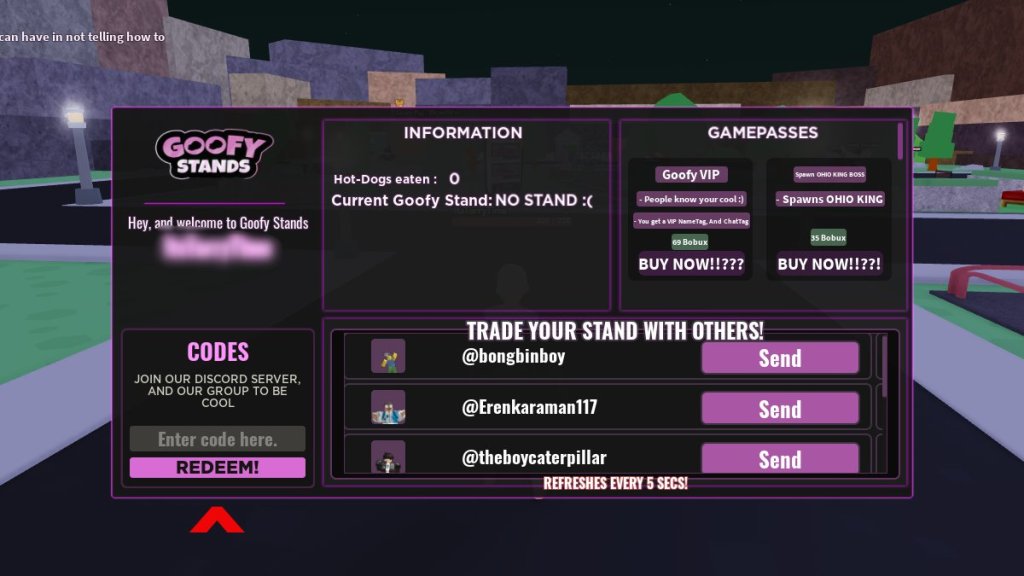 In order to begin entering codes for free in-game goodies, you'll need to begin by pressing the M-key on your keyboard. This will bring up your menu. On the bottom left-hand side, you'll be able to enter your codes in the grey box located under the "Codes" label. Once entered, click "Redeem!" to be instantly rewarded!
How can you get more Goofy Stands codes?
If you're looking to get all of the latest Goofy Stands codes, your best bet would be to bookmark this page as we update it monthly for new or expired codes. Additionally, the dev behind Goofy Stand will drop new codes in the official Discord server. There's also a Trello board that gives even more info on other Goofy Stands-related content as well!
Why are my Goofy Stands codes not working?
The main reason why your code may not be working is if it's entered incorrectly. This could be an incorrect letter or even as small as extra space at the end. Be sure to copy and paste the codes from this page exactly as you see them for the best results.
How to Reset Goofy Stands in Goofy Stands?
If you're vibing with Goofy Stands but aren't really doing so with the one you're currently rocking with. Have no fear, as you can actually reset it in order to pick another up. And it's 100% free too! Whilst walking around the Goofy Stands main hub area, you'll see these purple spikey balls strewn about on the floor. These are called Rokakaka and once picked up, can be activated, thus resetting you to having no Goofy Stand at all! Just make sure it's in hand and left-click with your mouse to do so.
What is Goofy Stands?
Goofy Stands is a truly bizarre yet enjoyable game that takes inspiration from anime such as JoJo's Bizarre Adventure and perfectly blends it together with meme culture. It's a great title to play if you just want to let your hair down, randomly fight other players with your Goofy Stand (attacker), and travel to weird locations, such as Ohio!
If you found this codes list page helpful, then be sure to check out some of our others, such as Roblox Adopt Me Codes (February 2023) and Last To Take Hand Off Codes (February 2023)! Plus, you can browse our entire catalog of Roblox code lists as well for even more great in-game freebies to wet your whistle!
About the author