Geometry Defense Codes (March 2023)
These are the most recent Geometry Defense codes around!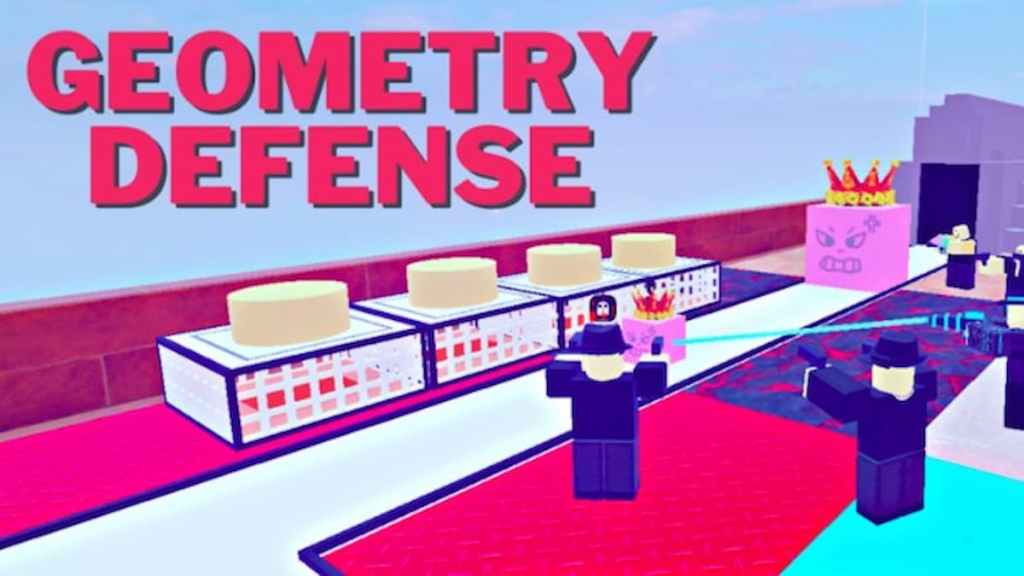 All Geometry Defense Codes
Now here's a tower defense game with a twist! Geometry Defense challenges players to defend their base against menacing geometric figures. Defeat waves of enemies in this fight to protect your track.
There must be a way to help you battle these shapes. Luckily, there is one. With codes, you can unlock several G-Coins, which are used to buy towers. In this article, you'll find our list of the most recent Geometry Defense codes!
Geometry Defense Codes (Working)
Last checked: March 18, 2023

Added a new code.
Here are all the working Geometry Defense codes.
10klikesssss — Unlocks: 110 G-Coins (New)
thanksfor10kfavs — Unlocks: 100 G-Coins (New)
3mvisits — Unlocks: 103 G-Coins
fivekay — Unlocks: 100 G-Coins
gtd — Unlocks: 275 G-Coins
epic1mvisits — Unlocks: 1x Shapegunner Skin
2500likes — Unlocks: 75x G-Coins
hyperdu — Unlocks: 50x G-Coins
cube — Unlocks: 100x G-Coins
undead_yt — Unlocks: 50x G-Coins
solo_hans — Unlocks: 25x G-Coins
wow500wow — Unlocks: 100x G-Coins
ggs1klikes — Unlocks: 150x G-Coins
Geometry Defense Codes (Expired)
1500likes — Unlocks: 75x G-Coins
1250nice — Unlocks: Free rewards
gdf — Unlocks: 75x G-Coins
hundred — Unlocks: 100x G-Coins
750likes — Unlocks: Free rewards
Related: All Star Tower Defense Codes (February 2023)
How to Redeem Codes in Geometry Defense
Here's how to redeem codes in Geometry Defense:
Launch Geometry Defense.
Click the 'Codes' button.
Insert the code into the box that reads 'Enter a code!'
Click 'Redeem' when finished.
How Can You Get More Free Codes?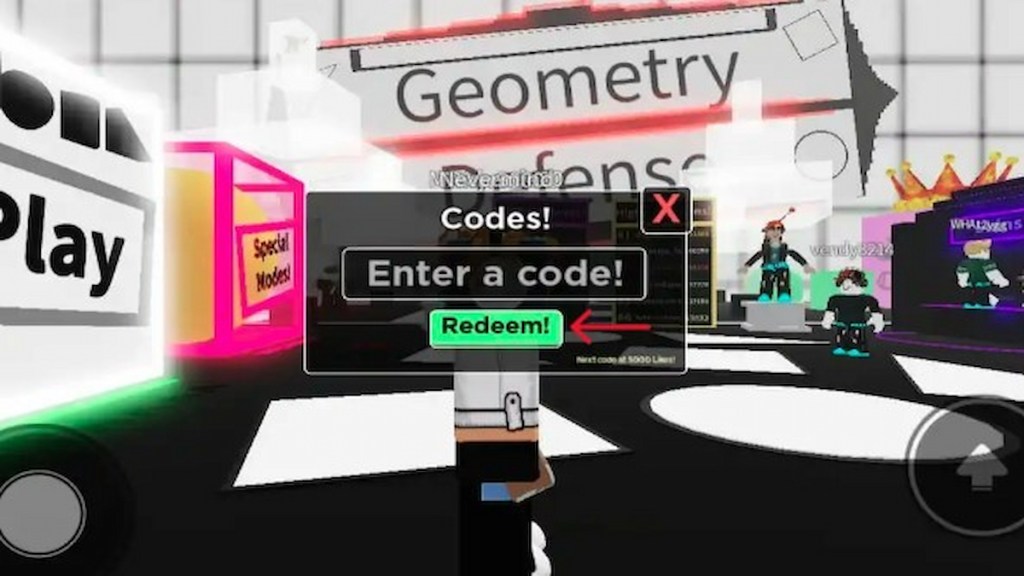 One way to get free codes is by keeping up with the developer's social media platforms. As with most Roblox games, the developers will usually post new codes on their official profiles.
You can always start by following the official Geometry Defense page. They've already announced that they'll post another code at 10K likes! If you're interested in more of DuoGames' platforms, join their Discord group too!
Why Are My Codes Not Working?
Don't worry, this can be an easy fix! First, check the spelling, punctuation, and capitalization of the code. One missing exclamation point or uppercase letter can make a difference!
The worst-case scenario is that the code you're trying to redeem already expired. Then, you'll have to find another code to get free rewards.
What are G-Coins?
G-Coins are the main currency in Geometry Defense. As mentioned before, you can use G-Coins to buy stronger towers, but you can also use them to buy Skins for certain towers as well. Codes yield free G-Coins, but developers rarely ever give those out.
Another way to get G-Coins is simply by playing the game. Geometry Defense is multiplayer, so you can play with up to four people to make it easier to earn rewards.
What is Geometry Defense?
Geometry Defense is a tower defense game that features geometric enemies! Your base starts with 250 health, but you can equip different towers from the shop to strengthen it. Focus on a defensive or offensive strategy to outsmart enemies in this Roblox game. Taking care of bosses will be a cinch, especially if you team up with friends!
---
We hope you enjoyed this article! Check out our Roblox codes list for more free rewards in other games!