Genshin Impact – Yoimiya ascension materials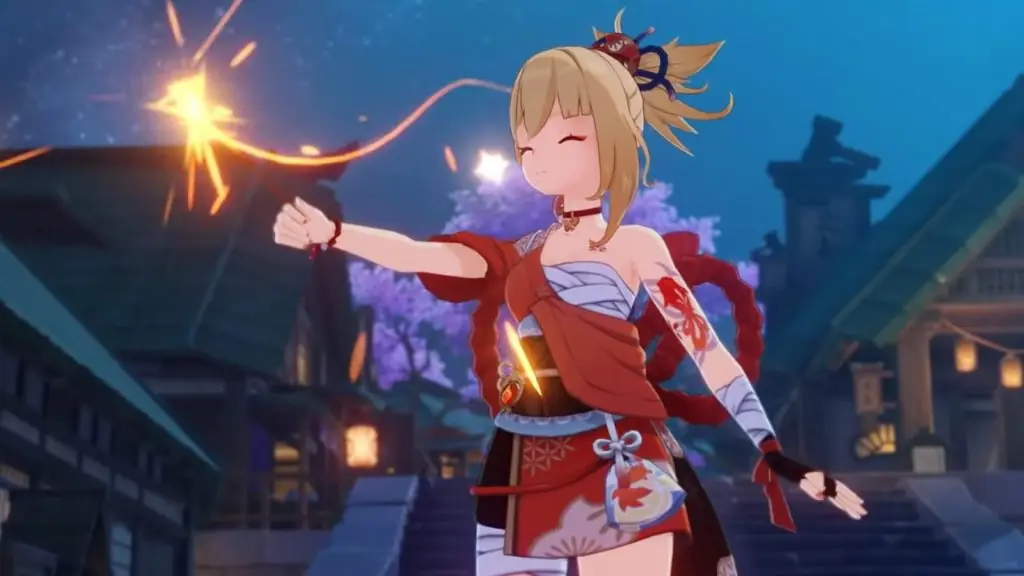 For a long time, Amber was the only Pyro-affiliated archer character in Genshin Impact. Not that I dislike Amber; she's a very cute and lovable character. It's just a little tiring when you have to rely on one character exclusively for things like lighting torches up on cliffs. Luckily, starting August 10th, Amber won't be the only Pyro archer anymore as Yoimiya joins the roster. Here are Yoimiya's ascension materials in Genshin Impact.
Despite being an archer, Yoimiya is poised to become one of the game's more powerful characters, with a base DPS potential rivaling even Diluc's, and at a distance no less. As with any character, though, if you really want to get the most out of them, you gotta ascend both them and their talents. Many of Yoimiya's ascensions require two new materials, Smoldering Pearl and Naku Weed. Smoldering Pearls are dropped by the Pyro Hypostasis, while Naku Weeds grow in the fields of the new Inazuma region.
Genshin Impact Yoimiya Ascension Materials
First, let's start with ascension materials for Yoimiya herself:
Level 20: 1 Agnidus Agate Sliver, 3 Naku Weed, 3 Divining Scroll, 20,000 Mora
Level 40: 3 Agnidus Agate Shard, 2 Smoldering Pearl, 10 Naku Weed, 15 Divining Scroll, 40,000 Mora
Level 50: 3 Agnidus Agate Shard, 2 Smoldering Pearl, 10 Naku Weed, 15 Divining Scroll, 40,000 Mora
Level 60: 6 Agnidus Agate Shard, 4 Smoldering Pearl, 20 Naku Weed, 12 Sealed Scroll, 60,000 Mora
Level 70: 3 Agnidus Agate Chunk, 8 Smoldering Pearl, 30 Naku Weed, 18 Sealed Scroll, 80,000 Mora
Level 80: 6 Agnidus Agate Chunk, 12 Smoldering Pearl, 45 Naku Weed, 12 Forbidden Curse Scroll, 100,000 Mora
Level 90: 6 Agnidus Agate Gemstone, 20 Smoldering Pearl, 60 Naku Weed, 24 Forbidden Curse Scroll, 120,000 Mora
Next, the ascension materials for Yoimiya's talents:
Level 2: 3 Teachings of Transience, 6 Divining Scroll, 12,500 Mora
Level 3: 2 Guide to Transience, 3 Sealed Scroll, 17,500 Mora
Level 4: 4 Guide to Transience, 4 Sealed Scroll, 25,000 Mora
Level 5: 6 Guide to Transience, 6 Sealed Scroll, 30,000 Mora
Level 6: 9 Guide to Transience, 9 Sealed Scroll, 37,500 Mora
Level 7: 4 Philosophies of Transience, 4 Forbidden Curse Scroll, 1 Dragon Lord's Crown, 120,000 Mora
Level 8: 6 Philosophies of Transience, 6 Forbidden Curse Scroll, 1 Dragon Lord's Crown, 260,000 Mora
Level 9: 12 Philosophies of Transience, 9 Forbidden Curse Scroll, 2 Dragon Lord's Crown, 450,000 Mora
Level 10: 16 Philosophies of Transience, 12 Forbidden Curse Scroll, 2 Dragon Lord's Crown, 1 Crown of Insight, 700,000 Mora