Genshin Impact The Heron's Invitation Ayaka Web Event Guide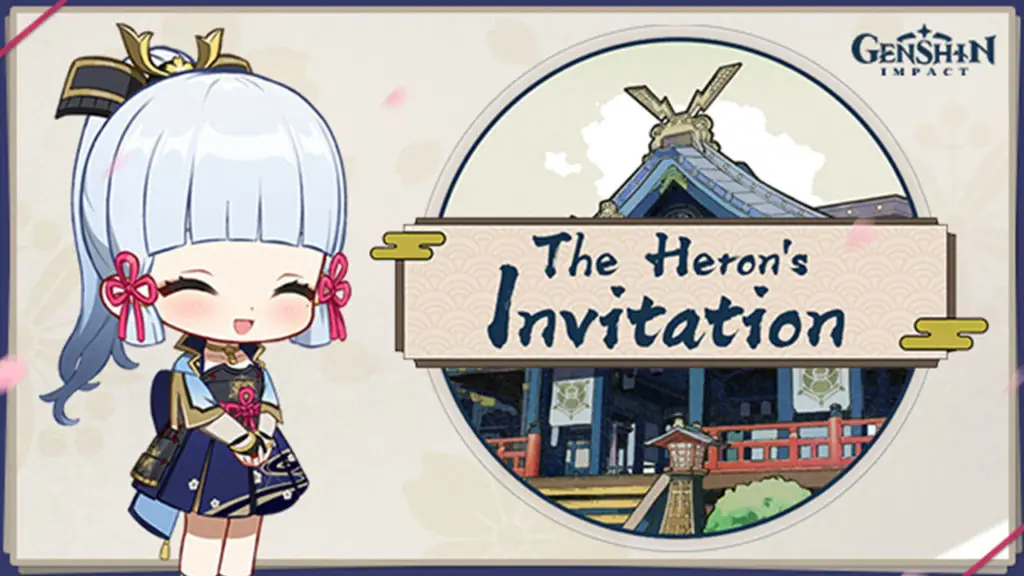 A new Web Event for Genshin Impact is now available, as per the official blog. It is themed after the newest playable character in Version 2.0, Kamisato Ayaka. The Web Event is a week-long event, but you can easily complete it on day one by following the proper steps. Here's our guide to everything you need to know about the Genshin Impact Ayak Web Event, The Heron's Invitation.
The Heron's Invitation begins in Genshin Impact on July 26 and ends on August 2, 2021. Participants can receive 40 Primogems and can quickly complete this event within one day. You can access the Web Event by following this link to the official Mihoyo website. Make sure to log in to your miHoYo account or log in with your UID if you don't have one.
As a side note, travelers must be at least Adventure Rank 10 to participate in this Web Event.
Genshin Impact The Heron's Invitation Ayaka Web Event Guide
To complete The Heron's Invitation Genshin Impact Web Event, you will first need to purchase the following six items:
2 Luxurious Items at Ogura Textiles & Kimonos
2 Luxurious Items at Shimura's
1 Luxurious Item at Netsuke no Gen Crafts
1 Luxurious Item at Amenoma Smithy
If you have six items in your inventory, you may not be able to gift Ayaka any items. Make sure both food items are of the "Delicious" variety. The inventory of items refreshes every two minutes at each location, but you can also tap on Chat With Customers to instantly refresh it. Tap on the Inventory button and give your six Luxurious Gifts to Kamisato Ayaka. You will be able to claim your in-game rewards like Primogems, as well as Character Ascension Materials.
Remember to claim your rewards before the event ends, as you will not be able to claim them afterward. Check your in-game mailbox for the 40 Primogems, 20,000 Mora, and 3 Shivada Jade Fragments.