Genshin Impact Hilidream Camp Web Event Recipes and Rewards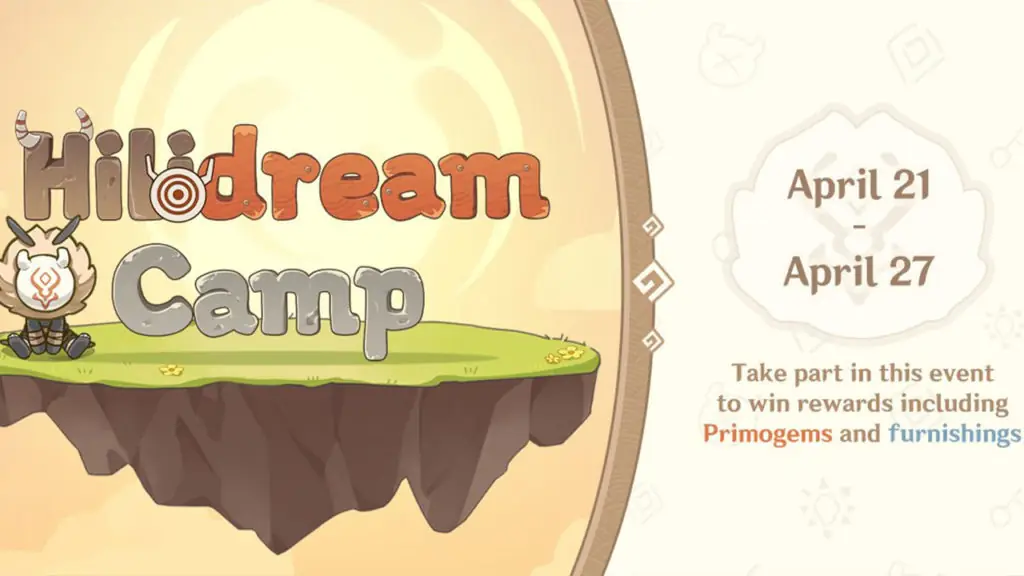 Travelers, it's time to check your in-game mailbox for the latest Genshin Impact event. It's a web-based event this time around, and it's titled "Hilidream Camp." We'll be guiding the hilichurls to craft furnishings and earn Primogems, furnishings, and other in-game rewards while we're at it. To optimize your rewards, we put together a Genshin Impact Hilidream Camp recipes list for you to use. It will come in handy so you don't accidentally waste any valuable attempts at crafting furnishings.
Players must be at least Adventure Rank 10 to participate in the Hilidream Camp web event. You can find a link to the event here. The Hilidream Camp schedule is:
Start: April 21 at 13:00 UTC
End: April 27 at 23:59 UTC
Once you're on the page, select your server, account, and character to get started. The event begins with a tutorial explained by a teapot, which you can skip over. Your objective is to craft furniture for the hilichurls, which requires knowing a few recipes. Before you begin, tap on the "get more materials" button toward the top of the screen. The bonus materials for logging into the game may take up to ten minutes to verify.
How It Works
Travelers can combine any three materials out of a possible four items to create a furnishing. You can use the same material more than once, and the item order has no effect on the outcome. The first furnishing every day takes no time to make, but the subsequent ones take some time:
First attempt: no time.
Second attempt: one minute.
Third attempt: two minutes.
You can earn more materials by completing event tasks, by clicking the get more materials button. Some combinations might result in a strange outcome, which won't grant you much of a reward. Check out our list of recipes below to optimize your rewards.
Genshin Impact Hilidream Camp Recipes
Here are the Hilichurl Camp recipes:
Bed: Wood + Paint + Slime
Bookcase: Wood + Wood + Paint
Carpet: Slime + Slime + Bundle
Dancing Tree: Paint + Paint + Bundle
Fireplace: Paint + Slime + Bundle
Ladder: Wood + Paint + Bundle
Lamp Grass: Paint + Slime + Slime
Mask: Wood + Slime + Bundle
Mask Rack: Wood + Paint + Paint
Paper Lamp: Paint + Paint + Slime
Pot: Wood + Bundle + Bundle
Screen: Wood + Wood + Bundle
Stool: Wood + Slime + Slime
Table: Wood + Wood + Slime = Table
Unusual Portrait: Paint + Bundle + Bundle
Rewards for participating in this event include 120 Primogems, Mora, Hero's Wit, and two pieces of furniture. Be sure not to complete the same recipe twice when you are crafting the furniture or you will have wasted an attempt.
Here's a helpful image breakdown of the recipes, thanks to Reddit user Illusione-Tempus.
In order to avoid any wasteful or invalid combinations, you can try something like this:
Freebie: Wood + Paint + Water = Bed
Day 1

Cabinet: Wood + Wood + Paint
Pot: Wood + Bundle + Bundle
Lamp: Paint + Paint + Water
Carpet: Water + Water + Bundle

Day 2

Lamp Grass: Paint + Water + Water
Unusual Portrait: Paint + Bundle + Bundle
Round Stone Table: Wood + Wood + Water
Ladder: Wood + Paint + Bundle

Day 3

Folding Screen: Wood + Wood + Bundle
Dancing Tree: Paint + Paint + Bundle
Stove: Paint + Water + Bundle
Stool: Wood + Water + Water

Day 4

Mask: Wood + Water + Bundle
Mask Rack: Wood + Paint + Paint