How to do the Engraved Wishes Web Event in Genshin Impact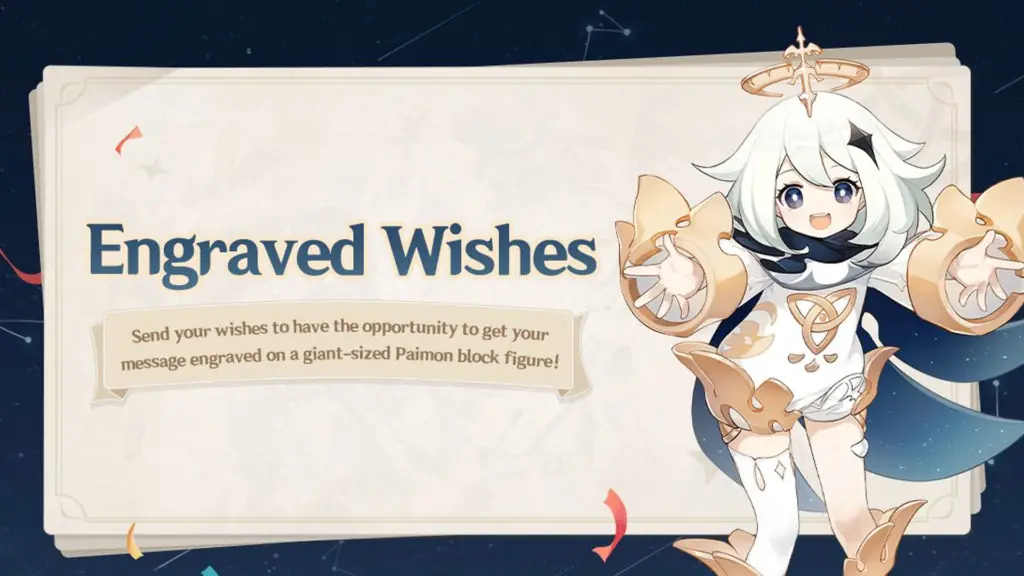 Genshin Impact's first anniversary is fast approaching, as September 28 marks the one-year mark since the title's release. Since then, the game has come a long way, permanently etching its rightful place as one of the top games in the RPG genre. As a celebration of the game's first anniversary, Mihoyo is holding an Engraved Wishes Web event. There are some pretty cool prizes up for grabs, so it's worth a shot to show your support.
We'll explain how to participate in the Genshin Engraved Wishes Web Event down below. You can also view a list of all the prizes and learn what else Mihoyo has planned for the event.
How to do the Engraved Wishes Web Event in Genshin Impact
To access the Engraved Wishes Web Event in Genshin Impact, follow these steps:
Visit the Engraved Wishes website on Mihoyo.
Login to your account and select your server.
Tap on the Send Wish button.
Enter a message containing up to six characters.
Check the box to agree to the terms.
Submit your wish.
Some users may receive the error: "Entered content does not meet the requirements. Please enter again." If that's the case, make sure you have checked the box agreeing to the terms. Also, make sure that the six characters you typed are not against the terms:
"*Anything written within the six characters that discriminate against race, gender, religion, ethnicity, politics, region, or contains content aimed at bullying will not be eligible for block certification and will be disqualified from being engraved onto the blocks."
What are the rewards for the Genshin Impact Engraved Wishes Web Event?
Mihoyo is offering something better than Primogems for this event and going straight to real-life cash rewards! After all the wishes are collected, 100 lucky participants will receive a $50 Amazon Gift Card at random. One lucky participant will also receive a PlayStation 5 Digital Edition Console (valued at $827).
While Primogems may be on your mind, the first-anniversary web event offers a good opportunity to show some support to Mihoyo and possibly win some awesome prizes.
In addition to rewards, 50,000 lucky Travelers will be able to engrave their six-character message on a physical statue of Paimon! On October 26, Travelers can inquire about obtaining an electronic certificate to authenticate the block. Mihoyo will also disclose where the Paimon will be placed at a later date.