Fortnite Embrace The Rainbow Steel Bridge Locations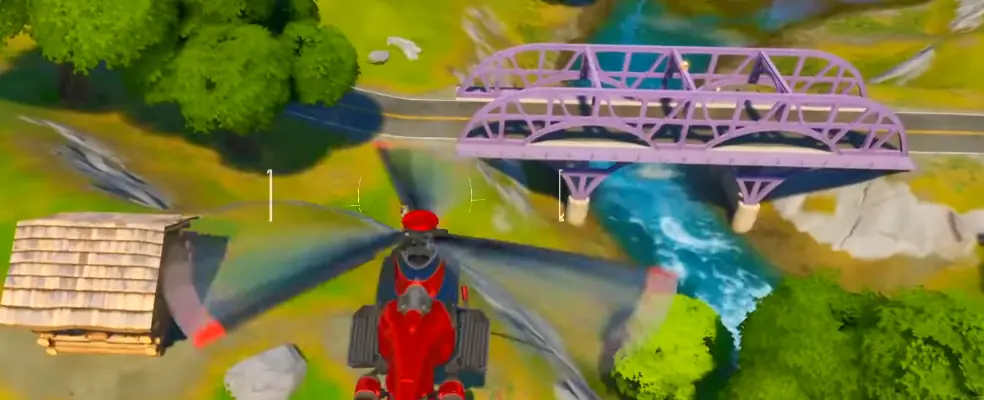 It's a new week of Fortnite Chapter 2 Season 2, and that means it's Week 5 of Deadpool's Weekly Challenges. This particular guide will focus on the second Deadpool week 5 challenge, which asks players to "embrace the Rainbow by visiting the Red, Yellow, Green, Blue, and Purple Steel Bridges."
The bridges are scattered all around the Fortnite map. It will be much easier to complete this challenge if you hop in a Choppa. Check out our other guide to learn all the different helicopter locations so you can pick one up for this challenge.
You can see the bridges on the map, and we've added in map locations for each of them down below.
Green Bridge Location
The Green Steel Bridge is located just east of Frenzy Farm and crosses over the river that runs from east to west into The Agency.
Yellow Bridge Location
The Yellow Steel Bridge can be sound just south of Lazy Lake and east of Misty Meadows. Check out the map below for the exact location.
Red Bridge Location
The Red Steel Bridge is found just south of Pleasant Park. You can follow the main road the leads out of the south of Pleasant Park and it will lead you straight there.
Blue Bridge Location
Close to the previous one, we can find the Blue Steel Bridge. Take the road east out of Pleasant Park, and you will come across this bridge. See the map below if you're unsure.
Purple Bridge Location
The final bridge is the Purple Steel Bridge, located directly north of Slurpy Swamp. If you take the road north out of Slurpy Swamp and take a right, you will find it easily.
That's all you need to do for this challenge. For the rest of the Week 5 Deadpool Challenges, check out our guide.