How to Complete Showdown Niklas Sule SBC in FIFA 22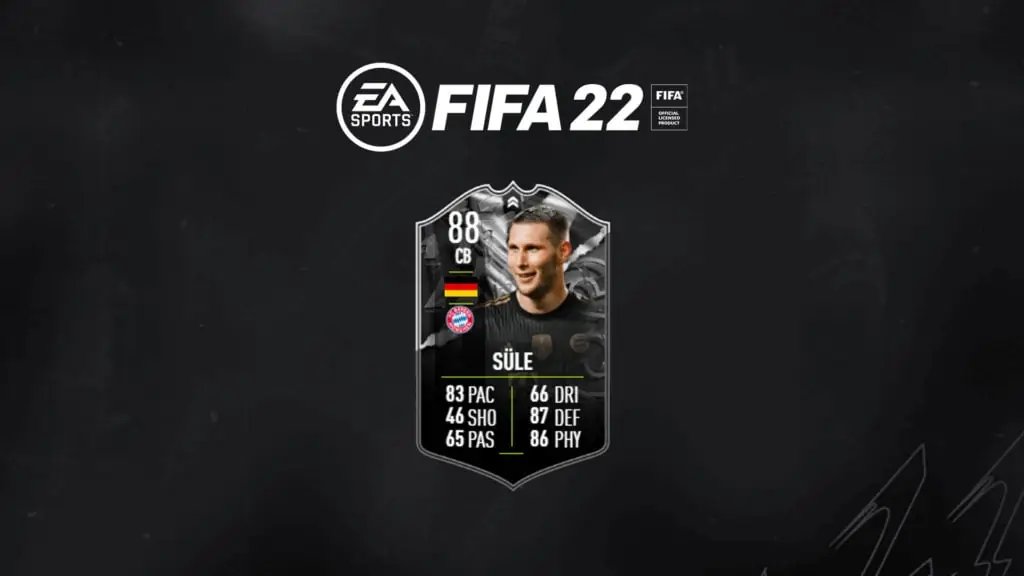 Niklas Süle is a German professional footballer who plays as a center-back for the Bundesliga club Bayern Munich and the German national team. At the age of 26, he has seven big collective trophies for himself. Also, he was selected into the Bundesliga Team of the Season 2016–17.
However, at the moment, Niklas Sule's future at Bayern Munich still hangs in the balance when recently, Sule has been linked with a potential move to Newcastle United in the Premier League. Nevertheless, Bayern fans agree that he's been one of Julian Nagelsmann's most consistent performers this season in defense. He 100% deserves a new contract at Bayern, as it would be a huge loss to potentially have him walk on a free transfer.
As a way to hype up the upcoming match between Barcelona and Bayern Munich in the final matchday of the UCL group stage, EA has just released the Niklas Sule Showdown SBC besides the Gerard Pique Showdown SBC. With the really high form, the German outfit has won all five previous matches and is looking forward to ending their group stage with an all-win streak. So, it is likely that Niklas Sule SBC will receive at least 1, and up to 2, OVR boost, depending on the match's final result. So, is this German defender worth the money?
FIFA 22 Showdown Niklas Sule SBC Review
Like Gerard Pique, Niklas Sule also receives a massive Pace boost of 83, up from 65 on the gold version. Besides, with his excellent Physicality set of 86 overall, combined with his 6'5″ height, 99kg weight, and 94 Strength, it is mostly impossible for any player to have a matching duel with Sule, both aerial or ground.
As a matter of fact, this German defender has nearly perfect Defending attributes. With 87 Defending Overall, it might not be too outstanding, but it is certainly enough. However, there is one thing you should keep in mind that one of the weaknesses Sule has is his reckless tackles. He usually gives away free-kicks in dangerous areas, sometimes even penalties. Also, being a solid center back but with only 66 Dribbling, Sule can be quickly gone past by a mobile forwarder in a flash. However, with a significant Pace improvement, sometimes he can manage to catch them.
With his amazing physicality, Sule is a real threat to the opponent's goal when it comes to corner kicks. Also, with 86 Short Pass and 76 Long Pass, you can be sure that the ball from Sule's foot will deliver to the exact place most of the time.
However, I suppose that Sule's AI in FIFA 22 cannot be as good as Pique's AI, as Pique's Showdown seems smarter and better at positioning, interception, and dueling during in-game matches. So, with the same price and even a much lower possibility of receiving an overrate boost, Pique is still of higher use-value than Sule. If you are looking for a defender for your Bayern Munich or German Squad, this might be a piece you need. However, if you are merely building your team around the game meta, Pique is worth your money more than his counterpart in Bayern Munich.
How to Complete Showdown Niklas Sule SBC in FIFA 22
To complete the Showdown Niklas Sule SBC in FIFA 22, players must fulfill two challenges: Tactical Emulation and Bundesliga. By completing both challenges, players will earn a Small Prime Gold Players Pack and a Rare Electrum Players Pack, in addition to the Niklas Sule Showdown card. The SBC will cost around 150K to finish.
Tactical Emulation
Requirements
Number of Players from FC Bayern: 1 Minimum
Team of the Week Players: 1 Minimum
Squad Rating: 84
Team Chemistry: 70
Number of Players in the Squad: 11
Reward: Small Prime Gold Players Pack
Cheapest Solutions
GK: GK Mike Maignan 84-rated – AC Milan
LB: LB Lucas Hernandez 84-rated – Bayern Munich
CB: CB De Vrij 85-rated – Inter Milan
CB: CB Simon Kjær 83-rated – AC Milan
RB: ST Gaetan Laborde 85-rated TOTW – Rennes
LM: LM Robin Gosens 83-rated – Atalanta BC
CDM: CDM Marcelo Brozovic 84-rated – Inter Milan
CAM: CF Josip Ilicic 84-rated – Atalanta BC
CDM: CB Acerbi 84-rated – SS Lazio
RM: LM Thomas Lemar 83-rated – Atletico Madrid
ST: ST Duvan Zapata 84-rated – Atalanta BC
Cost: 40,950 for PS Platforms, 42,700 for Xbox Platform and 44,800 for PC Platform. / 4-5-1 Formation (courtesy of Futbin)
Bundesliga
Requirements
Number of players from Bundesliga: 1 Minimum
Squad Rating: 86 Minimum
Team Chemistry: 65 Minimum
Number of players in the Squad: 11
Reward: Rare Electrum Players Pack
Cheapest Solutions
GK: GK Koen Casteels 86-rated – VfL Wolfsburg
LB: LB Raphaël Guerreiro 84-rated – Borussia Dortmund
CB: CB Mats Hummels 86-rated – Borussia Dortmund
CB: CB Rúben Dias 87-rated – Manchester City
RB: GK Hugo Lloris 87-rated – Tottenham Hotspur
CM: ST Erling Haaland 88-rated – Borussia Dortmund
CM: CAM Kai Havertz 84-rated – Chelsea
CM: CAM Phil Foden 84-rated – Manchester City
LW: LW Dušan Tadić 84-rated – Ajax Amsterdam
ST: ST Timo Werner 84-rated – Chelsea
RW: RW Hakim Ziyech 84-rated – Chelsea
Cost: 104,150 for PS Platforms, 103,850 for Xbox Platform and 109,950 for PC Platform. / 4-3-3 Formation (Courtesy of Futbin)