Destiny 2 How to Fix Error Code Calabrese
It's not Destiny if something doesn't go wrong.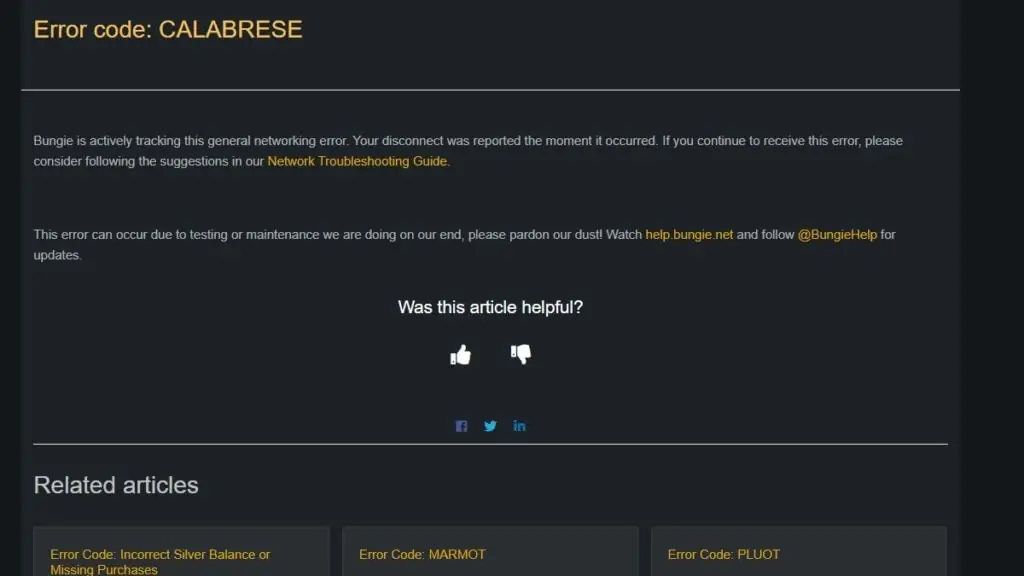 Error code Calabrese has been plaguing the Destiny 2 community for years. Thankfully, it's one of the less intense error codes Destiny can spit out at its players. Most of the time, the error is on Bungie's end – not the user's.
All the same, we're going to take a proper look at Destiny 2's error code Calabrese, including what causes it and how to fix it. If Destiny error codes have been giving you headaches – we've got a couple of solutions for you to try.
How to Fix Error Code Calabrese in Destiny 2
Getting error code Calabrese is frustrating, but for most players – there's nothing you can do about it. Nine times out of 10, this error code is a result of server instability on Bungie's end. It might be because of a new update, or an unusually large influx of players, but either way it can cause Destiny 2's servers to spit out this error.
All the same, there are a few precautionary measures you can take, just in case the error is actually on your end.
First, make sure your internet connection is working and reset your router. This should be run of the mill for any error codes you encounter both in Destiny and beyond. Flicking the switch on your modem or router, as well as your PC, will force your hardware to do any pending updates. If error code Calabrese was on your end, that should fix it.
Beyond that, though, there's one other fix that 99.9% of you will never need to do – and that's manually letting Destiny 2 through your Windows firewall. Now, your computer should do this automatically when you install Destiny. If it didn't, you would be having connection issues far beyond error code Calabrese. All the same, it can cause the code to proc sometimes, so we'll go over how to change it briefly.
Navigate over to your Control Panel and head into System and Security. In these, under Windows Defender Firewall, click "allow an app through Windows firewall."
This will present you with a list of all the apps installed on your device. Click on "change settings" then scroll until you find Destiny 2. Enable it, click ok, and you should be good to go.
The vast majority of you will never have to do this – for the few that do, hopefully you found that helpful.
Destiny 2's error code Calabrese is generally just a server problem. Give it a few hours and it should fix itself. If it doesn't, it might be worth digging around in your firewall settings – just in case.