How to Get Fishing Tackle in Destiny 2
Where can you find fishing tackle?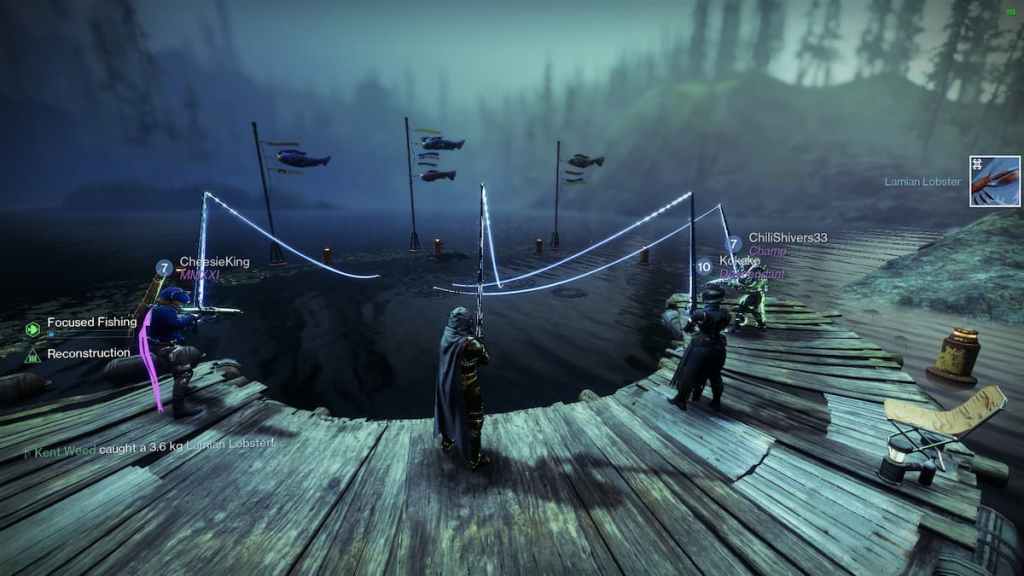 Would you believe us if we were to tell you that you can fish in Destiny 2? When Destiny originally came out we were captivated by this space exploration game where you could battle enemies, and learn more about who you were, and why you were alive. It looks like the game is now adding features that will allow you to get seasonal loot without killing. Fishing in Destiny 2 is a new mini-game where you can find unique fish to add to your collection. In order to catch a fish you need bait and here's how you can get the fishing tackle in Destiny 2.
Where to find Fishing Bait in Destiny 2
Before you even think about grabbing a rod and fishing with your pals, start the introduction quest that will teach you about fishing. The quest you're going to want to complete is called "Gone Fishin'" quest. You also need to make sure you have access to the Deep Season pass because this is not a free mini-game. To get this pass you'll need to purchase the Deep Season Pass and work your way through the seasonal story quest.
Once you have finished the necessary quests to get started it's time to look for some fishing bait. Fishing bait can be acquired by interacting with Suraya Hawthorne. You can also get fishing bait by completing salvage activities, crucible matches, deep dive missions, public events, patrols, and strikes. There are plenty of activities you can partake in if you want to get different bait to use while fishing in Destiny 2.
How to Start Gone Fishin in Destiny 2
The quest you're going to want to complete is called "Gone Fishin'" and this short quest will teach you the ins and outs of fishing in Destiny 2. You will need to capture five fish in three locations known as Throne World, Nessus, and EDZ. You can find fishing ponds in these areas either at the outskirts of EDZ, Miasma in Throne World, or the Cistern in Nessus.
Once you have located a fishing pond you will need to stand on a platform and hold either X button for XBox users or the square button for PlayStation users. Press the button again once you have caught a fish so you can use your bait. Once you have caught the fish it will end up in your inventory and you'll be able to hold at least 500 fish.
---
For more gaming news and Destiny 2 updates be sure to follow us at Gamer Journalist. We post gaming tips, guides, and news for popular gaming titles and upcoming ones. Be sure to check out All Weapons Confirmed For Destiny 2: Lightfall and How to Unlock Unyielding Favor Armor Set in Destiny 2
About the author