Bad Business codes – free credits (December 2021)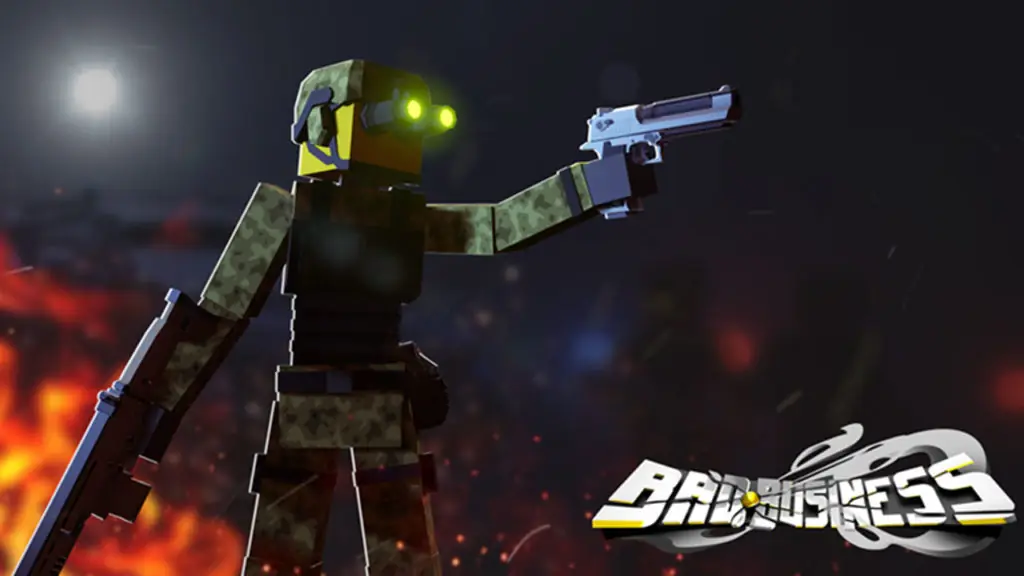 Bad Business is an action-packed Roblox FPS game developed by Team Rudimentality. Choose between various weapons, customize your character, and battle against other players. Run-and-gun throughout various game modes, and see if you can hold your spot on the leaderboard. Earn free charms, skins, and credits, and other in-game freebies by using our list of Bad Business codes down below.
Bad Business codes are a free and easy way to claim in-game bonus rewards. The developers release new codes often, whether it's with a content update or when the game hits a new milestone. If you want to stay totally up-to-date with all the latest codes, you can bookmark this page by hitting CTRL+D on your keyboard and check back daily.
If you want to check out some other Roblox games, visit our posts on Alchemy Online codes, Anime FIghters Simulator codes, and Pet Simulator X codes.
All Bad Business codes list
SBR: 2000 Credits
SPOOKY21: 2000 Credits
LEVELZERO: 2000 Credits
STARTER: 2000 Credits
SHRIKE: 2000 Credits
2GUNS: 2000 Credits
ASR50: 2000 Credits
GROZA: 2000 Credits
HONCHO: 2000 Credits
MYTHICAL: 2000 Credits
VOHEX: Vohex Charm
M249: 2000 Credits
SKORPION: 2000 Credits
HOMESTEAD: 2000 Credits
TWOYEARS: 2000 Credits
LOADOUT: 2000 Credits
MAYDAY: 2000 Credits
KACHING: 2000 Credits
Doodledarko: Doodle Darko charm
Huz_Gaming: Huz Gaming charm
ZYLIC: Zylic charm
THEBOYS: All Might T weapon skin
Unicorn: VR Goggles
viking: Bearded Muscle charm
doge: Doge charm
ADOPTME: 5 Adopt Me stickers
mbu: Bearded Muscle charm
juke: BigBrainJuke charm
blue: BlueGrassMonkey charm
fr0gs: FreeTheFr0gs charm
godstatus: GodStatus charm
notvirtuo0z: ImMinty charm
gun: Jup charm
lecton: Lecton Gaming charm
mulletmafia: Mullets charm
pet: PetrifyTV charm
r2: R_2M charm
ruddevmedia: Ruddev Media charm
syn: SynthesizeOG charm
xtrnal: Xtrnal charm.
Z_33: Zekro_3300 charm.
zesty: ZestyZoocumber charm.
Get more codes for your favorite games through our Roblox game codes list.
Expired codes
How to redeem codes for Bad Business
To redeem codes in Bad Business, start by launching the game inside of Roblox. Look for and click on the gift box icon at the bottom of the screen before you load into a match. Enter any working code into the code box and then tap the redeem button to claim your in-game reward. Make sure to enter all codes exactly as shown, as they may be case-sensitive and not work otherwise.
Bad Business FAQ
How to enter codes in Bad Business
To enter codes in Bad Business, the process is similar to other Roblox games. Start by launching the game from the Roblox website. Once you load into the game, open the menu and tap on the gift box icon. Copy and paste or manually type in any code from the list and then tap on redeem to claim your rewards.
How do I get more Bad Business code?
To get more codes for Bad Business, you can follow the official game developer's Twitter account. Other than that, we post new codes frequently. Bookmark this page and check back daily for new updates.
Game Description
Bad Business was updated on July 30, 2021 with the following changes:
– New Honcho Shotgun
– New Damascus Challenge Skins
Explore other experiences on our Roblox game codes page to find your favorites. Check out our Roblox promo codes page for new outfits and other freebies for your in-game avatar.